Best Upright Walkers For Elders. Are The best upright walkers any good? In this best upright walker review, I reveal the pros and cons of the best upright walkers.
Best Upright Walkers (Updated List)
| # | Preview | Product | Rating |
| --- | --- | --- | --- |
| 1 | | UPWalker Lite Original Upright Walker | Best Overall |
| 2 | | ELENKER Upright Walker, Stand Up Folding Rollator Walker | Most Compact |
| 3 | | OasisSpace Lightweight Upright Rollator Walker | Best Control |
| 4 | | BEYOUR WALKER Upright Walker | Best 2nd |
What Exactly Are Upright Walkers?
An upright walker is a brilliant and simple idea. By raising the handlebars on a standard walker so that someone walking straight up and not bent over. This improves posture which in turn reduced the risk of falling and seriously hurting oneself. It also greatly reduces pain in your legs, back, hands, wrists & joints. Plus this will allow us to walk longer distances. These upright walkers' construction rests on the years of a sturdy normal rollator with adjustable handles and armrests.
The Benefits Of Using An Upright Walker
Here's a quick rundown of the advantages of using an upright walker over any other mobility aid on the market. While the standard walker yields unique benefits, you'll want to study the upright walker's exclusive benefits before making your final decision.
Improved Posture
One of the drawbacks of using traditional walkers is that users have to bend forward into a back-contorting position. Failure to maintain an upright posture while walking or standing poses health risks and complications. Experts warn that prolonged slouching can lead to muscle pain, poor blood circulation, joint pain, and back pain.
However, thanks to upright walkers, users that require assistance with mobility don't need to force themselves into awkward posture while standing or walking any longer. Upright walkers have features like adjustable armrests that promote comfort and good posture simultaneously.
Stability And Safety
Senior citizens, children, disabled persons, or those with neuromuscular conditions are at risk of falling when using mobility aids that aren't stable. Fortunately, upright walkers eliminate this risk with features like padded handlebars, making it easy to transition from a sit position to a standing position.
Upright walkers are also equipped with lockable breaks to facilitate the device's immobilization when you want to sit or briefly rest. These brakes are ergonomically designed for efficiency and ease of use.
Comfort
Upright walkers are designed with comfort in mind. Besides enhancing a user's posture, the devices are fitted with comfortable features like padded armrests to prevent hand or wrist strain.
When seated, upright walkers have a backrest made of mesh materials to improve breathability. Lockable brakes also enable you to sit and rest where and when you want. For some chronically-ill users, frequent breaks are necessary. Even a thirty-minute trip to the grocery store can tire those with limited mobility. Luckily, engineers have designed these upright walkers with your loved one's health and safety in mind.
As if that's not enough, upright walkers are designed to ensure even bodyweight distribution. How so? This mobility aid is fitted with armrests that relieve your wrists from the responsibility of supporting your entire body weight during your daily errands. This comfort-enhancing feature is crucial for those users with joint conditions like arthritis.
Flexibility
You can use your upright walker both indoors and outdoors. Are you worried about the dangers of rough or uneven terrain? Don't be. The devices are built with sizable rubber wheels to maneuver different surfaces. However, you'll need to practice operating your mobility aid when treading through soil-heavy surfaces and hilly terrain.
When on the go, caretakers can fold the upright walkers into a compact shape, allowing the mobility aid to slide easily into your trunk or backseat. However, you might need to measure your vehicle's trunk dimensions and compare them with those of the unit you want to carry. Upright walkers come in different sizes, and some may not fit specific types of vehicles.
With upright walkers, you restore your loved one's sense of independence and grant them the freedom to move freely from point A to point B. When a mobility-impaired person doesn't require assistance to complete daily tasks, you'll notice a boost in self-esteem seemingly overnight.
Similarly, the upright walker allows you to interact with your disabled loved ones with ease and look them eye-to-eye like you once did. No longer are the days where you need to crouch down to make eye contact with your elderly grandparents.
How Does a Upright Walker Work?
All back massagers work in basically the same way. A motor inside the device sends vibrations through an oscillating head that touches your skin and penetrates deep into muscles and tissues. This can help to relieve tension and pain, as well as improve blood circulation.
What to Look for When Buying An Upright Walker
Variable Arm Rests
The benefit of an upright walker is to walk upright to be comfortable so you need to be able to adjust the height of your arms when are walking. An upright walker can handle a person from 5 feet to over 6 feet. Make sure your upright walker fits your height.
Having Control Over The Wheels
You should be able to lock the wheels in a forward motion only for people who can not maintain balance easily. Otherwise, you can put the wheel to move 360 degrees.
Lightweight Material
The material should be light enough to lift into the trunk of your car. Preferably less than 20 lbs. And should be rustproof.
High Capacity
Most likely your upright walker has a seat. How much weight that seat can hold is important to know. They are usually around 300 lbs.
Extras
Some upright walkers have a clip to hold a cane. They also could have a storage bag to hold things you need when you are on the move.
Upright Walker Product Reviews
Here are the reviews of the best Upright Walkers. If you have any questions about any of the products listed here, please leave a comment at the bottom of the post.
1) UPWalker Lite Original Upright Walker (Best Overall)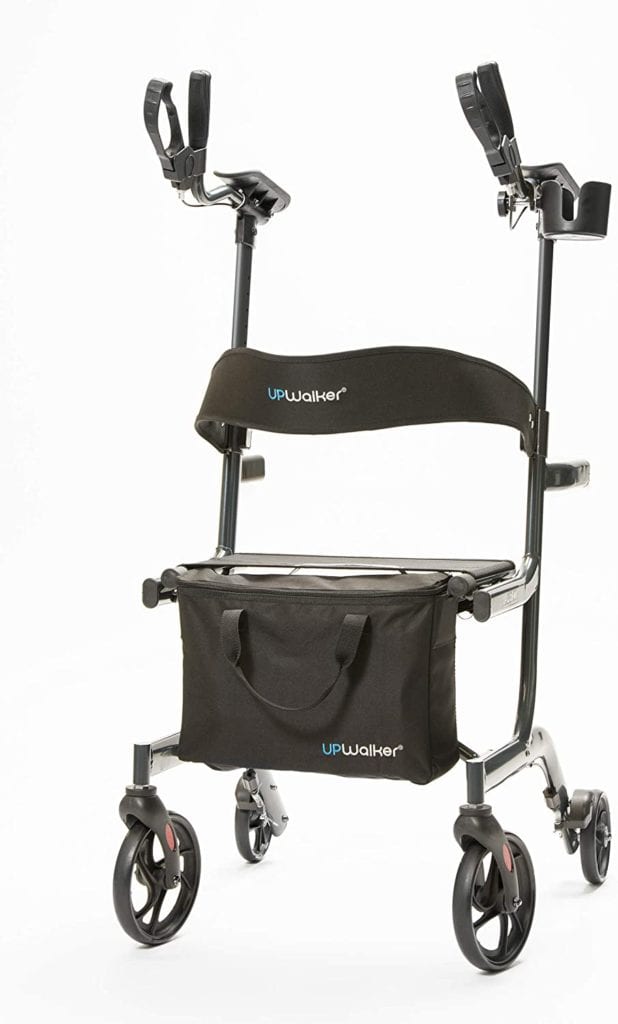 UPWalker Lite is designed to help users regain upright mobility, improve walking & posture.


Reduces pain in their legs, back, hands, wrists & joints and reclaim their freedom.


It weighs only 15.5 pounds and is smaller and lighter than the original upright walker.


It is easy to lift and maneuver both indoors and outdoors and folds easily for transport and storage.


These walkers are engineered from the ground up for your balance and safety.


It is equipped with padded, adjustable-height armrests, lockable handbrakes, a comfortable, adjustable seat with backrest support, sit-to-stand handles, and 8-inch front rubber wheels.


It is meant for users between 4'7"-5'10"


It can support user weight up to 300 pounds. Especially well-suited for indoor use for activities of daily living and can also be used outdoors.
Pros
Helps people with weak wrist
Less back pain
Less tiring and a more natural way of walking
Cons
Some say not suitable for large people
Some say it was unstable
2) ELENKER Upright Walker, Stand Up Folding Rollator Walker (Most Compact)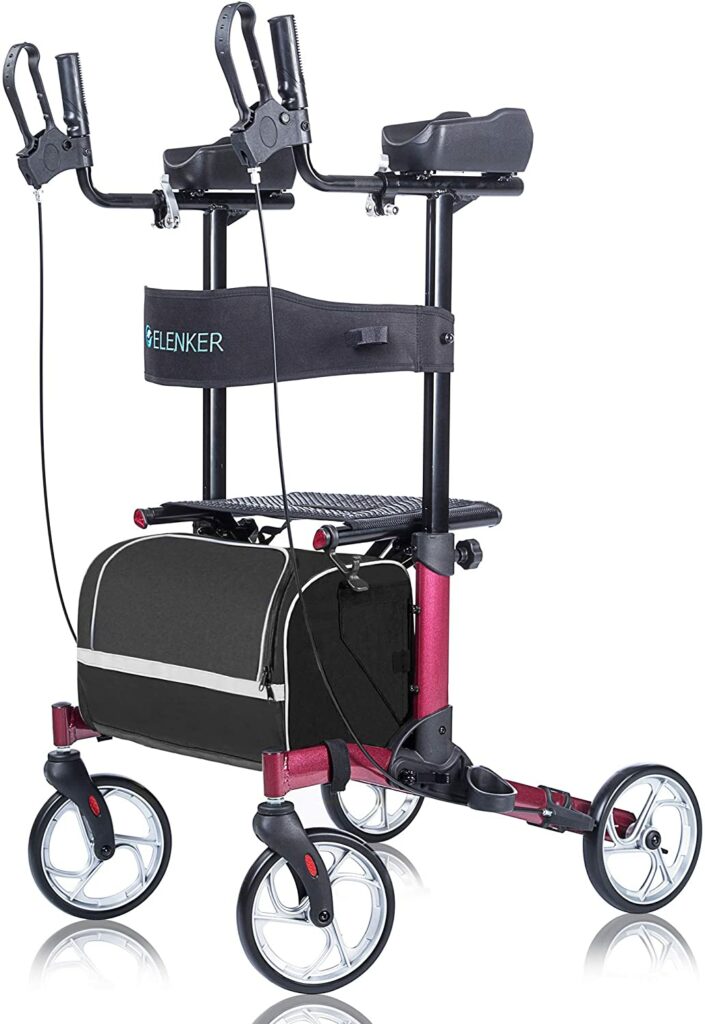 You can have a straight back and remain active with this walker.


It has a height from the ground is 37"-43",


soft padded armrests keep your forearms at a natural level, relieve painful stress on shoulders and back.


It has 8" wheels, 360°swivel front wheels, sturdy enough, easy maneuvering indoor and outdoor.


Ergonomic hand brakes and sturdy frames provide better safety.


It is easy to assemble, has no need for any tools, compact size for storage.


Detachable polyester storage bag, cane holder to leave your hands free.


Comfortable Seat with Backrest: Wide backrest support, breathable mesh seat, and locked rear wheels ensure comfort and safety when taking rests.
Pros
Sturdy – does not warp or shake
Helps strengthen your back
Stable on irregular floors
Cons
Some say it is not stable enough
Some say the assembly instructions were difficult
Some say the manufacturer was non-responsive
3) OasisSpace Lightweight Upright Rollator Walker (Best Control)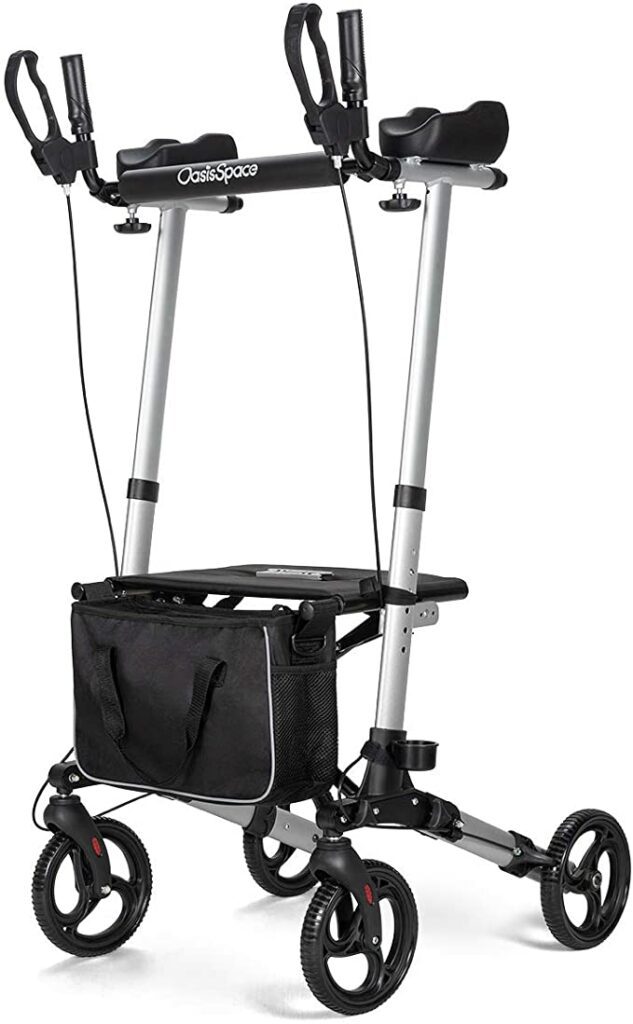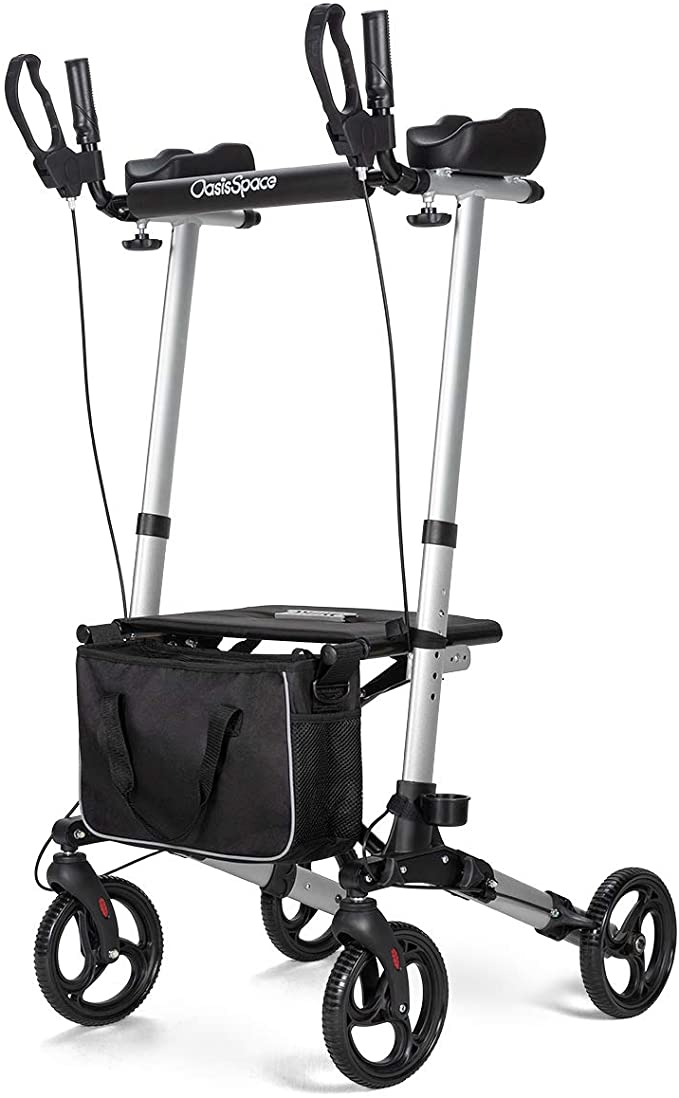 The handles of OasisSpace upright walker can be adjusted from 42.5inch to 45.6inch. Suitable for most people.


Padded armrests are adjustable and allow users to stand more upright, look forward comfortably, and provide better upper torso support.


The unique folding design allows you to adjust the width of the rollator.
It permits you to navigate narrow spaces.


The front wheels can be easily folded, and the rear legs removed, allowing you to put your rollator in the travel case, a car trunk, or a cabinet.


A detachable bar provides comfortable back support while sitting in the walker.


Slips easily over sit-to-stand handles and folds with the unit when closing.


Enables users to stand upright and look ahead with better support, greater dignity, and greater confidence to walk farther and remain active.


More comfortable compared to other walkers and rollators because it reduces stress and pain on joints in your wrists, back, and legs.


Stand handles which folds with the unit when closing.
Pros
Rechargeable battery so can be used anywhere
Very portable and comes with a carry case
Fast recharging
Strong and durable
Can control the massage nodes with your own hand pressure
4) BEYOUR WALKER Upright Walker (Best Control)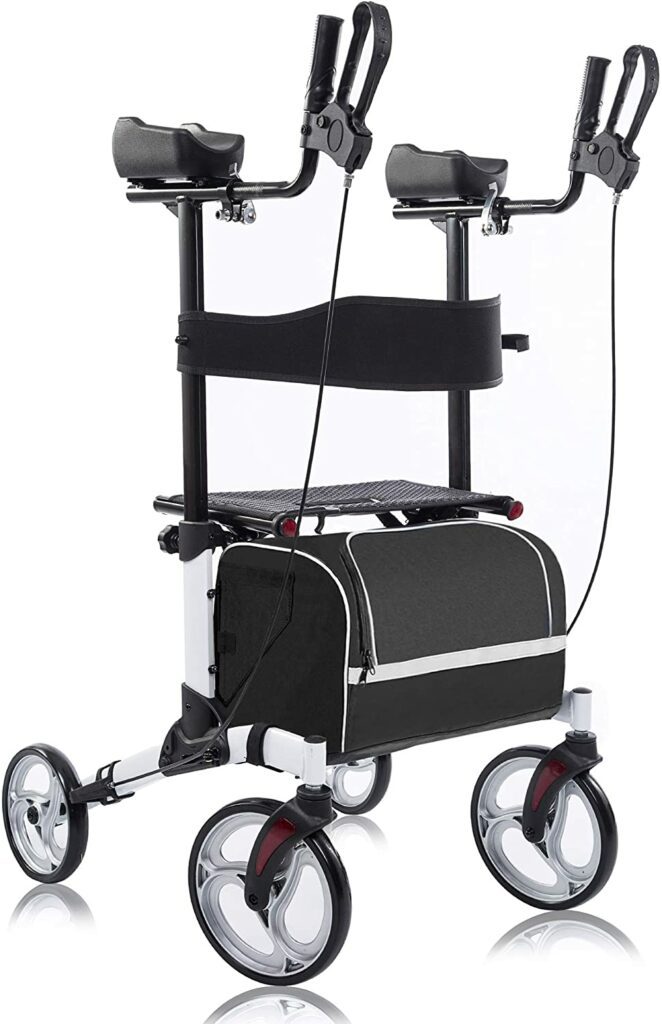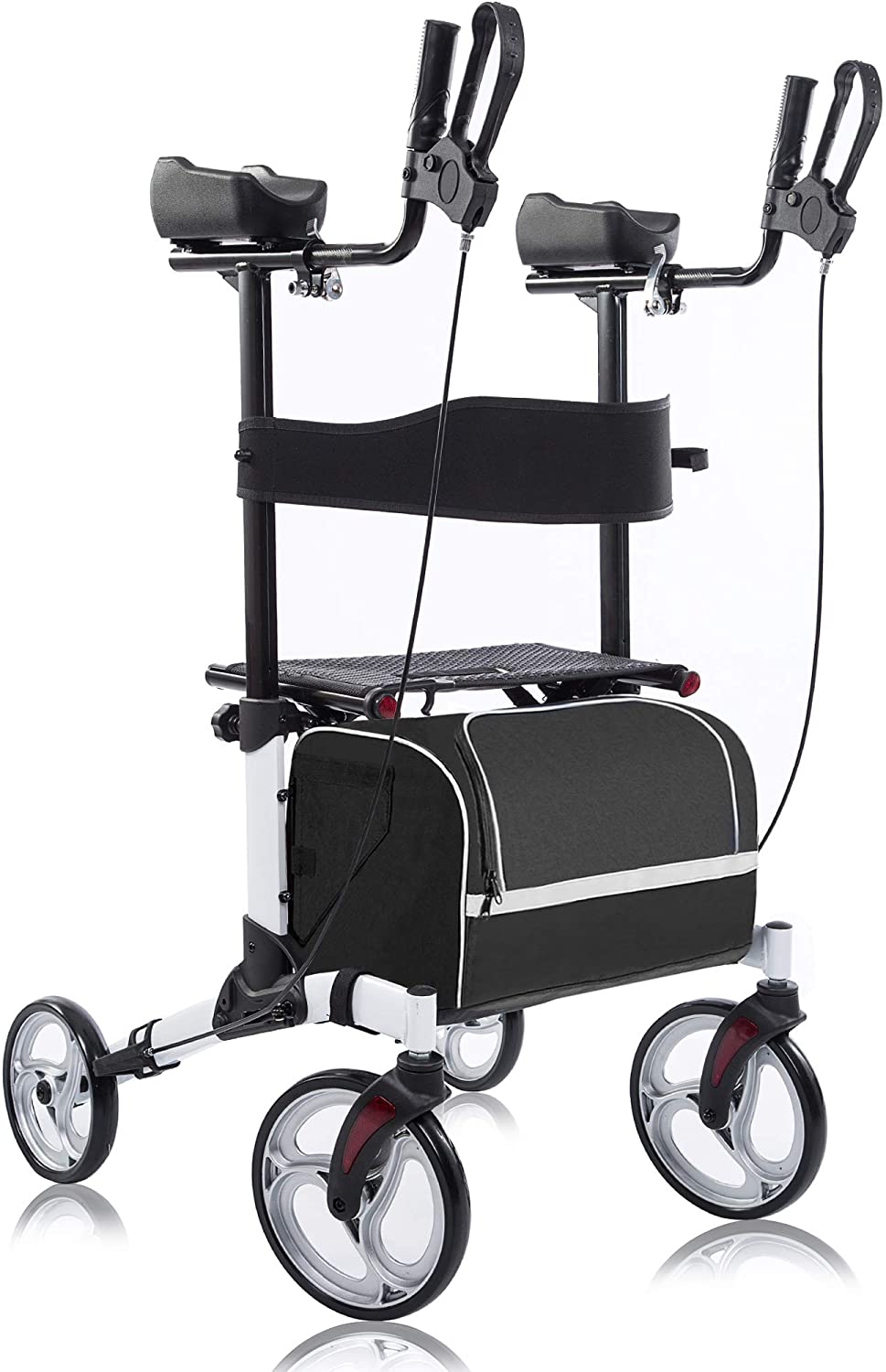 10" Front Wheels, rolling smoothly indoors and outdoors, not easy to tip-over.


A dual braking system, pull to apply the brakes, push to lock rear wheels make this more stable and safer.


It is convenient to do outside.


One-hand Folding, compact design for easy storage.


Detachable bag and cane holder to leave your hands free, seat and backrest provide a short break.


Length adjustable handlebar, armrest tube, and holding angle provide a more comfortable and natural posture.
[amazon bestseller="walker Accessories"]