4S: The Importance of Balance
The Vital Importance of Balancing for Seniors
One In Four Americans Aged 65+ Falls Each Year
Every 11 Seconds, An Older Adult Is Treated In The Emergency Room For A Fall
Every 19 Minutes, An Older Adult Dies From A Fall
Balance Is Vital to Seniors
Older adults worried about falling receive general advice: Take an exercise class. Get your vision checked. Stop taking medications for sleep. Install grab bars in the bathroom. A balance disorder needs to be investigated for all seniors.
A new study suggests that advice hasn't proved to be effective: About three times more adults age 75 and older died from falls in 2016 than in 2000, according to a recent report in the Journal of the American Medical Association.
In 2016, 25,189 people in this age group died from falls, compared with 8,613 in 2000. The rate of fatal falls for adults 75 and older more than doubled during this period, from 51.6 per 100,000 people in 2000 to 122.2 per 100,000 people in 2016, the report found.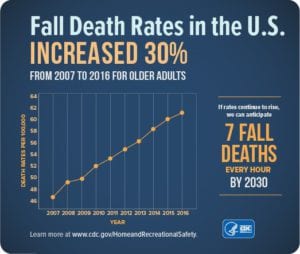 What's needed to check this alarming trend, experts suggest, is a more personalized approach to preventing falls, more involvement by medical practitioners, and better ways to motivate older adults to take action. This Is Unacceptable.
CDC Statistics ( U.S. Centers for Disease Control and Prevention(CDC):
When I read these statistics below about people over 65 years of age, I felt disturbed and saddened. I wanted to change it. I wanted to do whatever I can to reduce these horrible consequences as much as possible. There is no valid reason we cannot change this for seniors. And Yes I am over 65.
One in four Americans aged 65+ falls each year.
Every 11 seconds, an older adult is in the emergency room for a fall; every 19 minutes, an older adult dies from a fall.
Falls are the leading cause of fatal injury and the most common cause of nonfatal trauma-related hospital admissions among older adults.
Falls result in more than 2.8 million injuries treated in emergency departments each year, including over 800,000 hospitalizations and more than 27,000 deaths.
In 2015, the total cost of fall injuries was $50 billion. Medicare and Medicaid shouldered 75% of these costs.
The financial toll for older adult falls is to increase as the population ages and may reach $67.7 billion by 2020
These statistics are getting worse. Considering that we will be living longer this will get worse.