The Americans with Disabilities Act of 1990 Accessibility Guidelines for Buildings and Facilities (ADAAG) defines requirements for installing grab bars in public bathing and toileting facilities. The guidelines are supported by substantial research regarding the best placement of grab bars.[2]
The following is a subset of ADA grab bar guidelines: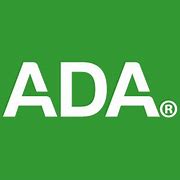 The diameter of grab bars should be 1¼ to 1½ inch (32–38 mm) (or the shape shall provide an equivalent gripping surface)

There shall be a 1½ inch (38 mm) clearance from the wall.

Grab bars should not rotate in their fittings.

The required mounting height is universally 33 to 36 inches (840–910 mm) from top of a gripping surface of the grab bar to the finish floor. DOJ 2010 ADA standards 609.4.

ADA-style grab bars and their mounting devices should withstand more than 250 pounds (1112 N) of force.

In public toilet stalls, side grab bars must be a minimum of 42 inches long and mounted 12 inches from the rear wall, and rear grab bars must be a minimum of 36 inches long and mounted a maximum of 6 inches from the side wall.
Styles
While the ADA guidelines provide specifics on the placement of grab bars in public locations, they do not require a specific style. The British Doc M regulations specify a minimum contrast between bars and background. Many public facilities opt for the cheapest grab bars, which usually have an institutional look. However, grab bars are available in many styles, finishes and colors. Manufacturers have begun to understand the need to blend in with home decor, offering grab bars that have style and pizazz. For the home, grab bars do not need to be ADA compliant, but those guidelines should be considered. In addition to straight grab bars, there are fold-out bars, those that clamp onto the side of the bathtub, L-shaped, U-shaped and corner grab bars. Grab bars are also made with built-in LED lighting and can come in many different colors.
When using grab bars as safety devices in order to prevent falls, your best choice would be a horizontal bar. Scientific research has found that gripping strength is far greater using a horizontal bar than a vertical bar in a fall situation.

This makes horizontal grab bars the safest choice.
Contact the Disability Rights Section
For information and technical assistance about the Americans with Disabilities Act (ADA)
contact the ADA Information Line
800-514-0301 (voice)

800-514-0383 (TTY)

website: www.ada.gov.
ADA Specialists are available to provide ADA information and answers to technical questions on Monday, Tuesday, Wednesday, and Friday from 9:30 a.m. until 5:30 p.m. or on Thursday from 12:30 p.m. until 5:30 p.m. (Eastern Time). Calls are confidential.