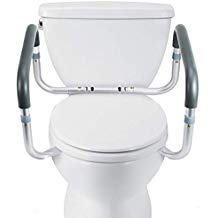 You can enjoy having the peace of mind when you're in the bathroom with Toilet Safety Frame Rails. They're built to give you extra stability while getting onto and off the commode. The non-invasive design of these safety rails is suitable for anyone with limited mobility and stability issues or recovering from surgery. They're made of sturdy anodized aluminum tubing with skid-resistant rubber-tipped legs. These toilet safety rails come with textured grip armrests for comfort. Installation is easy and tool-free since it can be attached securely using the existing seat hardware. These legs are height adjustable and lift up to easy to clean the floor. These rails also make it simple and quick to adjust the width between the armrests to accommodate any person. Toilet safety rails are used by individuals that have difficulties sitting and standing while using the toilet. There is a large variety of toilet safety rails including standard toilet safety frames, stainless steel floor mount straddle bars, wall to floor toilet safety rails, PT swings up rails and wall mount straddle toilet bars.
What is a toilet safety rail? Toilet safety rails are specially designed frames for around a toilet to aid the user to sit or stand with greater ease and comfort. Standard toilet safety rails bolt directly to the commode to provide stability and safety. Stainless steel toilet safety rails can be floor mount, wall mount, or a combination of the two. PT toilet safety rails have a dual offset bar that swings up to fold out of the way when not needed.
Read Next: Benefits Of Fiber For The Elderly
Some Considerations:
You might need a toilet seat that increases the high of the toilet seat so there is less distance to seat along with a metal frame to help you up and down.
You can get just a metal frame that slides into your toilet, so there is no additional work required at all.
What are the dimensions, so you can guarantee it fits your toilet?
How much weight can it support? Does it work for larger people?
Does it fit your height so, you can lift yourself on and off without a lot of strain.
Do you need a foldable one so it can be stored away?
Does it work for people who have unstable movements?
Do you need it to floor mounted, wall mount, or a combination of the two?
The Latest Toilet Safety Frames Reviews
Here are other decision guides you might be interested in: