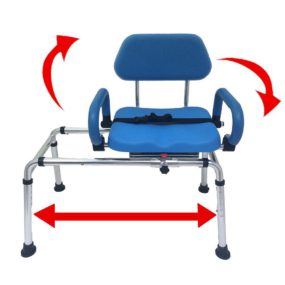 What a great idea of making a bench that is easier for someone to get into and out a shower. Making it raised one's independence, and you can start to enjoy a good shower without anyone having to get involved helping you. It can also give our caregivers the deserved time off.
Here are some items you need to consider when selecting a shower transfer bench. [toc]
Safety:
Our biggest fear is falling or slipping in the shower, hurting ourselves, or a caregiver. This is also the most important consideration in purchasing a shower transfer bench. The rates of falling and the damage as a result of the falling are staggering and not to be ignored. An adult of 65 years old falls every 20 seconds. To see all the details, go to this page for the CDC Center for Disease and Control. For safety, we are looking for a sturdy bench that is well built.
Can it hold your weight over a long period? Is it high-quality material?
Does not have a history of breaking or wearing out?
Does it have a locking mechanism to guarantee you don't slide out or hurt yourself during the transfer?
Is there strong suction holding the bench in place. What movement is required by you?
Fixed or Sliding Benches:
The sliding bench is more expensive but they can handle as stronger limitation.
Drainage:
It's vital that water doesn't pool beneath the user, which can cause great discomfort and irritation. Solid seats usually have holes to prevent this. Others have contoured grooves to channel the excess water away.
Pins:
The pins that secure the legs in position need to be strong and lock securely. We have heard of occasional weaknesses in this area. Fortunately, they're rare, but it's a situation that would be uncomfortable at the least and potentially dangerous.
Feet: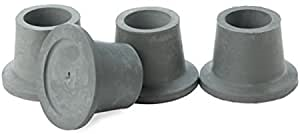 The feet, either rubber caps or suction cups, make the bench easier to move into and out of the bathing area, while suction cups give a firmer grip on the tub or shower surface.
Frame:
Plastic is easy to clean and will not rust, but it can be subject to damage and is difficult or impossible to repair. Transfer benches with aluminum frames will not rust and are less likely to damage. While the benches do have plastic seats and backrests, these are minor parts that you can replace, if necessary.
Does It Creates Independence:
As we age our independence shrinks so anything that keeps it alive is fantastic. Can this bench be used solely by the person who needs it or with minimal help? Anything that can help the person who needs the bench to be more independent is a great thing.
Worry Level:
Worrying about whether you will fall or not can mess up the works. Worrying about falling can create a fall. The worry is a distraction from being aware of what you are doing. So, the transfer procedure needs to be foolproof.
How Expensive Is It:
If for whatever reason you cannot afford an expensive sturdy one or you do not want to spend the money go for the less expensive one but keep these things in mind. The less expense model does not last beyond eight months to 2 years. You either buy the same model again and again or look for a newer solution.
Length of Use:
If this is a solution for the rest of your life or any long-term problem you have to consider the sturdiness. If you are recovering from an operation and will only be needing it for a few months, you can look towards the less expensive.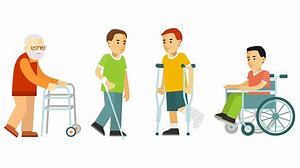 Mobility:
If you need help sitting down and getting up, then you can use a caregiver for those steps. Can you side across the bench? How limited is your movement?
Drainage:
Do not let the water pool on the bench, which can cause great discomfort and irritation.
Comfort:
Is there an adjustment for the chair to suit your size. Are the seats and armrests padded for comfort?
The Joy of Showering:
Don't forget the pure joy of taking a shower.
Ease of Operations:
How complicated are the instructions of operations? Does it require a lot of memorization?
Ease of Assembling:
Can the bench we assembled in minutes without special tools?
Does this fit:
Does it fit in your tub or bathroom in general?
Adjustability:
Can you adjust the backrest and the armrests and the legs to fit you.
Handles and Armrests: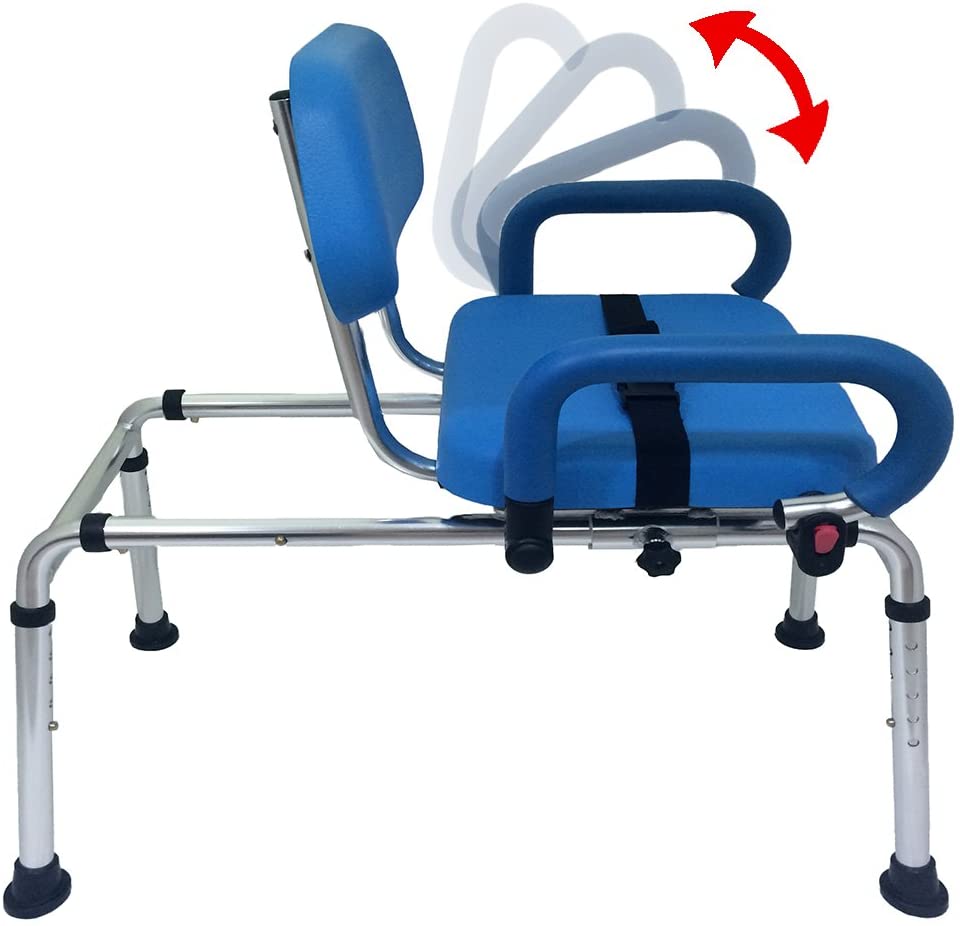 Are there armrests and handles that can give you extra support.
Material:
Are the materials waterproof and rust-resistant being they will be in the shower and sitting in the water for quite a while.
Weight Capacity:
Check out how much weight the bench can hold. And keep in mind that weight capacity is determined on level ground. Any slopes or unevenness will reduce weight capacity.
Sectional:
Some benches have removable parts like commodes and cleaning perineal areas.
Latest Transfer Bench Reviews
Look at how you can use a transfer bench

Here are other decision guides you might be interested in: