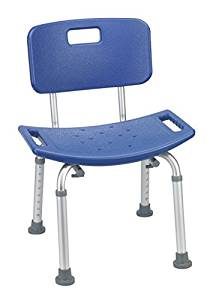 If you or someone in your care is dealing with limited mobility, it is crucial to consider fall prevention equipment such as shower chairs as an investment in safety. This limited mobility might be recovering from knee, hip or foot surgery. Some of the most challenging tasks are related to the bathroom. Without the proper bath safety equipment, the bathroom can be very a terrifying place for those who deal with instability issues. Bathroom tasks pose a higher risk factor relative to other rooms due to the presence of water, slippery surfaces, and often limited space.
There are circumstances in which one might need a basic shower chair. Basic shower chairs are most popular when one is recovering from a surgery or injury. There is some strength required to get in and out of the shower/tub.
One of the most useful pieces of equipment designed to keep one safe from a bathroom-related injury is a shower chair.
A basic shower chair typically consists of a long seat and four legs. The legs have plungers at their base that grip the tub's surface for stability. There are many different kinds, customized for the patient's needs. The size, (usually adjustable) height. The person gets in the tub or walk-in shower and sits on the shower chair.
Various optional accessories are available, such as a padded seat, commode opening, or support backrests,
Unlike a lot of other fancy durable medical equipment, a shower chair is exactly what it sounds like it is. It is a seat designed to be used while taking a shower. A typical shower chair is developed within the general specifications of the tub dimension, made out of material that does not rust, and height-adjustable to accommodate different user heights. Choosing the right shower chair requires some thought about the features you need and do not need.
There are many different shower chairs and many different features. There are shower chair features that range to accommodate general needs to specific needs, but no single chair provides all needs. When deciding on a shower chair, there are some critical questions to be asked.
Shower Chair – Questions To You Need To Answer
Do the shower chair dimensions satisfy the person's height and weight?
Is the shower chair usable in the space it is designated for? Many people's reviews claim it doesn't fit their bathtub. So it is crucially important to measure it beforehand to see if it fits your bathroom.
Regarding mobility, strength, and coordination consider the user's abilities and disabilities.
Are there any specific features the chair needs to have? Like handling irreversible physical damage?
How durable is the chair?
Is the height adjustable for your size?
What material is it made from?
Is it rust and corrosion-proof?
What adjustments in height can it handle?
Do you need a shower chair or a transfer bench?
Is the seat padded for more comfort?
Or is the seat plastic and do you have to worry about soap making the plastic seat slippery?
Does the chair have armrests for additional support for getting in and out of?
Do you need a folder away chair due to a lack of space?
Do not worry about not finding the perfect shower chair. There are many different shower chair possibilities to choose from and resources for advice. Choosing the right shower chair may not seem like a big deal, but you do not want to underestimate the difference a choice like this could make in the long run.
The Latest Shower Chair Reviews
Here are other decision guides you might be interested in: