Is The Medline Heavy Duty Rollator Any Good? In This Medline Heavy Duty Rollator Review, I Reveal the Pros and Cons of Medline Heavy Duty Rollator Review.
If you need more mobility, then you know the importance of rollators for getting around. In my Medline Heavy Duty Rollator Review, I go through the pros and cons of this Medline Heavy Duty Rollator and reveal if it is a sound and safe product.
The Medline Heavy Duty Rollator, You Can Prevent Falling While Moving
What is the Medline Heavy Duty Rollator?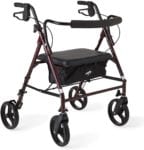 The rollator, also called a wheeled walker, invented by the Swede Aina Wifalk in 1978, herself a polio sufferer. Although originally a brand name, "rollator" has become a genericized trademark for wheeled walkers in many countries, and is also the most common type of walker in several European countries.
Features:
The Medline Bariatric Heavy Duty Rollator features an impressive, reinforced steel frame to hold up to 500 lbs

The Medline heavy-duty rollator weighs 25 lbs

It has a wide 17.5-inch x 14-inch padded seat

It has large 8-inch

wheels with reinforced spokes for extra durable making it easily roll on all indoor surfaces and outdoor terrain

This rollator folds flat for easy storage and transportation.

It has a velcro pocket underneath

The with between handles: 23.5 inches

The overall rollator dimensions: 29″ W x 44.5″ H x 29″ D (may not fit through all door frames)

The handles adjust from 31.5″ – 37.5″ allowing users a more customized fit.

It measures 22″ from floor to seat: (not adjustable).

Latex-free
Who The Medline Heavy Duty Rollator Is For?
A rollator is a tool for disabled people, who need additional support to maintain balance or stability while walking, most commonly due to age-related physical restrictions. This rollator is also for people who want extra stability when moving
My First Impression of Medline Heavy Duty Rollator
My first impression was it is sturdy enough to support 500 libs. It appears rugged. It is suitable for indoor or outdoor use. It conveniently folds into a small space. The padded seat is an extra comfort. It also has a basket and pouch for storing personal items.
Pros of The Medline Heavy Duty Rollator
1) It was very easy to put together.
2) This rollator walking seat is well built and so stable.
3) Works Well Over Tough Terrains
Cons of The Medline Heavy Duty Rollator
1) For Some, It Broke Too Easily
2) Some Had Missing Pieces When Delivered.
3) The Wheels Seem To Be A Problem For Some
My Overall Thoughts On Medline Heavy Duty Rollator
After looking at this and weighing the pros and cons, this is a good product for people who cannot climb stairs.
In Conclusion
Let's keep our loved ones and those under our care as safe and informed as possible from falling, so I recommend the Nautilus Stair Lift
Check Out This Video
Here Are Other Reviews That Can Help Keep Seniors Safe:
My Commitment:
I commit to making this website better and better each day.
I would appreciate your frank comments – either good or bad.
I would like to remind you that I will make a review for a product of your choice.
I would love to hear your comments.
Tell me what's on your mind.
You can also make requests.