Hello, it's Ed here. As a senior and an advocate for elderly independence, I understand the significance of safety and comfort in our daily lives, especially when it comes to bathing. Today, I'm going to share my comprehensive review of the American Standard Walk-In Tub. I've spent a considerable amount of time researching and evaluating this product, and I'm excited to share my findings with you. In this review, we'll explore the pros and cons of the American Standard Walk-In Tub, and I'll provide my expert opinion on whether it's a sound and safe choice for your needs.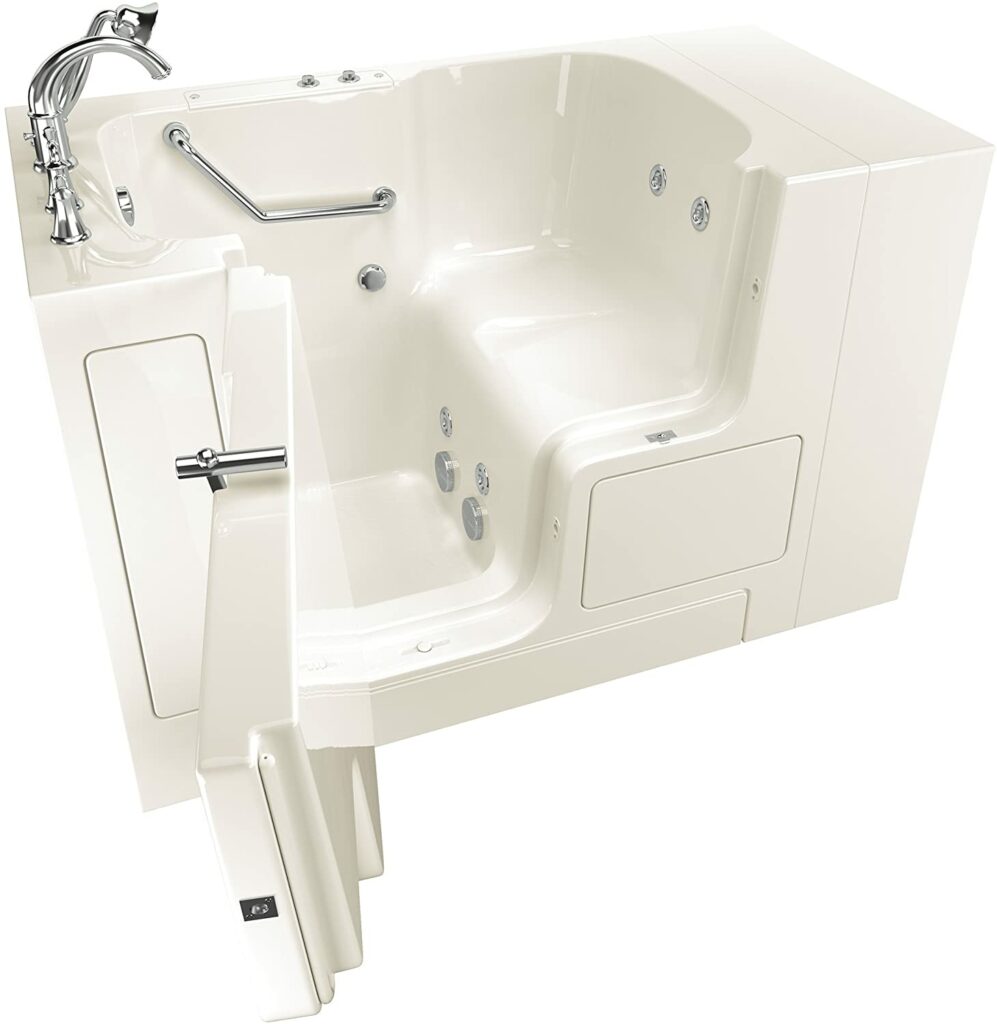 American Standard Walk In Tub Specs
An Overview of The American Standard Walk In Tub
Features:
A fully-equipped walk-in tub
A premium fast-fill faucet
Overflow and safety grab bar
Constructed of durable, hi-gloss Gelcoat
The latest in safety and comfort features
The most advanced therapeutic options
The full-sized, watertight outward opening door is contoured for ease of entry
It has a low threshold that allows the full transfer
Features the Whirlpool Massage System with 6 water jets, an inline heater
A Legs Only Massage for a soothing and invigorating therapeutic bathing experience
Easy-touch push-button controls
Handheld showering wand
A polished chrome drain
Has a lifetime warranty on the door seal, a 10-year warranty on the tub shell and a 5-year warranty on all other components
The built-in safety grab bar and textured bath floor increases your level of bathing independence and fewer opportunities to slip or lose your balance
The chair height, built-in seat is contoured to allow for more room
This tub is white in color and the faucet deck mount (fast-fill faucet included in this model),
Drain and door are positioned on the right-hand side of the bath;
Available in White or Linen
In a Left-Hand or Right-Hand Door/Drain Configuration
American Standard can help find the right walk-in tub or shower for you
Who The American Standard Whirlpool Is For?
Accessible bathtubs are bathtubs that can be used by people with limited mobility or the disabled. This walk-in bathtub, has whirlpool features, internal grab bars, anti-slip floors, and seats, You can go from a wheelchair or walker directly into the tub without climbing over a tub wall.
My First Impression of The American Standard Whirlpool
This whirlpool is impressive. The therapeutic functions for a senior are outstanding with 6 jets and heater and leg massager. There is a built-in safety grab bar and textured bath floor that increases your level of bathing independence and delivers peace of mind by giving you fewer opportunities to slip or lose your balance. It has a fast-fill faucet.
About the American Standard Brand
based in Piscataway, New Jersey, United States, American Standard has been in the tub, plumbing, and bathroom sector since 1929. I guess you can say they've been a fixture in the bathroom industry for a long time.

Reviewed in the United States on October 4, 2019
I bought this tub for my elderly mother. She was unable to take a proper bath in a regular tub. The installer had to go through the wall to install this tub. The hallway is too narrow. I didn't want anything smaller because my mom is a plus-size lady. After her first bath, she was praising everyone involved. She loves the tub and didn't know what she was missing.

After thinking about it, it would be cheaper to give a senior a walk-in tub, than to repair broken bones due to a slip in the tub. A tub= $2k -$3k, trip to hospital= $25k – $30k for broken bones and suffering.
18 people found this helpful
Pros and Cons of the American Standard Walk In Tub
Here are some pros and cons for this American Standard Walk In Tub.
Pros
Great walk in feature
You can take a regular bath without climbing over a tub wall
Therapeutic
Whirlpool and heater give a soothing and therapeutic soak
Decent price
Although the price sits around $4k, considering all you get – I think it is a reasonable price. Remember, you can have monthly payments if you wish
Cons
Installation heavy
Check installation before purchase to assure no unexpected costs.
The premium item for elderly
Some have mentioned that it may be too expensive for anyone who is on a fixed income.
In Conclusion
In conclusion, the American Standard Walk-In Tub has its strengths and weaknesses. While it may be a bit pricey and installation can be heavy, its features like the whirlpool, heater, and safety grab bar make it a compelling choice for those who struggle with traditional tubs. However, remember that everyone's needs are unique, and what works for one may not work for another. It's crucial to consider your specific requirements and consult with a healthcare professional before making a decision. So I recommend the American Standard Whirlpool.