Hello, it's Ed here. As a senior and an advocate for elderly independence, I understand the significance of safety and comfort in our daily lives, especially when it comes to bathing. Today, I'm going to share my comprehensive review of The 5 Best Walk-In Tubs For Seniors in 2023. I've spent a considerable amount of time researching and evaluating these products, and I'm excited to share my findings with you. In this review, we'll explore the pros and cons of each tub, and I'll provide my expert opinion on whether they're sound and safe choices for your needs.
Walk-In Tubs Makes Bathing Easy, Safe, and Soothing
Safety is the biggest concern as we age. No more worrying about falling as you step in or out of a tub. That means fewer hospital visits fewer doctor costs.
If You Are In A Hurry, Look At These Walk-In Tubs Comparisons At A Glance
#
Preview
Product
Rating
1

American




Standard

Recommended
2
Runner Up
3
Budget
Runner Up
Budget
What Are Walk-In Tubs?
General Features:
The latest in safety and comfort features
Advanced therapeutic options
Watertight outward opening door
It has a low threshold that allows the full transfer
Has a warranty on the door seal, a warranty on the tub shell and warranty on all other components
Constructed of durable, hi-gloss Gelcoat
Easy-touch push-button controls
A premium fast-fill faucet
Handheld showering wand
Overflow and safety grab bar
The built-in safety grab bar
Textured bath floor to have fewer opportunities to slip or lose your balance
The chair height, built-in seat is contoured
In a Left Hand or Right-Hand Door/Drain Configuration
Who Is A Walk-In Tubs For?
Accessible bathtubs are bathtubs that can be used by people with limited mobility or the disabled. This walk-in bathtub, has whirlpool features, internal grab bars, anti-slip floors, and seats, You can go from a wheelchair or walker directly into the tub without climbing over a tub wall.
---
Different Types of Walk-In Tubs.
There are different sizes and different shapes. You need to measure your space before purchasing. Here are a few of the different types.
---
What Are The Major Considerations For Walk-In Tubs?
Door Swing: Make sure that the door swings outwards and there is enough room in your bathroom to open the door. There are doors that open inward, however, there is safety concern if you want to get out in a hurry.
Test Tub Outside Before You Hook Everything Up: ALWAYS be sure to set up the tub outside and fill it and run all the functions before you've had it too long and get stuck with a broken tub! If it does work then you can do the final hookup.
Check Water Heater Before Purchasing: Check to see if your water heater has the capacity to fill the tub with hot water without dropping the hot water in other parts of the house.
Drainage Alignment: How well do you pipes connect to your tub?
Reliability: A door sealant is essential.
Safety: Floor slip-resistant floor so you don't slip and grab bars to hold on to.
---
Below Is A Summary For Each Walk-In Tub.
Also, You Can Link To A Detail Review Of Each Walk-In Tub.
---
#1 American Standard 32 Inches x 52 Inches Right Hand Outward Opening Door Value Series Walk-in Whirlpool in White
General Features:
Fully equipped,
Comfort features
Full-sized, watertight outward opening door
Features the Whirlpool Massage System
Constructed of durable, hi-gloss Gelcoat
This tub is White
Quick Drain
Quick-Fill
Many Safety Features
#2 Empava 53" Walk-in Tub Freestanding Bathtub With Left Side Door, WIT373, White
Freestanding bathtub

Pure-Scape luxurious walk-in tub

The outside is equipped with a surrounding safety

Acrylic

The faucet are pre-installed

An extra-wide door

Easy installation process.

Proudly Made in U. S. A.

3 Years US Based Manufacture limited parts.
---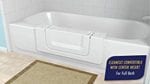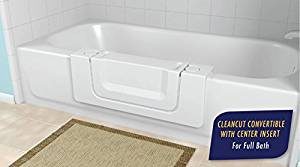 #3 CleanCut Convertible Bathtub Accessibility Kit
Bathtub Accessibility Issues?
Configure as a traditional bath or step-in shower
Removable insert locks and unlocks quickly
Our most versatile product – easily switch back and forth!
Affordable bathtub conversion option
Returns Available – Please Call CleanCut Directly to Return Product
Retains the future value of tub
The plug is water-tight and ready to take a full bath
Works on any type of tub
The kit comes with written instructions and cutting template
---
#4 Ariel Walk-In Tub
This Ariel EZWT-3060-DUAL Series right-side model Walk-in bathtub includes large hydro jets positioned for a lower back massage and multiple air bubble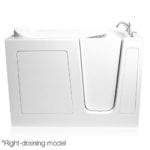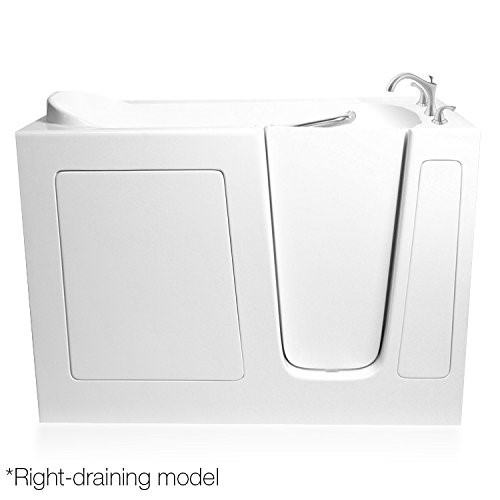 jets positioned for full body massage. This model also includes electro-safe pneumatic buttons for Whirlpool jets and air jets. Feel at home in the safety of a walk-in bathtub, which makes bathing a safer activity.
What is the Ariel Walk-In Tub?

Features:
Heavy-Duty Reinforced Fiberglass Resin Coated, High Gloss Triple Gel Coat
Heavy-Duty Reinforced Door System
Built-In Safety Grab Bar
Textured Bottom,
Built-In Countoured Seat
Handheld Showerhead
Roman Faucets.

Dimensions: 60″ x 30″ x 37″ (LxWxH) ,

ADA Compliant Walk In Bathtub
Check Out This Video
---
What is the Mecor Walk-In Tub Whirlpool?
Features:
5" Low step-in threshold
4 stainless-steel grab bars
Slip-resistant floor to enhance the safety of the bather while sitting, standing, and bathing
Comfortable Massage System: The Walk-in bathtub Features 10 water jets
One handheld showering wand
An inline heater
A Legs Only Massage for a soothing
A wide 20″ built-in seat
Reliable Sealing
The full-sized door seal prevents any water from spilling into your bathroom
High-Quality Materials: Constructed of durable, hi-gloss Gelcoat with
Easy touch push-button controls
Fast-fill faucet
Handheld showering wand
Safety grab bar
Has a lifetime warranty on the door seal, a 10-year warranty on the tub shell, and a 5-year warranty on all other components
Check Out This Video
My Commitment:
I commit to making this website better and better each day.
I would appreciate your frank comments – either good or bad.
I would like to remind you that I will make a review for a product of your choice.
I would love to hear your comments.
Tell me what's on your mind.
You can also make requests.
Conclusion
In conclusion, each of the walk-in tubs reviewed has its strengths and weaknesses. While some may be a bit pricey and may not fit in smaller bathrooms, their features like the whirlpool, heater, and safety grab bar make them compelling choices for those who struggle with traditional tubs. However, remember that everyone's needs are unique, and what works for one may not work for another. It's crucial to consider your specific requirements and consult with a healthcare professional before making a decision.
As always, my goal is to provide you with the most accurate and helpful information to ensure your safety and independence. I'm committed to continually improving this platform, and your feedback is invaluable. If there's a product you'd like me to review, don't hesitate to let me know. Remember, your safety and comfort are paramount, and making informed decisions is the first step towards ensuring them. Stay safe, and take care.