Ella Acrylic Walk In Tub For Two. Is The Ella Acrylic Walk In Tubs For Two Any Good? If you need more safety in the shower or bath, then you know the importance of Walk-In Tubs for safety. In my Ella Acrylic Walk In Tub For Two Review, I go through the pros and cons of this Ella Acrylic Walk In Tub For Two and reveal if it is a sound and safe product.
Walk-In Tubs Makes Bathing Easy, Safe, and Soothing
Safety is the biggest concern as we age. No more worrying about falling as you step in or out of a tub. That means fewer hospital visits and fewer doctor costs.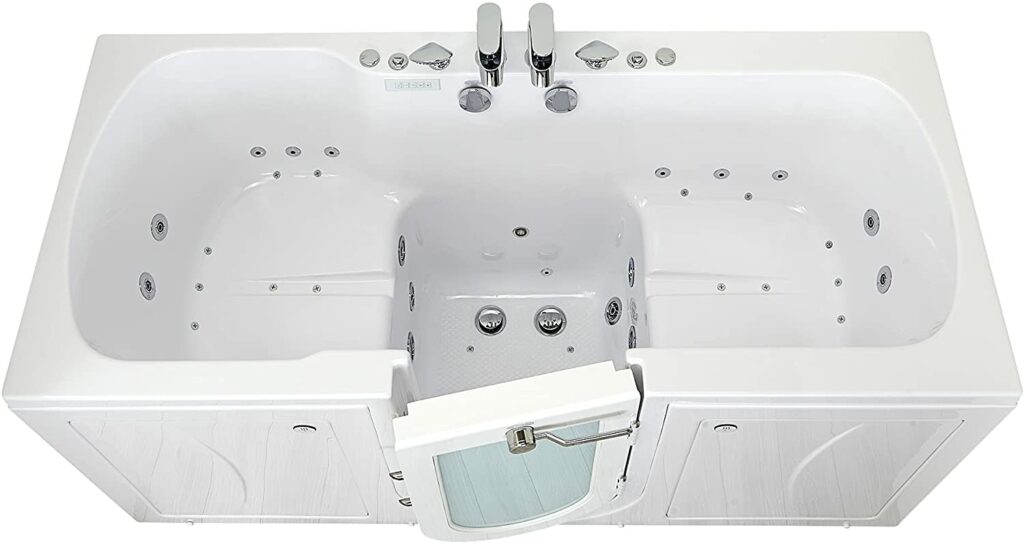 Ella Acrylic Walk In Tub For Two Specs
An Overview of The Ella Acrylic Walk In Tub For Two
Features:
Hydro massage comes with 6 fixed and 2 adjustable jets per seat. Includes an intensity dial control, in-line water heater, and ozone sterilization to clean the system and water.


Independent foot massage includes 8 adjustable hydro jets with its own pump and controls that allows you to enjoy a foot and calf massage while only filling up the tub to seat level.

Air massage comes with 16 strategically placed jets. Includes a 3-speed variable push control and auto-purge to clean the system.

Microbubble therapy massage has a single jet that releases billions of bubbles creating an experience that can produce a moisturizing, exfoliating therapeutic experience all while detoxifying and relieving skin-related issues.


Dual Drain Technology features 2 individually controlled 2 in. drains with easy-to-turn levers. 4 2" outlets allow for the fastest gravity-driven drain in the industry.


Size: 36"x80"x42". Two-seat tub featuring a 26" and 21" wide seat. The heated seat and backrest provide added comfort when filling the tub.


The Big4Two features two Ella 2 Piece Fast-Fill faucets fill up to 16GPM mounted faucet and has a pull-out multi-functional hand shower in chrome finish.
Who The Ella Acrylic Walk In Tub For Two Is For?
The Ella Acrylic Walk In Tub For Two Accessible bathtub can be used by TWO people and can assist people with limited mobility or a disability. This walk-in bathtub, has whirlpool features, internal grab bars, anti-slip floors, and seats, You can go from a wheelchair or walker directly into the tub without climbing over a tub wall.
You May be Interested in: CleanCut Walk In Bathtub Alternative
My First Impression of The Ella Acrylic Walk In Tub For Two
This whirlpool is impressive. I like to idea you can fit two people, so you can enjoy it with another person. The therapeutic functions for a senior are outstanding with 6 jets and heater and a leg massager. There is a built-in safety grab bar and textured bath floor that increases your level of bathing independence and delivers peace of mind by giving you fewer opportunities to slip or lose your balance. It has a fast-fill faucet.
About the Ella's Bubbles Brand
Based in Chicago Illinois, United States, In 2005, Ella's Bubbles set out on a mission to reimagine the future of bathing. Since the walk-in bathtub market had limited options, Ella's was driven to create unique, luxurious bathtubs. In order to ensure every detail was intentional and purposeful, Ella's Bubbles devoted years to designing and crafting a wide variety of unique walk-in bathtubs.
Pros and Cons of the Ella Acrylic Walk In Tub For Two
Here are some pros and cons for this Ella's Bubbles TMO2SA3680HR2x2.
Pros
Great Improvement In Neuropathy
This Tom has made such a difference in the neuropathy I have in my feet due to having diabetes for over 35 years. the heated seats are a must in the winter, it doesn't take long for the tub to fill but it gets chilly in the winter months. It is best to have a water heater that is specifically for the stop as it takes so many gallons to fill it. There really isn't any negative about the tub
Very Relaxing
The microbubbles that are in the area around your feet and legs are the best. Of course, the whirlpool-type bubbles and the light therapy are also great for relaxing.
Cons
No Con Reviews At This Time

Conclusion / Final Verdict
My Overall Thoughts On The Ella Acrylic Walk In Tub For Two
After looking at this closely and weighing the pros and cons, this is a good product for people who cannot take a proper bath in a regular tub. This is a Godsend.
In Conclusion
Let's keep our loved ones and those under our care as safe and informed as possible from falling, so I recommend Ella Acrylic Walk In Tubs For Two.