Is The Empava Walk-In Tub Any Good? In This Empava Walk-In Tub Review, I Reveal the Pros and Cons of the Empava Walk-In Tub.
If you need more safety in the shower or bath, then you know the importance of Walk-In Tubs for safety. In my Empava Walk-In Tub Review, I go through the pros and cons of this Empava Walk-In Tub and reveal if it is a sound and safe product.
Empava Walk-In Tub Makes Bathing Easy, Safe, and Soothing
What is the

Empava Walk-In Tub

Walk-In Tub
Features: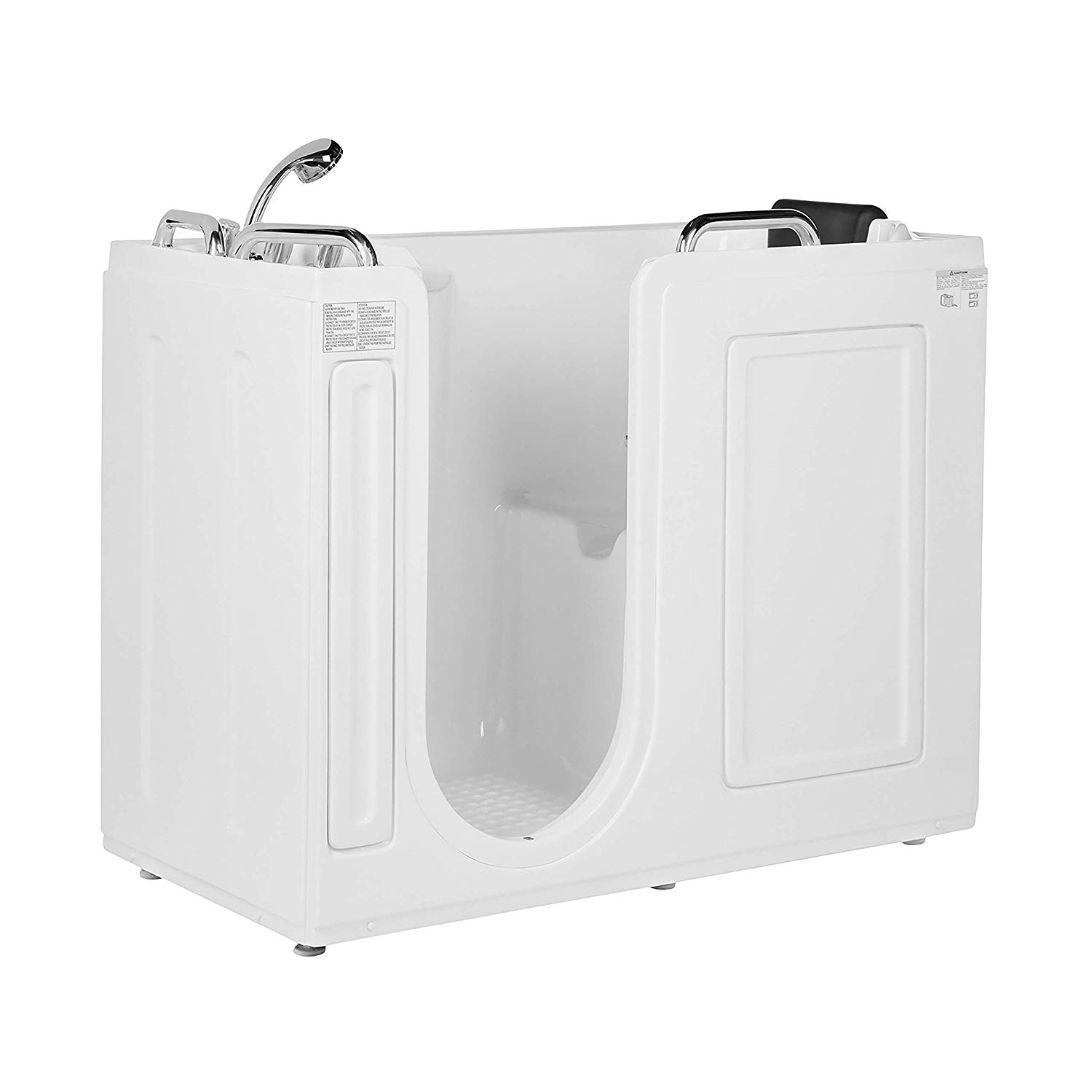 The Empava walk in the freestanding bathtub

Offers the ultra-low step-in threshold

The Textured, slip-resistant tub floor for added safety

Featuring 100% glossy white acrylic and contemporary stand-alone design that complements any bathroom décor

The ergonomic control knobs are designed for simplicity and ease

Perfect for seniors or those with disabilities to enjoy SPA-Like comfort in own home

The outside is equipped with a surrounding handrail built into the rim of the bath. This way, you have a stable grip at all times during your bath

Another grab bar is installed inside the bath for added stability and safety while sitting, standing and bathing

94 Gallons of water capacity

The average adult bather to submerge in water up to their shoulders

Bathtub Outer Dimensions: 52. 5 in. L x 26. 5 in. W x 40 in. H

3 grab bars

2" copper drain are included

The faucet is pre-installed in the middle, right side drain, and left side door

Offer an extra-wide door; is at least 20% wider than other walk-in baths

With a cabled right side drain, Overflow, Faucet, Knobs, Showerhead

The accessories are pre-drilled and pre-installed for a convenient and easy installation process

Proudly Made in U. S. A. with 3 Years US Based Manufacture limited parts
Who The

Empava 53" Walk-in Tub

s For?
Accessible bathtubs are bathtubs that can be used by people with limited mobility or the disabled. This walk-in bathtub,has a whirlpool features, internal grab bars, anti-slip floors, and seats, You can go from a wheelchair or walker directly into the tub without climbing over a tub wall.
My First Impression of The

Empava 53" Walk-in Tub

s
This soaking tub is of high quality. It is a free-standing tub. There has a built-in safety grab bar and textured bath floor that increases your level of bathing independence and delivers peace of mind by giving you fewer opportunities to slip or lose your balance.
Pros of The

Empava 53" Walk-in Tub

s
1) Easy to install.
2) Easy to Use
Cons of The

Empava 53" Walk-in Tub

s
1) Take a long time to fill
2) Uncomfortable seat. Check this out with customer service

Reviewed in the United States on November 12, 2020
This tub does exactly what it is supposed to do at a fraction of what other tubs are sold for. I can't imagine the tubs at 2x or 3x the price do anything differently unless they are spa-style with jets, but that's a different category and even more costly considering the electric hook-up necessary. My 92-year-old mother can now bathe or shower again safely, so it is a big success. According to the plumber, the drain hose is different than what most plumbers are used to and requires a different method of connecting, but after six weeks, it works perfectly.
2 people found this helpful
My Overall Thoughts On The

Empava 53" Walk-in Tub

s
After looking at this closely and weighing the pros and cons, this is the wonderful invention and a brand new product to the market. Most of the complaints are of people not checking their dimension before purchasing or misunderstanding, the product.
In Conclusion
Let's keep our loved ones and those under our care as safe and informed as possible from falling, so I recommend the Empava 53" Walk-in Tub
My Commitment:
I commit to making this website better and better each day.
I would appreciate your frank comments – either good or bad.
I would like to remind you that I will make a review for a product of your choice.
I would love to hear your comments.
Tell me what's on your mind.
You can also make requests.