As someone who has spent years advocating for elderly independence, I understand the importance of safety and comfort in the bathroom. One product that has caught my attention recently is the Medline Shower Chair Bath Seat. This shower chair promises to provide much-needed stability and security for those who find it challenging to stand for extended periods or have balance issues. In this review, I'll delve into the pros and cons of the Medline Shower Chair Bath Seat, drawing from my extensive experience in the field and the feedback from hundreds of users.
Here Is A Method That Helps Thousands To Become Accident-Free In The Bathroom.
Make An Elderly Person Smile.
Medline shower chair is an excellent product we need to have safety and comfort in the shower. Learn more below.
What Is the Medline Shower Chair Bath Seat?
KEY FEATURES:
Professional Grade: Corrosion-resistant aluminum construction is the perfect choice for a lightweight bath chair or shower bench that will not rust. You can adjust the height of the shower chair seat to create a secure, customized experience.
Back Rest: Backrest provides the user with extra support and comfort.
Height Adjustable:

Height adjustable with a sturdy, durable aluminum frame

Seat height is adjustable in 1″ increments from 16″ – 21″ | Seat dimensions: 13.5″ x 16″

Padded Arms: Armrests are ideal for patients who need extra support when getting on and off the chair. Padded hand grips for comfort also reduce slipping.
Superior Comfort: Non-slip feet secure bench to the tub
Easy Cleaning: Rust-resistant and easy to clean
Quick Assembly: Easy assemble the lightweight shower seat without the use of any tools. Tool-free removal of legs, armrests, and backrest makes storage and travel easy and convenient.
Colors: White
Weight: 7.3 pounds.
Weight Capacity: It can hold up to 350 lbs.
Product Dimension: 16 X 21 Leg to Leg: 18″ O.D.
Warranty and Return Policy:

Click here for the detail company info and return policies.

Safety Information:

Non-slip feet secures bench to the tub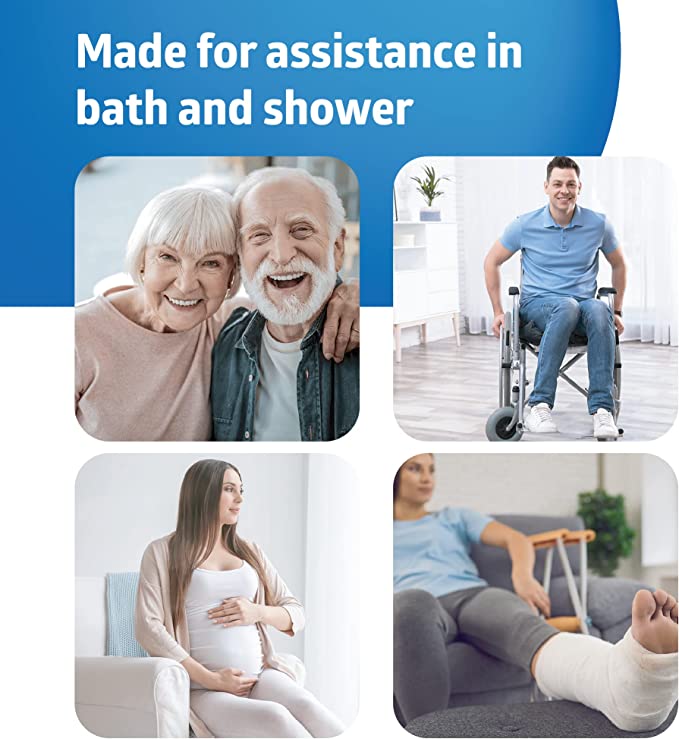 Who The Medline Bath Seat Chair For?
The Medline shower chair is a shower aid for those who cannot stand for extended periods or balance issues. The extra-wide seat has handles to make the process of standing and sitting as easy as possible. The base of the item will fit most bathtubs and showers measuring 23.3" wide and has a rubber tipped caps to avoid slipping during use.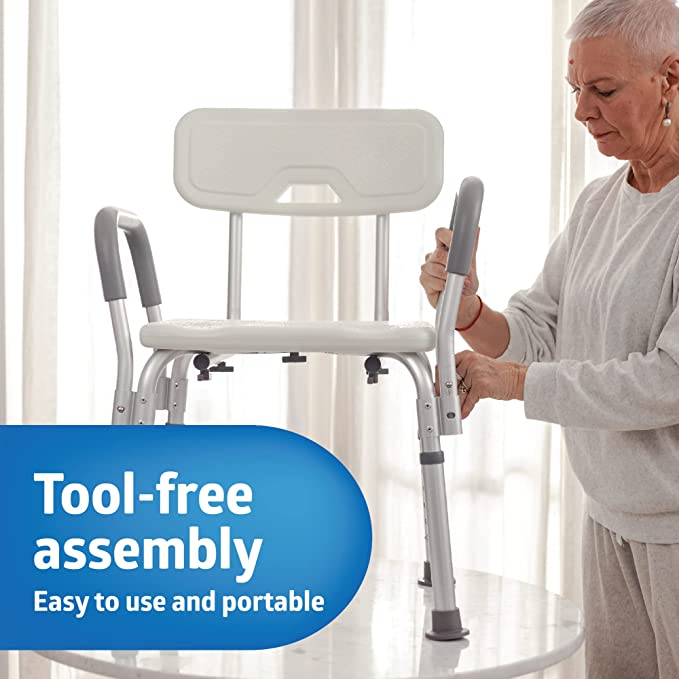 My First Impression of the Medline Shower Chair Bath Seat
Feel comfortable and secure when showering. As an ergonomic design, the extra-wide seat supports up to 300 pounds. Padded handles on each side provide a comfortable grip without the risk of slipping. Each chair leg has a non-slip rubber, anti-skid tip for additional safety and security.
---
Pros of The Medline Shower Chair Bath Seat
1) Most people 361 out of 435 liked this chair.
2) They also mentioned that they saw the product as solid and sturdy
3) They found it easy to install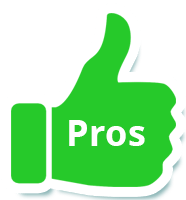 ---
Cons of The Medline Shower Chair Bath Seat
1) 27 reviews out of 435 mentioned that the product was either unsafe or wobbled and they did not want to try. With uneven surfaces or is on an angle these shower chairs can wobble.
2) 18 reviews out of 435 mentioned that they received defective parts. They either got the correct parts or used their own parts.
3) 13 reviews out of 435 mentioned it was hard to assemble.
Percentage-wise all these cons are small and fixable.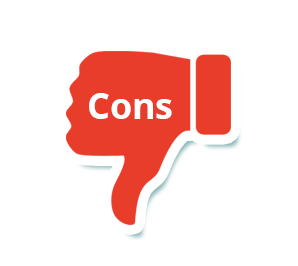 Distribution of Bad Reviews For Medline Shower Chair
| | |
| --- | --- |
| Issue | Amount |
| Unsafe | 27 |
| Warranty Issue | 2 |
| Wrong Size | 7 |
| Hard to Assemble | 13 |
| Defective Part | 18 |
| Parts Missing | 3 |
| Too Long to Return | 1 |
| Delivered Wrong Product | 3 |

CAUTIONS: NONE
This Product Gets The Greenlight – No Cautions
No reviews stated there was any personal damage that occurred from the use of this product. More people liked and are happy with this product than dissatisfied. You should test this product upon receiving it.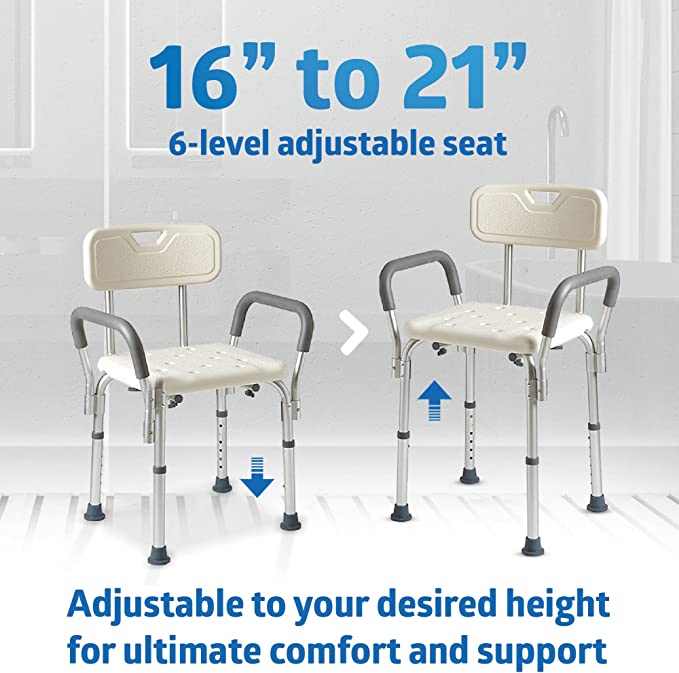 My Overall Thoughts On Medline Shower Chair Bath Seat
After looking at hundreds of reviews and weighing the pros and cons and all the steps mentioned above, the comfort of this shower chair is helpful. Most of the complaints are around the assembly and defective parts. This product, like most, you need to check the tub dimensions and make sure that the legs are on a level surface and the same length to assure that support the total weight. Some bathtub has a slope to them, make sure the legs are on an even surface or look elsewhere. Also make sure that the bathtub surface is clean, so the chair does not move about. To see more about these conditions click here.
Frequently Asked Questions
Does Medicare pay for shower chairs?
Medicare does cover some types of durable medical equipment (DME) if they are considered medically necessary. However, shower chairs are often categorized as "convenience items," and thus, they are typically not covered by Medicare. It's always best to check with your Medicare provider to understand what is and isn't covered under your plan.
Is a seat in the shower worth it?
A shower seat can be a valuable addition to the bathroom, especially for those with mobility issues, the elderly, or anyone recovering from surgery. It can provide stability, reduce the risk of slips and falls, and make the showering process more comfortable. However, whether it's "worth it" depends on individual needs and circumstances.
Can you use a shower chair in a bathtub?
Yes, many shower chairs are designed to be versatile and can be used in both showers and bathtubs. They are typically made of water-resistant materials and have non-slip feet for stability. However, it's important to check the product specifications to ensure it fits your bathtub and meets your specific needs.
What is the difference between a shower chair and a bath chair?
While the terms are often used interchangeably, a shower chair is typically a chair-like device designed for use in a standing shower, while a bath chair, also known as a bath bench or tub transfer bench, is designed to help individuals get in and out of the bathtub safely. Both aim to provide stability and support during bathing.
After a thorough examination of the Medline Shower Chair Bath Seat, I can confidently say that it is a product worth considering. While some users faced issues with assembly and defective parts, the majority found it to be sturdy, reliable, and easy to install. As with any product, it's crucial to check the dimensions of your tub and ensure the chair is on a level surface for optimal safety. Remember, the goal is to make the bathroom a safer place for our loved ones and those under our care. The Medline Shower Chair Bath Seat is one step towards achieving this goal. However, always consult with a healthcare professional before making any significant changes to your or your loved one's routine. So I recommend the Medline shower chair as one of the products to accomplish this.
Medline Shower Chair Bath Seat
Medline Shower Chair Bath Seat



My Commitment:
I commit to making this website better and better each day.
I would appreciate your frank comments – either good or bad.
I would like to remind you that I will make a review of a product of your choice.
I would love to hear your comments.
Tell me what's on your mind.
You can also make requests.