Looking for a Shower Chair for your bathroom? Here are The 5 Best Shower Chairs for 2020. I examine the pros and cons of each chair.
As a senior bathroom aid product, shower chairs create safety in the bathroom. It allows you to hold onto your balance while showering . Learn more below.
Shower Chair Comparisons At A Glance
Information created on 5/10/2019. Prices and the number of reviews can change.
The rankings use safety as the most critical factor.
What Are Shower Chair?
If you or someone in your care has a limit with mobility, it is crucial to consider fall prevention equipment such as shower chairs as an investment in safety. This limited mobility recovering from knee, hip or foot surgery. Some of the most challenging tasks are in the bathroom. Without proper bath safety equipment, the bathroom is terrifying for those with instability issues. Bathroom tasks pose a higher risk factor relative to other rooms due to the presence of water, slippery surfaces, and often limited space.
---
Who Is A Shower Chairs For?
This product is not for anyone who has severe limitations or great difficulties standing upright. It is more for people recovering from surgery or a broken leg, ankle, or foot. Anyone who wishes to sit during a shower can use this. Shower chairs are a short-term solution and for someone who needs a reliable chair over time and a sturdy chair to prevent them from having an accident in the bathroom that could have serious consequences.
The biggest opportunity is to help your family members is before they fall.
According to the U.S. Centers for Disease Control and Prevention (CDC):
One in four Americans aged 65+ falls each year.
Every 11 seconds, an older adult is in the emergency room for a fall; every 19 minutes, an older adult die from a fall.
Falls are the leading cause of fatal injury and the most common cause of nonfatal trauma-related hospital admissions among older adults.
Each year falls result in more than 2.8 million injuries treated in emergency departments, including over 800,000 hospitalizations and more than 27,000 deaths.
In 2015, the total cost of fall injuries was $50 billion. Medicare and Medicaid shouldered 75% of these costs.
Expect the financial toll for older adults falling to increase as the population ages and may reach $67.7 billion by 2020
These statistics will climb higher, considering our longer lifespan, You can start by finding out what your risk of falling is to take the Dynamic Gait Index. Click here to check it out. Then look over the other bathroom safety ideas by clicking here.
---
Different Types of Shower Chairs.
Unlike a lot of other fancy durable medical equipment, a shower chair is exactly what it sounds like. It is a seat designed to help you take a shower. A typical shower chair measures within the general specifications of tub dimension, made out of material that does not rust and is height adjustable to accommodate the different user. Choosing the right shower chair requires some thought about the features you need and do not need. It is important to understand the different types of shower chairs.
There are shower chairs with an adjustable back

There are shower chairs wi

th armrests

There are shower chairs wi

th adjustable legs

There are shower chairs

with no back
What Are The Major Considerations For Shower Chairs?
Considerations About A Level Surface
Unlevel surfaces s the biggest problem. Make sure your surface is level. You can use a level to assure it is. If it is, then you have to check the weight capacity. Here is an example; A shower chair can hold 400 lbs. If the 400-pound force is in the middle of the chair and the legs are level. Each leg then supports 100 pounds. If there is any unevenness then those legs who need to support more than 100lbs could be out of the manufactures specification. If this is the case, you need to look at a seat that can support more weight.
Considerations About Weight Distribution
If the person's weight leans to one side, then you need to look for a bench that can support more weight. Similar to the comments above.
---
Below Is A Summary For Each Shower Chair.
Also, You Can Link To A Detail Review Of Each Shower Chairs.
---
#1 Summary Review for Dr. Kay's Shower Chair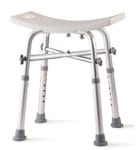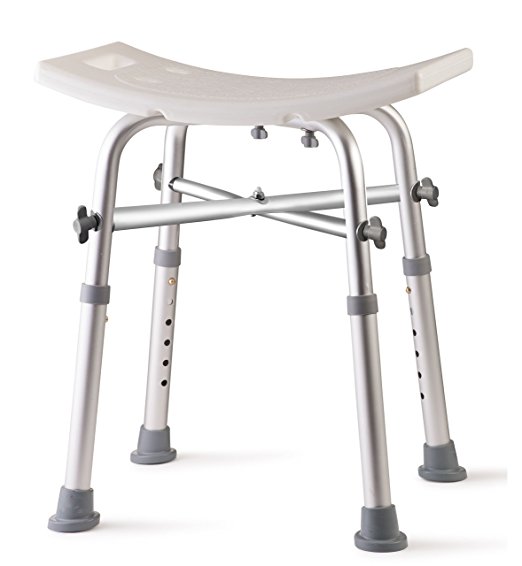 Company: Dr. Kay
Price: $30.95
Rating: 9.7/10
KEY FEATURES:
For Dr. Kay's Shower Chair By

Dr. Kay
Take a Look at the Dr. Kay's Shower Chair
---
#2 Summary Review For Carex Shower Chair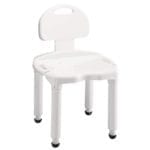 Company: Carex
Price: $47.10
Rating: 9.5/10
KEY FEATURES:
For CareX Shower Chair By

CareX
Take a Look at the Carex Shower Chair
#3 Summary Review For The Vive Shower Chair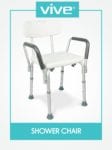 Company: Vive
Price: $54.99
Rating: 9.4/10
KEY FEATURES:
Professional Grade: Corrosion resistant aluminum construction is the perfect choice for a lightweight bath chair or shower bench that will not rust. You can adjust the height of the shower chair seat to create a secure, customized experience. With a range of 14"-19.5", the seat adjusts to fit any height, or to provide additional stability on uneven flooring. The backrest is also removable if desired.
Back Rest: An adjustable backrest and a seat with holes to drain the water.
Comfort: Contoured for superior comfort, the non-slip seat, and backrest made with a light textured composite material. Drainage holes reduce slipping or sliding on pooled water, creating a safe and comfortable shower seat.
Easy Cleaning: Easy to clean.
Quick Assembly: Easy assemble the lightweight shower seat without the use of any tools. Tool-free removal of legs, armrests, and backrest make storage and travel easy and convenient.
Colors: White and silver aluminum
Weight: 9.8 pounds.
Weight Capacity: It can hold up to 300 lbs.
Product Dimension: 18″ x 21″x 29.9″
Warranty and Return Policy: Click here for the detail company info and return policies.
Safety Information: Feel comfortable and secure when showering. As an ergonomic design, the extra wide seat supports up to 300 pounds. Padded handles on each side provide a comfortable grip without the risk of slipping. Each chair leg has a with a rubber non-slip, anti-skid tip for additional safety and security
For Vive Shower Chair By

Vive
---
#4 Summary Review For Vaunn Shower Chair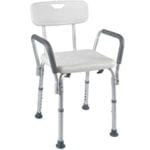 Company: Vaunn Medical
Price: $49.99
Rating: 9.0/10
KEY FEATURES:
Professional Grade: This shower chair is made with a heavy-duty anodized aluminum frame.
Unique Angled Legs: With non-skid rubber tips allow users' weight to distribute over a larger area making the shower chair ultra-safe and stable.
Back Rest: Backrest provides the user with extra support and comfort.
Height Adjustable:

Height adjustable with a sturdy, durable aluminum frame

Seat height is adjustable in 1″ increments from 16″ – 21″ | Seat dimensions: 13.5″ x 16″

Padded Arms: Removable back support and padded armrests with adjustable height legs allow users to customize chair based on specific preferences.
The Drainage Holes: The seat has drain holes to allow water to be drain, thereby reducing the risk of slipping.
Superior Comfort: Non-slip feet secures bench to the tub
Easy Cleaning: Rust resistant and easy to clean
Quick Assembly: Tool-free assembly also makes it easy for anyone in the family to assemble for use within minutes..
Colors: White
Weight: 8.5 pounds.
Weight Capacity: It can hold up to 300 lbs.
Warranty and Return Policy: Click here for the detail company info and return policies.
For Vaunn Shower Chair By

Vaunn
Take a Look at the Vaunn Shower Chair
#5 Summary Review For Medline Shower Chair
Company: Medline
Price: $43.86
Rating: 8.3/10
KEY FEATURES:
Professional Grade: Plastic with rough grip section and a wide handle for better comfort and balance
Quick Assembly: No assembly required.
Color: Ghost White with Gray Accents
Robust: Dual locking suction cups.
Strong Material: Made from a strong plastic
Weight: 12 ounces.
Weight Capacity: It can support up to 250 lbs. I recommend not to hang your entire body weight on the bar.
Product dimension: 16.5 x 4 x 3.8 inches
Warranty and Return Policy: Click here for the detail company info and return policies
For Medline Shower Chair By

Medline
Take a Look at the Medline Shower Chair
---
In conclusion, the five best shower chair provides solutions to help seniors in urgent need and an alternative to falling prevention. Choose which shower chair fits all your requirements.
My Commitment
I commit to making this website better and better each day.

I would appreciate your frank comments -either good or bad.

I would like to remind you that I will do a review of a product of your choice.
I would love to hear your comments.
Tell me what's on your mind.
You can also make requests.