Is Dr. Kay's Shower Chair Any Good? In This Dr. Kay's Shower Chair Review, I Reveal the Pros and Cons of Dr. Kay's Shower Chair.
If you need more safety in the shower or bath, then you know the importance of shower chairs for safety. In my Dr. Kay's Shower Chair Review, I go through the pros and cons of this Dr. Kay's Shower Chair and reveal if it is a sound and safe product.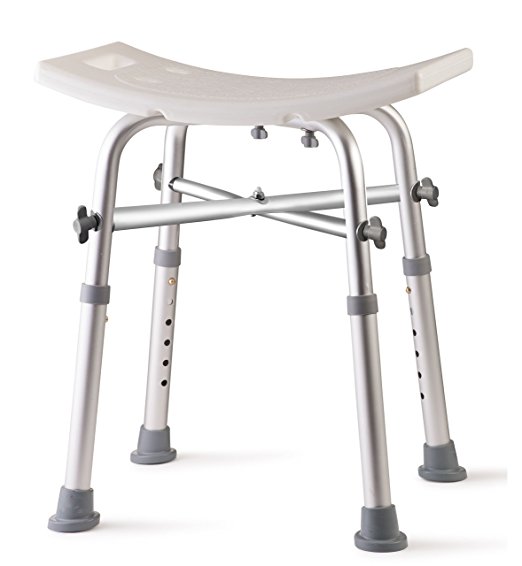 Here Is A Method That Is Helping Thousands To Become Accident-Free. As a senior bathroom aid, Dr. Kay's Shower Chair is the smallest product in the market to have safety and comfort in the shower. This chair is mostly for people without severe limitations. Learn more below.
As a senior bathroom aid, Dr. Kay's Shower Chair is a good product we need to avoid any accidents or discomfort in the shower and provide the joy my neighbor got.
<span id="ezoic-pub-video-placeholder-3"></span>
What Is Dr. K

ay's

Shower Chair?
FEATURES:
Professional Grade: The legs are an aluminum frame that is lightweight, durable, and corrosion-proof.
Back Rest: No backrest.
Easy Cleaning: Easy to clean and disinfect.
Quick Assembly: It has an easy assembly.
Colors: White
Strong Material: The legs are made from aluminum which is more durable than or plastic or wood.
Weight: 4 pounds. Weight Capacity: It can hold up to 250 lbs.
Product Dimension: 6X6X6 inches
Warranty and Return Policy: I've been emailed that there is a 1-year warranty for the shower chair.
Who The Dr. K

ay's

Shower Chair For?
This product is not for anyone who has severe limitations or great difficulties standing upright. It is more for people recovering from surgery or broken leg, ankle, or foot. Obviously, anyone who wishes to sit during a shower can use this. Dr. Kay's shower chair is a short-term solution for someone who needs a reliable chair over time and a sturdy chair to prevent them from having an accident in the bathroom that could have serious consequences.
My First Impression of Dr. K

ay's

Shower Chair.
The number of positive reviews did impress me. I see this as a simple solution using a reliable product. What impresses me the most is the sturdiness of the product. It is well built. I see many of the more inexpensive seats are flimsy. It is usually not mentioned but it also gives the caregiver a break, a need break.
Pros of The Dr. K

ay's

Shower Chair
1) A comfortable seat at a good price and very lightweight, and easy to move around.
2) It is a sturdy and reliable product
3) Across 2700 customer reviews 95%(2565 customers) stated it was outstanding.
Cons of The Dr. K

ay's

Shower Chair
1) 71 reviews mentioned that this product was unstable. The was some evidence that an uneven surface caused it. Don't know. But it makes sense to find out if your surfaces(tub and floor) are even, before purchasing. The uneven tub on an angle or any unevenness will put extra stress on the legs and can cause a problem of the legs collapsing and we definitely do not want this to happen.
2) There was some concern that the product came with defective parts( 44 reviews) and it was hard to assemble (8 reviews).
3) Might not be suitable for someone with more severe limitations, or those having trouble staying upright without support. This is a small stool – 6x6x6 inches
My Overall Thoughts On Dr. Kay's Shower Chair
After looking at thousands of reviews and weighing the pros and cons and all the steps mentioned above, this is the economically priced shower chair, with a few complaints. For this product, like most, you need to check the tub dimensions and make sure that the legs are on a level surface and the same length to assure that support the total weight. Some bathtubs have a slope to them, make sure the legs are on an even surface or look elsewhere. Also make sure that the bathtub surface is clean, so the chair doesn't move about. To see more about these conditions click here.
In Conclusion
Let's keep our loved ones and those under our care as safe as possible from falling and as comfortable and as possible in the shower and have a great time in the shower. I recommend Dr. Kay's Shower Chair to accomplish this.
If You Want To Hear This Review Rather Than Read It Click This Video
This competitive summary compares four shower chairs. The CareX, Drive Medical, Moen, and Dr. Kay''s. This summary is to show you in ONE VIEW all the different features to help you in making a decision. This will also help you understand the pricing differences or how close the pricing is. Who knows you might find a different feature you need.
Here is a video on the best way to use a shower chair
My Commitment:
I commit to making this website better and better each day.
I would appreciate your frank comments – either good or bad.
I would like to remind you that I will make a review for a product of your choice.
I would love to hear your comments.
Tell me what's on your mind.
You can also make requests.