In the world of bathroom aids, a shower chair plays a pivotal role in ensuring safety. If you're someone who values this safety, the Vive Shower Chair with Back deserves your attention. In this review, I'll delve into the various aspects of this product, highlighting both its strengths and weaknesses.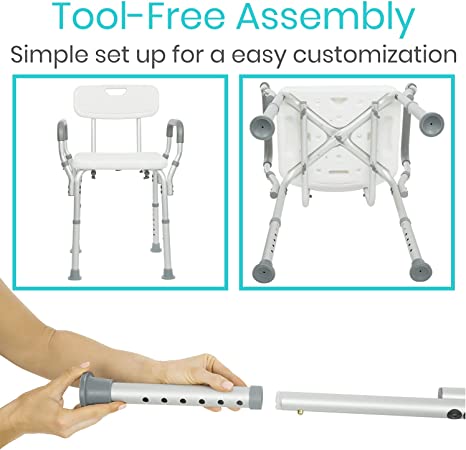 What is the Vive Shower Chair with Back?
The Vive Shower Chair with Back is a professional-grade, corrosion-resistant aluminum construction shower chair that stands out for its adjustability and comfort. Here are its key features:
Professional Grade: The chair's construction is robust, featuring corrosion-resistant aluminum, making it lightweight and rust-resistant. Its adjustable seat height ranges from 14" to 19.5", enabling a customized fit for any individual or to accommodate uneven flooring. The backrest is removable if needed.
Back Rest: A seat with holes for water drainage and an adjustable backrest for added comfort.
Comfort: With a contoured non-slip seat and backrest made from a lightly textured composite material, this chair ensures maximum comfort. Drainage holes prevent slipping or sliding on pooled water.
Easy Cleaning: The chair is easy to clean, contributing to its practicality.
Quick Assembly: The chair can be assembled quickly without the use of any tools. The tool-free removal of legs, armrests, and backrest also facilitates easy storage and travel.
Colors: The chair comes in a sleek white and silver aluminum color.
Weight and Weight Capacity: The chair weighs 9.8 pounds and can hold up to 300 lbs.
Product Dimensions: The chair measures 18″ x 21″ x 29.9″.
Warranty and Return Policy: Details are available on the company's official website.
Safety Information: The chair features an extra-wide seat supporting up to 300 pounds, padded handles for a comfortable grip, and rubber non-slip, anti-skid tips on each chair leg for additional safety and security.
Who is the Vive Shower Chair with Back for?
The Vive Shower Chair with Back is ideal for those who have difficulty standing for extended periods or struggle with balance. The extra-wide seat with handles makes the process of standing and sitting as easy as possible. The base fits most bathtubs and showers measuring 23.3" wide and features rubber-tipped caps to prevent slipping during use. This chair promotes independence in the shower, making it an excellent choice for many.
Additional Reading: The 5 Best Shower Chairs for Seniors
First Impressions of the Vive Shower Chair with Back
At first glance, the Vive Shower Chair looked comfortable and secure. While many shower chairs have similar appearances and marketing pitches, the Vive Chair stood out with its ergonomic design, extra-wide seat, and positive reviews.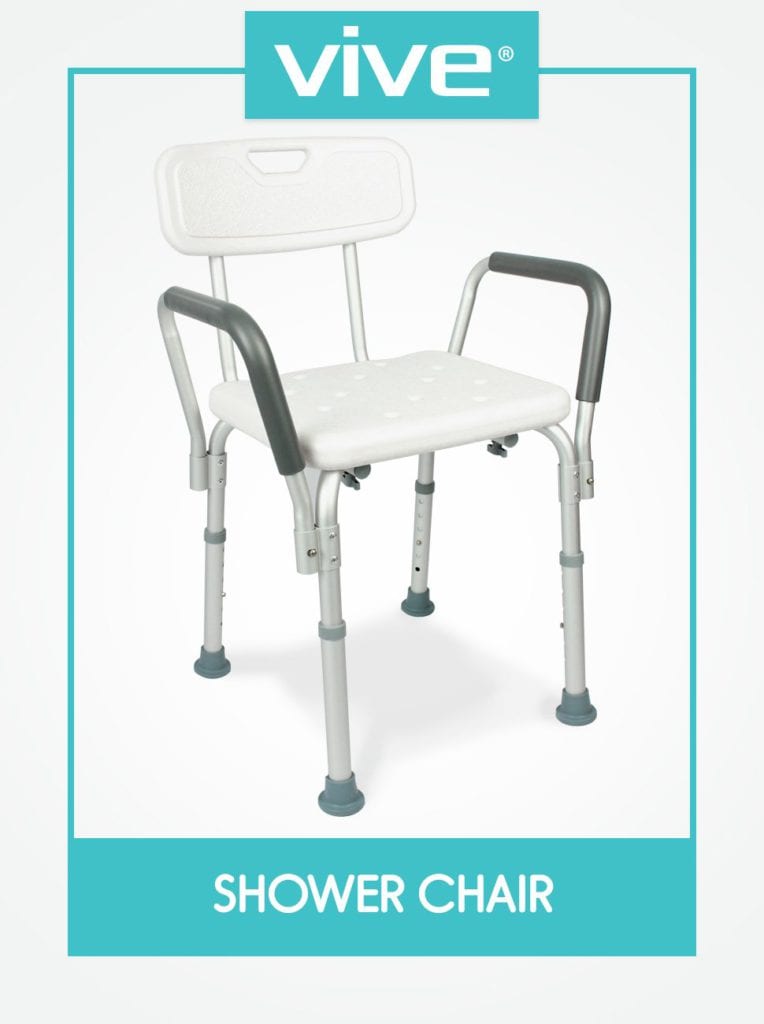 Pros and Cons of the Vive Shower Chair with Back
Pros:
Out of 635 reviews, 598 users found the chair to be likable.
Users praised the chair for its solid and sturdy build.
The ease of installation was also a noted advantage.
Cons:
10 out of 635 reviews reported the chair as being unsafe or wobbly on uneven surfaces.
7 users received defective parts, though they were able to get the correct parts or use their own.
6 users found the chair hard to assemble.
Despite the cons, it's important to note that these issues represent a small percentage of the overall feedback and most appear fixable.
Breakdown of Negative Reviews
In the spirit of transparency, it's worth examining the common issues raised in the negative reviews:
Unsafe: 10 instances
Wrong Size: 3 instances
Hard to Assemble: 6 instances
Damaged on Delivery: 2 instances
Defective Part: 7 instances
Missing Parts: 5 instances
Delivered Wrong Product: 1 instance
What is the weight limit of the Vive Shower Chair?
The Vive Shower Chair can hold up to 300 lbs.
What are the dimensions of the Vive Shower Chair?
The product dimensions are 18″ x 21″x 29.9″.
How is the Vive Shower Chair assembled?
The Vive Shower Chair is easy to assemble without the use of any tools. The legs, armrests, and backrest can be removed for storage and travel.
Are there any safety concerns with the Vive Shower Chair?
Based on the reviews, some customers mentioned that the chair wobbled on uneven surfaces. It's important to check your environment first.
Product Safety & Final Thoughts
Despite the issues listed above, it's important to note that no reviews indicated any personal harm resulting from the use of this product. The overwhelming majority of users were satisfied with their purchase, which is a testament to the product's quality. However, as with any product, it is always recommended to test it upon receiving to ensure its safety and functionality.
In conclusion, the Vive Shower Chair with Back has many strengths that make it an appealing choice for those in need of a bathroom aid. Its robust construction, easy assembly, and comfort-focused design contribute to its appeal, while its cons are minor and generally fixable. The product gets a green light from me, with no major cautions.
I hope this review provides you with the necessary insights to make an informed purchasing decision. I welcome your comments and feedback, and feel free to make requests for future reviews.
Stay safe, and remember, never give up no matter how old you are!