Hello, it's Ed again, your guide to maintaining independence and mobility as we age. Today, I'm excited to share my insights on a product that has the potential to revolutionize the way we move around – the Schwinn Meridian Adult Tricycle. With over 325 years of experience in building bicycles, Schwinn has created a tricycle that combines stability, comfort, and practicality, making it an excellent choice for seniors like us.
Whether you're looking to exercise, run errands, or simply enjoy a leisurely ride, the Schwinn Meridian Adult Tricycle is designed to meet your needs. But is it the right choice for you? In this review, I'll reveal the pros and cons of this tricycle, based on my extensive research and personal experience as a senior committed to staying active and independent.
325YearsOf Building Bicycles
This is a fantastic feat for the Schwinn company.
You will definitely benefit from that experience.
The Schwinn Meridian is available in a variety of different colors, speeds, and electric!
The Meridian Trike cargo bike has a super low stand-over aluminum frame with easy step-through access, classic swept-back handlebars for a relaxed, upright riding position, and an adjustable springer cruiser seat for comfortable riding. The full fenders are stylish and helpful for keeping you clean and dry and the alloy rims help keep the ride light and smooth. The best part is the huge rear folding basket, capable of bringing home a week's worth of groceries or taking an entire picnic to the park.
---
What Is the Schwinn Meridian Adult Tricycle?
(Our Favorite)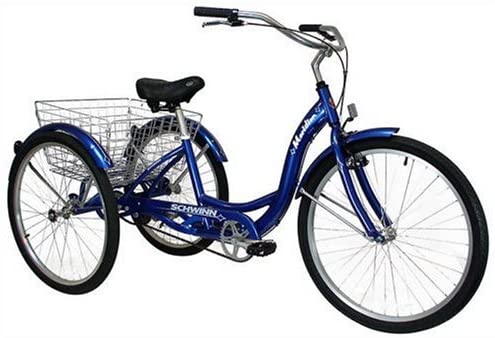 Features
Designed with 26-inch wheels, this bike fits riders 5'4″ to 6'2″ in height
The single-speed drivetrain is easy to use and maintain
Linear-pull brakes deliver smooth and intuitive stopping, and both front and rear fenders help keep clothing clean in damp weather
Wide upright handlebars provide a stable, balanced ride, and the adjustable, padded cruiser saddle absorbs bumps
Super low, stand-over/step-through aluminum frame allows easy step-through access
The Schwinn Meridian adult tricycle is the perfect all-around good quality tricycle for people that want to get into riding a trike. The trike is a single speed which is perfect for the beginners to hop on and get started without worrying about changing gears. The trike is built from a lightweight aluminum keeping the trike at a manageable 70 lbs.
For braking, this trike has a rear brake and also a front brake so you can be sure that you can reliably stop the tricycle. There is a storage compartment in the rear of the trike so you can transport groceries or cargo with ease. Lastly, the trike comes with a very comfortable saddle seat so you can be sure that you'll be riding smooth!.
Who is the Schwinn Meridian Adult Tricycle For?
This tricycle is for any senior who wants to exercise outside and has a balance issue or difficulty walking or trouble riding a two-wheel bike. This three-wheel bike allows for safety which any senior or individual at risk can appreciate.
What To Look For When Buying An Adult Tricycle
Quality Frames: Steel frame tricycles are typically heavier, which translates to slower on the road, but can handle a greater load of rider and baggage and tend to be more durable in the event of crashes. Aluminum frames are often lighter for faster rides and still provide excellent durability, but also tend to be more expensive.
Brand Name Reputation: As a senior, it is important to get a bike from a reputable manufacture. For example, Schwinn has been around since 1895 and their reputation is awesome.
Maintenance: Thankfully, maintaining a tricycle doesn't require any special parts. Most tricycles use the same components as bicycles, which means that it's easy to find anything you need at your local bike shop
Gears: Adult tricycles are available in a variety of gearing configurations, with everything from fixed-gear to seven-speed tricycles. ​ Having more speeds is great for workouts and going uphill, but also requires a lot more maintenance compared to a single-speed or fixed-gear bikes. The latter, however, struggle going uphill or downhill.
Wheels: For a given gear set, a smaller wheel will require more turns of the pedals to go the same distance compared to a larger wheel, but the pedals will also require less effort with each revolution. Some wheels come with thick inner walls to cushion your ride from bumps in the road, while others come with thinner wheel walls that tend to ride faster but don't dampen vibration as well. Having more spokes typically indicates that the wheels can handle more weight between the rider and baggage, but the spokes also add more weight capacity to the tricycle overall
Comfort: Comfort is especially important for ​tricycles since these are typically for leisurely rides rather than racing. ​Leisure tricycles typically feature a plush seat and may have the seat set low and far back from the handlebars in a semi-reclined position. In addition, some highly reclined trikes also have a backrest attached to the seat.
Accessories: Accessories can be almost important to a tricycle's usability as the tricycle itself. If you plan to use your tricycle for commuting or for taking on shopping trips around town, look for tricycles that come with a storage basket or baggage rack built-in. Plus, front and rear fenders can save you from getting soaked if you live in an area that sees a lot of rain. On the other hand, if you plan to ride primarily for exercise, these accessories can get in the way more than they help.
First Impressions
This is a solid, well-built, tricycle from the premier bike maker. I like the low access. You don't have to climb high to get on or off – it makes it easier to get on and off the bike, which is critical for seniors. It is a handsome looking bike you can all be proud of owning. The fenders wrap all-around to assure you don't get messy when it rains. It also has a comfortable seat.
Overall Thoughts
If you look over the pros and cons and examine the reviews you will see that there are more positives(1980) then negatives(398). And many of the negatives are misconceptions. If someone doesn't know how to assemble a bike for a few dollars hire someone. For example, this doesn't mean you throw away the bike.
Pros For The Schwinn Meridian Adult Tricycle
The aluminum frame is relatively lightweight and features a low step-through design for easy on and off.
​Gets seniors outside to exercise.
​Excercise without worrying about balance issues.
​Sturdy especially for heavy people.
A sheer pleasure to ride,
Cons For The Schwinn Meridian Adult Tricycle
Some said it was difficult for some seniors to ride .
​Some said they needed the bike shop to install.
​Some said it had poor quality control.
---
Amazon Review #1

Reviewed in the United States on July 18, 2017
My doctor recommended riding a bike to help loose weight. I weigh 410lbs and honestly expected the tires to blow as soon I I sat down for the first time. The held fine and I have been on multiple rides now with this bike and the only trouble I have had is with the seat not staying put. Kinda leaves you feeling like Hitler in the move Little Nicky. Well a wider seat with additional rear support is coming so hopefully that will resolve the seat issue. I did have to call customer service because I had a bolt that will not fully tighten but they have sent a replacement and I must say I was impressed with the treatment I got from them. Well done.
Amazon Review #2

Reviewed in the United States on May 17, 2017
This bike is amazingly awesome!
I was born with a genetic disorder (EDS) that has my bones aging three times as fast as my body. That being said even at only 24 I have MAJOR joint problems, including a sprained PCL, but I wanted something that would be easy on my bones while helping me keep active. I received this as a Christmas present from my mom- AKA she gave me her card and said buy yourself a trike. I did not want to buy something super expensive and at the time this was on sale for about $275, so my mom agreed it would be good for the price.

The shipping was fast and I was not home when it arrived, luckily my apartment maintenance guys love me because it was in my third-floor apartment when I got home from my trip. This box is heavy- it took two guys to carry it up to three flights. I have a 100-pound dog who I carry fifty pounds of dog food up to three flights of stairs every two weeks, and yet I still found myself scooting the box around the apartment because of its heaviness.

I could not put this bike together– I took it apart three times over a week before a co-worker's husband took it during his bonding night with his son and put it together in less than three hours. I have always been handily challenged, but I would still recommend not spending the money on labor and just bring someone handy the bike, some beer, and a pizza because it is do-able.

Once it was put together, it was still too heavy to bring back upstairs daily, so if you don't live in a trusty neighborhood take that into consideration.
As for riding, I LOVE this bike because it's super easy to ride. So far my longest ride was 12 miles with a 300ft elevation- in total during the past few months this bike has seen me through a total of over 50 miles and 700ft elevation in weather up to 100 degrees plus humidity- and this bike has held up. I ride to the store all the time, load up one of my five-gallon bins with $100 worth of groceries, stick it in the basket, and ride home easily. I live in a very humid extremely hilly area of south Texas, and this bike handles both the hills and my weight extremely well.
When I received this bike I did not like the seat and upgraded to one without a horn, which I do suggest looking into.

I was 5.4 and 220 pounds when I received this bike, and have already lost 10 pounds by riding this bike for fun. This was my first bike ever, and I didn't know how to ride the first time I got on this bike, yet I have never fallen nor crashed- even coasting down a steep hill at 10mph. I would highly recommend this bike for older adults who have bone issues like myself, mobility challenged individuals, or anyone who wants a cargo type trike that is easy on the ecosystem. If this bike ever fails me, I would not even think twice about spending the asking price for this trike, it has quickly become my child and new favorite hobby.
---
Conclusions About The Schwinn Meridian Adult Tricycle
After a thorough review, it's clear that the Schwinn Meridian Adult Tricycle is a top contender in the world of adult tricycles. Its design caters to the unique needs of seniors, offering a low step-through access, comfortable seating, and a sturdy build. Plus, it comes with a handy storage compartment for your groceries or other items, making it a practical choice for everyday use.
However, like any product, it's not without its drawbacks. Some users have reported difficulties in riding and assembling the tricycle, and there have been mentions of quality control issues. But overall, the positives far outweigh the negatives, with many users praising its stability, ease of use, and the freedom it provides.
In conclusion, the Schwinn Meridian Adult Tricycle is more than just a means of transportation or exercise – it's a tool for maintaining our independence, staying active, and enjoying the outdoors. As a senior myself, I understand the importance of these factors, and I believe this tricycle can help us achieve them.
Remember, it's not about the destination, but the journey. So let's keep moving, keep exploring, and most importantly, keep enjoying the ride!
Regenerate response
Here Are Other Reviews That Can Help Keep Seniors Excercise :