Hello there! Ed here from Elderly Independence, your friend and guide in all matters of senior independence. Today, I'm excited to delve into a detailed Homall Recliner Chair review, which could be the solution you've been seeking to enhance comfort and independence in your home. Wondering if this chair can meet your needs or those of a loved one? Well, you're in the right place.
Through my dedicated efforts to ensure seniors have access to the best resources, I've spent a great deal of time examining and testing various recliner chairs. The Homall Recliner Chair caught my attention, and I can't wait to share my findings with you.
The Homall Recliner Chair is more than just a piece of furniture—it's a potential game-changer for senior living, promising both comfort and independence. Without further ado, let's delve into this Homall Recliner Chair review to unveil its perks and potential downsides.
If you have been shopping around for a manual lift recliner, then you know the wide array of products that are available on the market. In my Homall Recliner Chair Review, I have a look at all the features of this powerful recliner and determine if it is any good and a reliable product for living a happy senior life.
Why the Homall Recliner Chair?
If you hurt getting in and out of a chair then this product will work for you. Muscle ache, knee or back pain, and arthritis get more severe with age. Seniors are more prone to aching knees and back, which makes it harder for them to get up from their seats. The elderly are at risk if they do not have support when getting up from their chairs. This is why some of the best lift chairs for the elderly can be useful for seniors. Lift chairs can reduce wear and tear on joints and muscles. And let's not forget the amazing comfort a high-quality lift chair can give. Lift chairs will not only provide comfortable seating and standing for seniors but also ensure their safety, so you do not have to worry about their well-being.
What Is An Homall Power Lift Recliner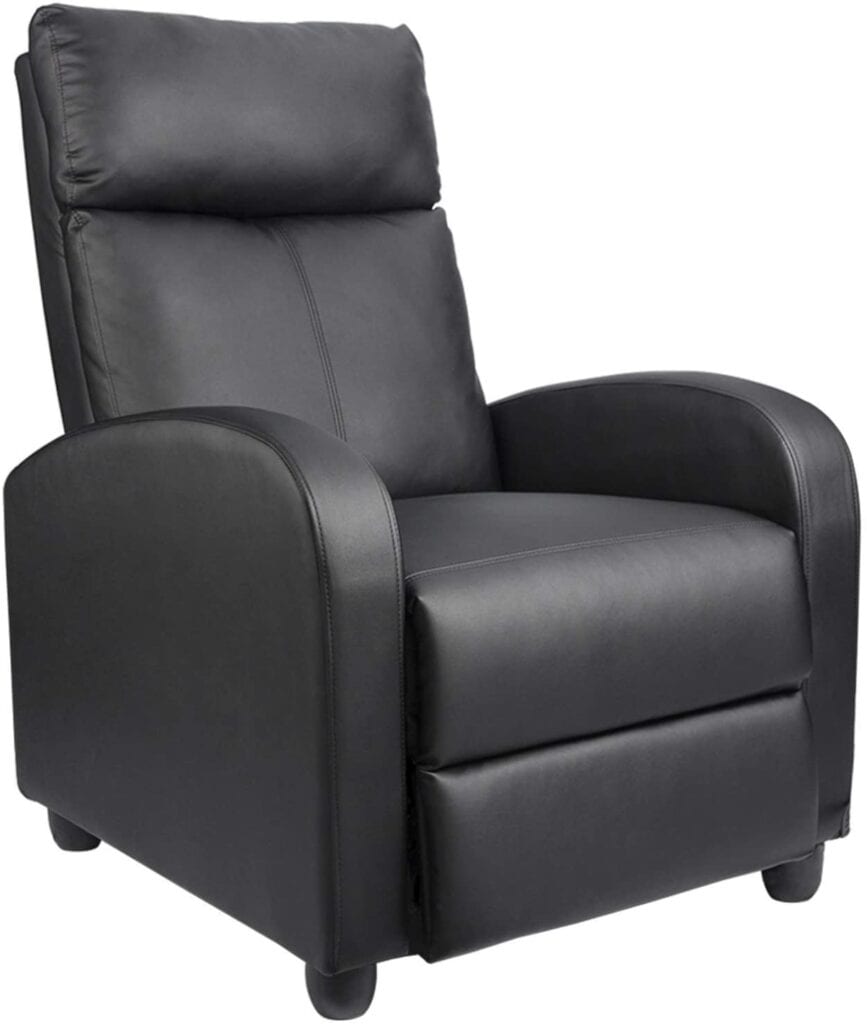 A reclining chair has a leverage mechanism that pushes the chair up from its base to assist the sitting person in standing. Each chair helps to push the person into a standing position so they can get vertical with ease. You can lower it; a person can get into the chair while standing, and then slowly lower it until they're sitting.
Material: High-quality PU leather, comfortable skin-friendly, and easily cleaned, high density thicker sponge, high resilience, and high permeability.


Adjustable Recliner: This recliner can be used in three kinds of shapes from 90 to 180 degrees, suit for gaming, working, watching movies, and napping.


Upgraded Footrest: Highly durable steel frame with thicker foam padding, better to enjoy your favorite tv shows or rest.


Maximum Capacity: 265 lbs; Seat height: 17.7 inch; Seat dimensions:19.7 inch x 22.1 inch; Back dimensions: 20.9 inch x 29.1 inch; Open dimensions: 27.6 inch x 64.2 inch x 27.9 inch; Closed dimensions: 27.6 inch x 35.8 inch x 38.6 inch.


Foot protection: This single recliner is supported by four sturdy feet with non-marking pads which effectively protect the sofa and hard floor.
Steps For Successful Furniture Delivery
Measure your space and mark out the dimensions on the floor.
Confirm all dimensions of the product, including diagonal depth.
Measure the interior space of doorways, passages, and stairwells to make sure the furniture will get through.
Measure carefully as you are responsible for items that do not fit in your home.
Who is The Homall Recliner Chair Is For?
It is essential for people with more limited, decreased, or painful mobility challenges. If you need help getting in and off a chair, then this product is for you. It can be age-related, surgery, or a disability. If you spend a large portion of your day in a chair, then this product is one to consider. They're great when recovering from surgery as a challenge to get up out of a chair when you're recovering. Also perfect for the elderly as it takes the strain off of the joints when they're getting up or sitting down. You don't need to be elderly or disabled to enjoy this chair.
My First Impression of The Homall Recliner Chair
This recliner is an economically designed piece of furniture. You can't beat the price. Very comfortable, Compact size to fit any area. I would feel proud to show my family and friends. It looks very inviting and comfortable. I can see someone falling asleep during a nap. I could see them adjusting the position to watching television or reading a book, It eliminates a serious problem for seniors the ability to get in and out of a chair, which can be a big problem if they spend lots of time in the chair.
Pros of The Homall Recliner Chair
This Is A Nice recliner Even For A Large Man (6'5″).
This Chair Has An Easy Setup.
This Is A Comfortable Chair.
This Is The Best Recliner For The Money.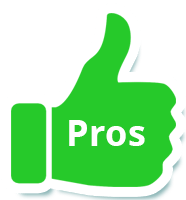 ---
Cons of The Homall Recliner Chair
Some Said It Did Not Last Very Long.
Some Said It Was Too Small.
Some Said The Quality Was Not Up To Par.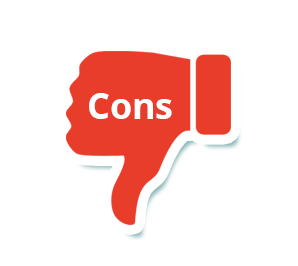 At the time of this posting, there are well over 9771 reviews on Amazon from verified buyers. The following are some of those reviews.

Best Recliner For The Money
Reviewed in the United States on February 26, 2018
Color: Black Verified Purchase
Had this chair a few days now and it's awesome. I'm 5'9" and it is a little too short to rest your head on but it can be done. The quality is way better than expected..will see if it holds up well. The seat is a little firm but overall comfortable. Plus your back is straight while sitting. Armrests are quite thin but still work fine. Even with those few flaws..for 120 bucks this chair is 5 stars for sure.

I Am Impressed! Soft, Comfy, & Cheap
Reviewed in the United States on June 6, 2018
Color: Black Verified Purchase
I'm really impressed with the quality of this chair for what it cost. The material looks & feels almost like real leather. It took me (a disabled female senior) 3 minutes to put together. And that's including screwing in the 4 legs. Lol. It also arrived a week ahead of schedule, which was a nice surprise. It's a comfortable chair definitely made for an average size person. I'm 5'9″ & 190lbs. & the top of my headrests above the top & my feet hang off the bottom but it doesn't affect the comfort of the chair. The chair reclines easily which is good since I am disabled & needed it to be easy to recline & move back to an upright position. So I'm definitely happy with my purchase & would definitely recommend it to family & friends. I'll update this review if things change since I just received the chair & don't know how well it will hold up. I'm optimistic!
My Overall Thoughts On The Homall Recliner Chair
It is luxurious and inexpensive – a great combination. After looking at this and weighing the pros and cons, this is a wonderful piece of furniture and can save a senior from hurting themselves and making their life easier and more enjoyable. It will allow you to rise out of your seat with ease while providing padding in all the right places for ultimate comfort. This recliner chair can be extremely helpful for seniors or people with mobility challenges.
Conclusion of the Homall Recliner Chair Review
In line with my mission to empower seniors to live independently and comfortably, I've presented you with this comprehensive review of the Homall Recliner Chair. This isn't just a quick look at the chair—it's an in-depth analysis informed by my vast experience and desire to enhance senior living.
The Homall Recliner Chair stands out for its blend of style, comfort, and accessibility, making it an excellent choice for those seeking an easy-to-use reclining chair. However, it's always important to consider your personal needs when choosing a product.
Investing in a chair like the Homall Recliner Chair can significantly enhance your home living experience, offering both comfort and independence. I hope this Homall Recliner Chair review has provided you with valuable insights that will guide you in making an informed decision.
As always, my goal is to provide trustworthy, user-focused content to assist in your choices. Your comfort, independence, and satisfaction are what motivate me. If you have any further questions or need additional guidance, please feel free to reach out. Together, we'll continue to make strides toward achieving senior independence, one step at a time
I recommend the Homall Recliner.
We are a community of passionate seniors who research, test, and educate around issues relevant to the senior market.
As a community, we strive to simplify the misinformation in the senior market so that you can make better-informed decisions about buying and becoming more independent (without having to train as a professional).
Over the years, a team of senior loving content creators and industry professionals have come together with the sole intention of cutting through the noise and educating the senior market on products and services that can increase their quality of life without having to go through expensive and time consuming professional training.
To date, we have worked on over 100,000 reviews