Let Medicare Pay 80% For A Power Lift Chai. Looking Will Medicare Pay For A Power Lift Chair? This Review Reveals show how Medicare will pay.
The Medicare system is a holistic medical plan which covers many healthcare services. Therefore, those in need of one or more medical services may ask, will Medicare pay for lift chairs?
In this article, we show you how to save 80% of the cost of a power lift chair.
Power Lift Chairs: Effective… Safe… Affordable…
Why A Power Lift Chair
A reclining chair has a power lift with a small motor in it that pushes the chair up from its base to assist the sitting person in standing. Each chair comes with remote control, and a simple push of the button will cause the chair to lift to a slight incline that helps to push the person into a standing position so they can get vertical with ease. You can lower it; a person can get into the chair while standing, and then slowly lower it until they're sitting.
---
Will Medicare Pay For A Power Lift Chair?
The answer is YES, and Medicare will cover a part of the cost of acquiring a lift chair, provided all conditions are met.
People with mobility issues tend to experience less pain while using these chairs. Lift chairs are often prescribed or advised as a treatment mechanism for some patients. People who have used them agree that they are helpful. However, the price of these special chairs is often high and needs to be subsidized or covered by health plans.
Lift chairs are categorized as Durable Medical Equipment (DME) under Medicare. However, there are some conditions the patient must meet to get Medicare's lift chair coverage.
To Summarize Medicare's Lift Chairs Policies:
Your Lift Chair Medicare claim can only be accepted if it is recommended by a doctor.
The lift mechanism of the Lift Chair is the only part of the chair that is covered by the plan.
Medicare will cover 80% of the lift mechanism's cost, while the patients will cover 20% of the cost.
Therefore, the patient must be affected by specific illnesses, such as mobility issues, arthritis, among other conditions.
Medicare has taken these measures to ensure those who need the coverage get the needed support.
The regulation was required to properly document the claims for Lift Chairs. Therefore, before requesting coverage, make sure to fulfill and understand the above conditions.
How to Know If a Lift Chair is a Medical Necessity?
Medical necessity means the chair is necessary to treat or manage a patient's medical condition.
A doctor's prescription is the most important reason a lift chair will be classified as a medical necessity.
Once it is requested by a qualified physician as a recommended treatment procedure, it will be approved as a medical necessity.
Some considerations that may make this chair a medical necessity include:

When the patient can only use a bed instead of the chair
The patient can't stand up from a normal chair without external support
The patient can walk with some support after being helped to stand
A case where the patient suffers from mobility conditions, arthritis, and other serious body support illnesses.
What is a Certification of Medical Necessity?
In some cases, you may be required for certification of medical necessity before the lift chair is approved for cover.
Certification of medical necessity is a certificate (or pass) that validates a treatment procedure for a medical condition.
The procedure may be a DME (like lift chairs) or any other healthcare services.
The certificate is usually demanded by the Centers for Medicare and Medicaid Services.
What To Look For When Buying a Power Lift Chair
How Much Will It Cost After Medicare's Involvement?
Medicare will take 80% of the cost. In many cases, the patient purchases the lift chair and submits the cost of acquiring it to his/her provider.
The provider, in turn, submits it to Medicare for proper documentation.
Medicare then reimburses the patient about $250-$300. The remaining cost will be handled by the patient.
How to Choose a Lift Chair Dealer?
Choosing the best lift chair dealer is an important step to finding the right treatment procedure
Preferences to look out for in a lift chair include:

Fabrics and Styles
Weight capacity
Seat width Seat depth
Positioning types (Three-position, infinite position lift chairs, etc.)
Lift chair users have different tastes, and it could be challenging to make a choice, especially when you're choosing for someone else.
Types of Lift Chairs
Two-position lift chairs: These chairs have two reclining positions. It has a 45-degree tilt for leaning backward, which also raises your legs at 45 degrees to the floor. This chair also allows the usual 90 degrees straight chair positioning. The leg raises and backrest are attached together, thereby elevating the leg raises when the chair leans backward. They are quite comfortable, suitable for watching TV, easy to control, and less expensive.
Three-position lift chairs: They can be flattened, almost parallel to the floor. It can also move 45 degrees towards the right and left sides. Moreover, it can be tilted at an upright angle to help the patient stand upright. Its positioning capabilities can allow the patients to take a nap and read books. Interestingly, all parts of this chair are movable.
Infinite position lift chairs: Just like the name implies, this chair allows for infinite tilting and reclining. Many have agreed that it is super-comfortable. You can lay flat, stand upright and be in any position you desire. However, they are often costlier than other types of lift chairs. Indeed, lift chairs vary in cost and design. Ultimately, they serve similar purposes with a few differentiating features and capabilities.
Our Favorite Irene House For Seniors
#1. Irene House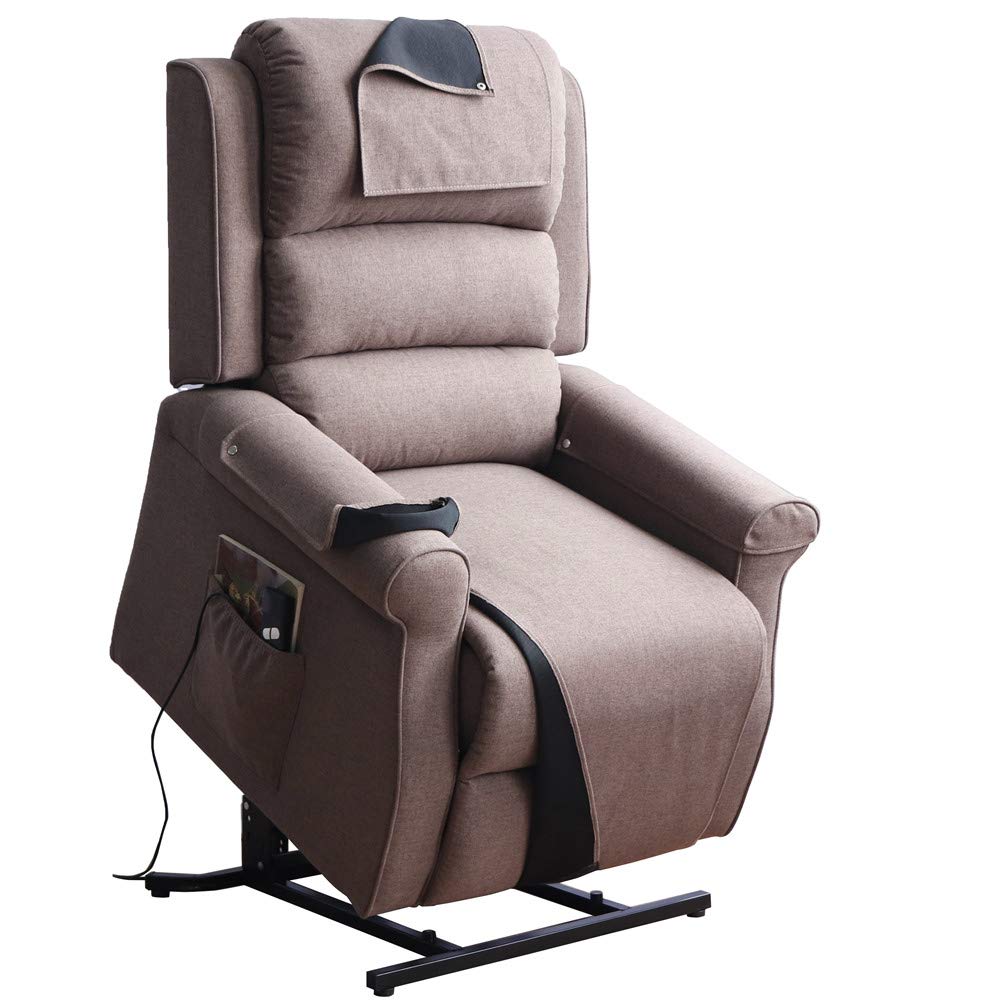 Irene House Power Lift Chair Specifications
| | |
| --- | --- |
| Company | Irene House Power Lift Chair |
| Price Range | $599.99 |
| Dimensions | 38.5 x 34.5 x 44 inches |
| Weight Capacity(lbs,) | 300 |
| Type | 3 Position Chair |
| Ideal For | Watching Television, Sleeping, And Reading |
| Extras | Foot Rest and Side Pockets |
| Check Current Price | Best Price |
| Ranking | 9.5/10 |
Irene House Power Lift Chair Features
This recliner is powered by a German Brand Okin motor. It serves two purposes. First, it offers a power lift function ideal for elderly individuals who have difficulty standing from a sitting position,
It also works as a reclining sofa chair that gently reclines the chair with a simple push of a button.
Three-position recliner: The 2-position chairs; they are able to move anywhere between upright and tilted forward 45º to make it easy to get in and out of the chair. A 3-position chair, which can cover the same range as a 2-position chair but can also recline almost all the way back to flat. The infinity chairs offer independent control of the footrest using a second motor.
Supports up to 300 lbs, pushes the entire chair up to help seniors to stand up easily, it's ideal for people who have leg/back problems or people who after surgery.
Extending footrest and reclining features allows you to fully stretch and relax ,
ideal for watching television, sleeping, and reading.
Side pocket design creates a very convenient place for you to put remotes and other small belongings.easy to assemble and all the required accessories are included.
Product Warranty: From the date of purchasing, we have the following warranty time: Electronic components(motor/transformer/hand controller)2 year./ Cover: 2 years/ Reclining mechanism: 3 years/Solid wood frame:3 years.
Pros For Irene House Power Lift Chair
IIt is a classic design. You can determine the exact position you are most comfortable in sitting, reclining, and lifting.
It protects seniors from hurting themselves. There is no strain in getting out of the chair.
It's comfortable to use with one-touch control. One-touch control with the remote controller is all that is needed.
Cons For Irene House Power Lift Chair
A small percentage of customers had trouble with the chair. All were within the warranty period. Verify the chair as soon as you get it,
It doesn't fit all sizes. This chair tends towards smaller people. Be careful with checking your dimensions. Look above at the detailed dimensions and make sure it fits your room. Then double-check before you purchase. You can also call their customer service.
An even smaller percentage received the damaged chair. Double-check as soon as you get the chai.
---
---
Conclusion
The outcome is simple. This chair will give you lots of pleasure, comfort, and freedom from pain. Considering this high quality, it will last a long time paying for itself over and over again. If you make the proper measurements and we recommend that you do there is very little risk of being dissatisfied. Let's keep our loved ones and those under our care as safe as possible from hurting themselves I recommend the Irene House Power Lift Recliner.
[amazon bestseller="lift chair Accessories"]