Is The Etekcity scale Any Good? In This Etekcity scale Review, I Reveal the Pros and Cons of Etekcity scale
The best companion for your health journey
Are you working on weight loss? Start by knowing your weight! Moreover, it's not enough to know your weight, your other body components are just as important. Etekcity Smart body fat scale can measure 13 body compositions and track your daily, weekly, monthly, and yearly progress. View them on VeSyncFit app which can sync the data to your favorite fitness apps like Samsung Health, Apple Health, Google Fit, and Fitbit.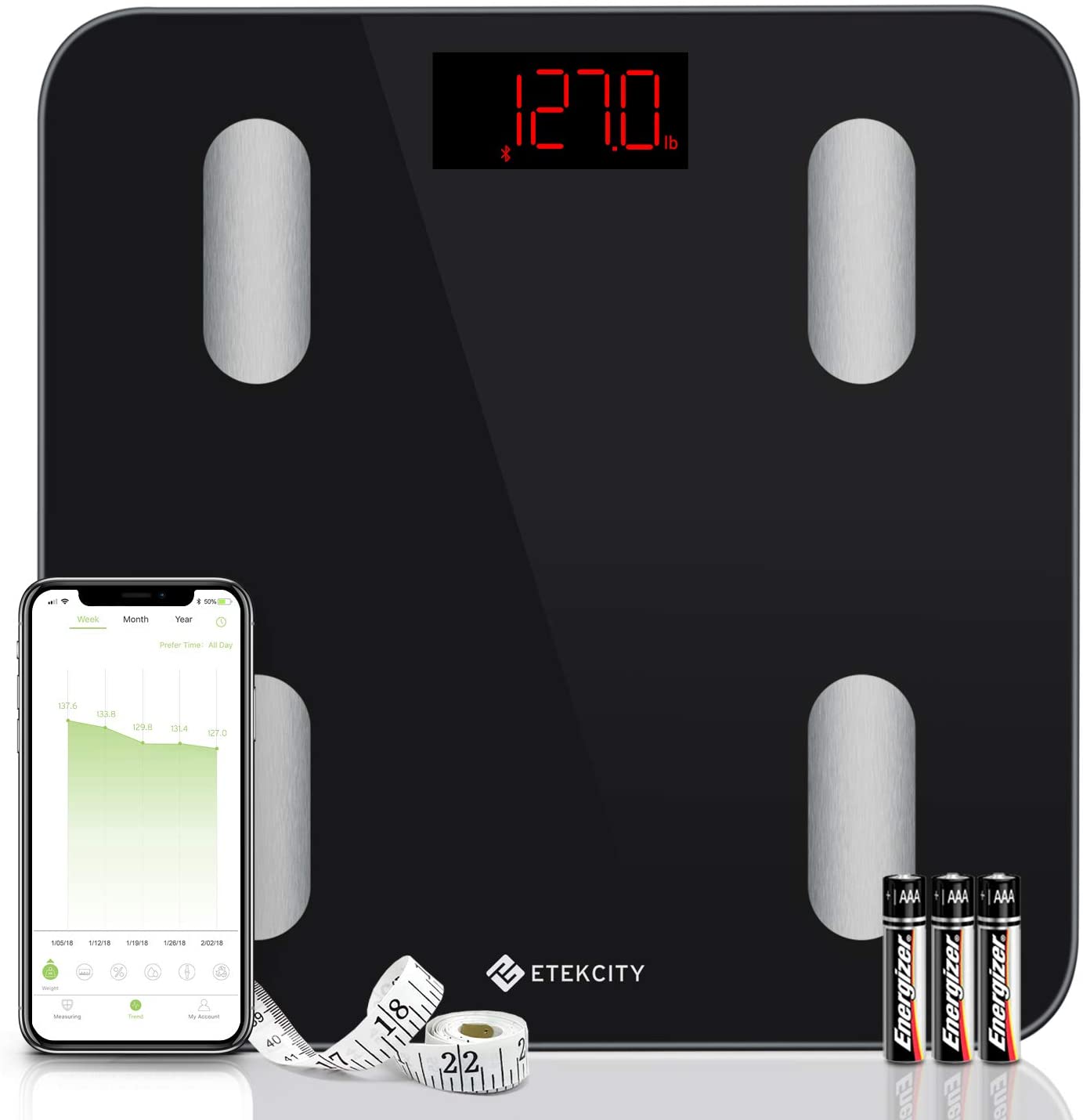 .
Features
FULL BODY COMPOSITION ANALYSIS– Get 13 essential measurements including Weight, BMI, Body Fat, Visceral Fat, Muscle Mass, Bone Mass, Body Water, and more! You can weigh yourself anytime, even without your phone on hand. The data will sync to the app once your phone and scale connect again
Syncs with Fitness Apps-Works with Bluetooth on iOS and Android. Free VeSyncFit app syncs data with Apple Health, Google Fit, Fitbit & Samsung Health, so you can store all your data in one convenient, centralized location for viewing trends and tracking progress
HIGH ACCURACY-4 sensors with the latest technology deliver accurate weight measurements up to 400 lbs/180kg in 0.2 lb/0.05kg increments. Enjoy step-on technology and auto-calibration, 3 x AAA batteries and one tape measure included
LARGE PLATFORM, MORE STABLE-The 6mm tempered glass and 11.8 × 11.8 inches surface are thicker and larger than most products on the market, which makes it more comfortable and safe to stand on, and more clear to see the numbers on the LED display. Easily change weight units through the app (lb/kg/st)
ONE SCALE, UNLIMITED USERS-This smart body fat scale allows you to create unlimited member profiles to seamlessly track multiple users; a family can share one scale together. It's convenient when every member knows their body metrics and knows specifically what to work on. Especially helpful for bodybuilders and those working on weight loss
Who is The Etekcity Digital Body Weight Scale For?
This product is for seniors who want to know their health and have a management system to guide them.
My First Impression of The Etekcity Digital Body Weight Scale
I found it amazing that this small device can measure 13 aspects of your health simply from a scale. That is amazing!
Pros of The Etekcity Digital Body Weight Scale
Best For The Price.
Easy To Use.
Very High Accuracy.
Cons of The Etekcity Digital Body Weight Scale
Some said it had trouble with the corresponding application.
Some said it didn't give the accurate weight.
Some said they had trouble with multiple users.
[elementor-template id="7685″]
[elementor-template id="7672″]
My Overall Thoughts On The Etekcity Digital Body Weight Scale
After looking at this and weighing the pros and cons, this is a wonderful gadget that can give you invaluable health information and help you manage it.
In Conclusion
The outcome is simple. This gadget will give you peace of mind, and better health. Let's keep our loved ones and those under our care as safe as possible from hurting themselves I recommend the Etekcity Digital Body Weight Scale
.
[elementor-template id="7661″]
---
Here Are Other Reviews That Can Help Keep Seniors Safe: