Hello, it's Ed here. As a senior and an advocate for elderly independence, I understand the significance of safety and comfort in our daily lives, especially when it comes to bathing. Today, I'm going to share my comprehensive review of the Ariel Walk-In Tub. I've spent a considerable amount of time researching and evaluating this product, and I'm excited to share my findings with you. In this review, we'll explore the pros and cons of the Ariel Walk-In Tub, and I'll provide my expert opinion on whether it's a sound and safe choice for your needs
This Ariel EZWT-3060-DUAL Series right side model Walk-in bathtub includes large hydro jets positioned for a lower back massage and multiple air bubble jets positioned for full body massage. This model also includes electro-safe pneumatic buttons for Whirlpool jets and air jets. Feel at home in the safety of a walk-in bathtub, which makes bathing a safer activity.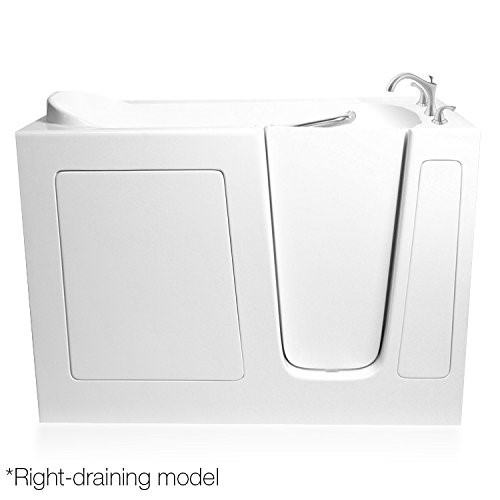 What is the Ariel Walk-In Tub
Features:
Dimensions: 60″ x 30″ x 37″ (LxWxH)
ADA Compliant Walk-In Bathtub
Textured Bottom
High Gloss Triple Gel Coat
Built-In Countoured Seat
Handheld Showerhead
Heavy-Duty Reinforced Fiberglass Resin Coated
Heavy-Duty Reinforced Door System
Built-In Safety Grab Bar
Roman Faucets
Who The Ariel Walk-In Tub Is For?
Accessible bathtubs are bathtubs that can be used by people with limited mobility or the disabled. This walk-in bathtub, has whirlpool features, internal grab bars, anti-slip floors, and seats, You can go from a wheelchair or walker directly into the tub without climbing over a tub wall.
My First Impression of The Ariel Walk-In Tub
This whirlpool is impressive. The therapeutic functions for a senior are outstanding with 6 jets and heater and a leg massager. There is a built-in safety grab bar and textured bath floor that increases your level of bathing independence and delivers peace of mind by giving you fewer opportunities to slip or lose your balance. It has a fast-fill faucet.

Great Product, Solid Support, Would Recommend it!
5.0 out of 5 stars Great Product, Solid Support, Would Recommend it!
Verified Purchase
You never know until there is a problem if a seller or company will support you. Well, I am happy to say, not only am I impressed with the overall build quality and feel of the tub and its components, but also when we had a problem with the air pump, I was very promptly replied to by both Amazon Staff and the seller Decorative Kitchen and Bath, and in no less than 12 days later, I have the replacement pump, installed it with no issues, and I have a working unit. I will tell you, getting a walk-in tub properly installed is NO small thing, we previously bought one through Sears, and had NOTHING but headaches, first off being given lip service instead of real service when we had a leak from the get-go (ALWAYS be sure to set up the tub outside and fill it and run all the functions before you've had it too long and get stuck with a broken tub!) from both Sears and their online seller! It took FOUR MONTHS for them to return the $3,000 my parents paid. Also, be aware, that you are likely to need to add additional dual breakers for the TWO 20A circuits required to run all the pumps and heater, if you have an older house built in the 70's or older, it will be likely that you won't have many 20A circuits if any available. Also consider that you will want to make sure you have a high enough capacity water heater to fill a large tub like this (our 80 Gallon gas water heater runs out of hot water if you try to fill it too fast, 3/4″ lines are great, but make sure to see if you wouldn't also want to upgrade your water heater, or especially if you have an electric water heater which usually takes much longer to heat than gas, thank goodness we have gas and just has to fill the tub slowly, taking about 15 minutes to do so without robbing all the hot water in the house at once!) and built-in fixtures like this are not the simplest to install, check with your contractor, but I highly recommend this tub so far!

22 people found this helpful
Pros of The Ariel Walk-In Tub
1) You can take a regular bath without climbing over a tub wall.
2) Whirlpool and heater give a soothing and therapeutic soak.
Cons of The Ariel Walk-In Tub
1) There are no reviews at this time
2) Check installation before purchase to assure no unexpected costs.
3) The price might be too expensive.
My Overall Thoughts On The Ariel Walk-In Tub
After looking at this closely and weighing the pros and cons, this is a good product for people who cannot take a proper bath in a regular tub. This is a Godsend.
In Conclusion
In conclusion, the Ariel Walk-In Tub has its strengths and weaknesses. While it may be a bit pricey and lacks reviews at this time, its features like the whirlpool, heater, and safety grab bar make it a compelling choice for those who struggle with traditional tubs. However, remember that everyone's needs are unique, and what works for one may not work for another. It's crucial to consider your specific requirements and consult with a healthcare professional before making a decision. So I recommend the Ariel walk-in whirlpool.
Check Out This Video
---
My Commitment:
I commit to making this website better and better each day.
I would appreciate your frank comments – either good or bad.
I would like to remind you that I will make a review for a product of your choice.
I would love to hear your comments.
Tell me what's on your mind.
You can also make requests.