Is The 60uP Balance Training System Any Good? In this 60uP Balance Training System Review, I Reveal the Pros and Cons of this balance training system.
Thousands Now Balance Confidently Who Never Thought They Could
Imagine you can move around without falling. Without a hospital visit. Strengthen your knees and legs to handle a wide variety of movements. Feeling the strength in your legs. And not end up a fall statistic. The 60uP Balance Training System can make that happen. 
CDC Fall Statistics
One In Four Americans Aged 65+ Falls Each Year 
Every 11 Seconds, An Older Adult Is Treated In The Emergency Room For A Fall 
Every 19 Minutes, An Older Adult Dies From A Fall
You Can See That Balance Is Vital To The Elderly
Muscle ache, knee or back pain, and arthritis get more severe with age. Seniors are more prone to aching knees and back, which makes it harder for them to stand and balance themselves. These elderly are at risk of falling and becoming part of the CDC statistics above. This is why we need some help to balance us. And let's not forget the amazing joy you can get from having more balance and being free of worry. This equipment will not only provide strengthen your muscles for better balance, but it ensures your safety, so you do not have to worry about your well-being.
What is an 60uP Balance Training System?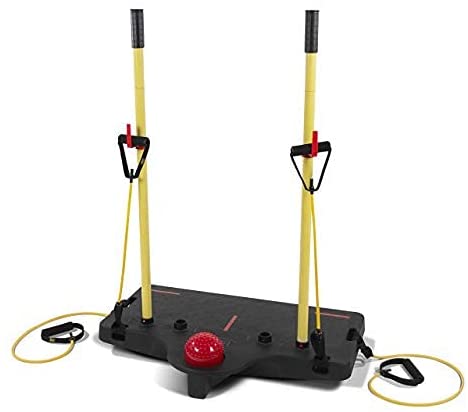 The 60uP Balance Board is a fitness program designed to improve strength and balance through dynamic stability training. The main apparatus is a wide footboard, flat on top and bowed on the bottom, with a detachable support pole on either end.
The video below shows how to use this device.
Features
REGAIN YOUR BALANCE: 60uP is a patented training program for seniors or anyone with balance issues to maintain or regain balance and mobility, improve confidence, and help lessen the chance of falls.


AS SEEN ON TV: As used by Bob Eubanks, the 60uP trainer improves balance, body strength, positive body alignment, and neurological brain connections in as little as 3 weeks.


HOME BASED PROGRAM: You can use the 60uP training system in the comfort of your home while watching TV, or even outdoors. The set stores easily under the bed or in a closet.


FEEL SAFE & SECURE: The balance board can hold over 1000lbs, has a low 4" height for an easy step-up, and has a safe non-slip textured workout surface, plus dual balance flex poles with a secure grip. Anti-slip mat sold separately.


COMPLETE BALANCE TRAINING SYSTEM: Made in the USA, the training equipment package includes 60uP balance board, stability poles, resistance bands, and an instructional DVD with 100s of exercises.
Who is The 60uP Balance Training System For?
60UP stands for 60 years old and UP. It is for elderly people. It is essential for people with more limited, decreased, or painful mobility challenges.  If you have been sitting too much as a result of an injury or lifestyle choice, your muscles might have weakened to provide adequate balance. Stop worrying about falling. Extend your quality of life with a 60uP Balance Training System.
My First Impression of The 60uP Balance Training System
I have spent a lot of years in Tai Chi and have developed a strong and aligned body for balance. When I look at this piece of equipment, I see it does many of the strengthening and alignment ideas of Tai Chi. I like that it has sticks to hold on to when someone is starting from an extremely poor balance. Simply just do the exercises. These exercises start off very easy and you can then work at immediate levels and above.
Pros of The  60uP Balance Training System
Safer Physical Therapy Balance Training At Home!
It Helps Improve Or Regain Balance.
Builds Strength In Knees And Lower Body For Better Balance.
Cons of The  60uP Balance Training System
A Small Percentage Of Customers Said It Was Cheaply Made.
Some Said It Felt Unstable.
An Even Smaller Percentage Said It Was Over Priced.
Reviews from Amazon
At the time of this posting, there are well over 600 reviews on Amazon from verified buyers. The following screenshots below are some of those reviews. You can click on the images to see more reviews on Amazon.

THIS PRODUCT REALLY WORKS!!
Reviewed in the United States on May 26, 2020
Verified Purchase
My mom has been suffering from an autoimmune disease for several years. She has lost most of her mobility to walk or stand for long periods of time. She has experienced unbelievable success with the 60uP. This board is well worth the money and commitment to work out. Amazing results in just a couple of weeks. She can walk with a lot more confidence and stability. I strongly recommend this product.
---

Finally, A Balance Device For The Home With HANDLES!
Reviewed in the United States on July 31, 2020
Verified Purchase
Had this chair for a few days now and it's awesome. I'm 5'9" and it is a little too short to rest your head on but it can be done. The quality is way better than expected..will see if it holds up well.
Since I have severe balance problems I had a fear of falling so I wasn't doing much walking outside. Because I didn't exercise I got weaker making my balance problems worse. I needed a device that would make me feel secure while exercising. This is it. I paid extra to order the poles that have no flexing at all and feel really secure about this. Also, the base is large enough that I have complete confidence and no fear of falling off. I can feel a difference already.48 people found this helpful
My Overall Thoughts On The 60uP Balance Training System
After looking at this and weighing the pros and cons, this is a wonderful piece of equipment that can save an elderly person from falling and hurting themselves. It adds to your overall quality of life as you age, making your life easier and more enjoyable. You do have to do it on a regular basis for the benefits to materialize.
FAQ's About Balance Training Systems

Can this be used on carpeted floors?
In fact, it MUST be used on carpeted floors or at least on non-slippery surfaces, as the plastic slides easily.
How tall are the poles?
The poles are 45 inches high. We also have metal poles for extra stability – zero flex and those come in three sizes. 38 inches for those 5feet 1 and under – 45 inches for those 5feet 2inches to 6feet 1 inch – 50 inches for those 6feet 2 and taller. The yellow poles have a specific flex in them to help support the body weight and will speed up balance results – the yellow poles are where everyone will want to get to – but for those wanting full stability poles and so strong we suggest the upgrade to the aluminum poles. 

Do you eventually get to a point where you don't need the poles?
I'm 75 and fall risk. I hang on so as not to have a bad accident. Also, both knees are replaced. I hang on for safety reasons.

This sounds wonderful. Wondering if this doesn't help with my husband's balance. Is this returnable thru Amazon?
Thank you. Returns will come back to 60uP and you can reach out to their customer service team by emailing CustomerService@60uP.com – all return information is on our website at 60uP.com
Thank you and wishing you and your Husband the best of health and many many years of quality memories ahead.
In Conclusion  
The outcome is simple. This equipment can save your life or at least increase the quality of your life. Considering its high quality, it will last a long time paying for itself over and over again. If you work with it, we recommend that there is very little risk of being dissatisfied. Let's keep our loved ones and those under our care as safe as possible from hurting themselves I recommend the  60uP Balance Training System.
---
Sale
Bestseller No. 1
StrongTek Professional Wooden Balance Board, Rocker Board, 17.5 Inch Wood Standing Desk Accessory, Balancing Board for Under Desk, Anti Slip Roller, Core Strength, Stability, Office Wobble Boards …
✓ Improve strength & conditioning – This wooden rocker board physical therapy is designed to stimulate your core and improve your agility, reaction time, and stamina, this low-impact exercise board is great for all.
✓ Compact, portable trainer – At 17.5" x 13.5" x 3" in size, our lightweight balance exerciser / fit tilt board can be used at therapy or training at home, the gym, or while traveling. A perfect standing desk accessory
✓ Slip-resistant surface – The top of each rocker balance board features an easy-grip surface that's gentle on bare feet but helps keep you in place safely and securely.
✓ Strong, stable base – Made of high-quality Lauan hardwood plywood from sustainable, plantation-grown timbers , stronger and last longer than others made of birch and pine plywood. This heavy-duty balancing board can hold kids and adults up to 350 lbs.
✓ True quality assurance – The workout board / core trainer is backed by unbeatable quality and customer support, which is why they come with a 30-day money back guarantee.
Bestseller No. 2
CANDO-30-1952 CanDo Donut Exercise, Workout, Core Training, Swiss Stability Ball for Yoga, Pilates and Balance Training in Gym, Office or Classroom. Orange, 55 cm W x 30 cm,22"Dia x 11" H
ALTERNATIVE SEATING SOLUTION - Replace standard desk chairs with a Donut Ball. Its unique shape and durable design is perfect for high-trafficked environments like classrooms or offices. Use at home to add a balance challenge to your workout.
ENHANCE FOCUS AND CONCENTRATION - Active seating on a donut ball encourages consistent muscle contraction that improves blood flow. This results in increased focus and alertness for children and adults.
UNIQUE DONUT SHAPE - Don't worry about your ball rolling away! The flat sides of the Donut Ball keep it secure in one spot, perfect for the classroom or the office. While sitting, users still need to engage stabilizing muscles to keep balance.
DURABLE DESIGN FOR REPEATED USE - CanDo Donut Balls are designed with durable PVC material that withstands heavy, repeated use in areas like classrooms and offices. Each donut ball is latex-free and has a weight capacity of 300 lbs.
USE BY ANYONE, ANYWHERE - Find the donut ball size that best suits you! CanDo Donut Balls are available in 5 color-coded sizes to fit children and adults. Choose the right donut ball based on your height, just like a standard exercise ball.
Bestseller No. 3
URBNFit Balance Board - Core Trainer - Increase Stability, Strength and Flexibility - Ballet and Dance Trainer
IMPROVE YOUR BALANCE: Originally created for surfers, thiswobble board is designed to strengthen your lower back, increase balance & coordination, & boost sports performance
USE ON ANY SURFACE: It's special anti-skid surface offers a super strong grip, allowing our balance board to be safely be used everywhere.
ULTRA VERSATILE DEVICE: Use with your standing desk or work out for a variety of sports & training programs including strength training, ballet, dance, & rehab exercise, & more
FOR ALL AGES & FITNESS LEVELS: From kids to adults to improve your posture, boost athletic performance, & even REDUCE THE RISK OF INJURIES after surgeries or accidents
BUY WITH CONFIDENCE: Adhering to URBNFit high-quality standards, If you have any concerns or issues, we will replace or refund your purchase no questions asked!
Last update on 2021-10-08 / Affiliate links / Images from Amazon Product Advertising API