Hello there, I'm Ed Grosso, a senior myself and a passionate advocate for elderly independence. I've spent years researching and understanding the needs of seniors, especially when it comes to maintaining our mobility and independence. Today, I want to talk about a fantastic solution that combines exercise, stability, and fun – adult tricycles. These are not just any tricycles; they are the best adult tricycles for seniors, designed with our unique needs in mind.
As we age, maintaining balance can become a challenge, and traditional two-wheel bikes may no longer be a safe or comfortable option. That's where adult tricycles come in. They offer a stable, enjoyable way to stay active, get around, and even carry groceries or other items. But with so many options on the market, how do you choose the right one? That's what we'll explore in this article.
Ride A Tricycle Bike You Can Be Proud Of
Seniors need to get exercise and a two-wheel bike is hard to hold up, so these tricycles are more stable for seniors. They can be used to go grocery shopping, to the beach, to take rides with your grandkids, and still get exercise.
If you are in a hurry, here are my favorite, runner up, and economical adult tricycles. I will go into more about why I like each of the adults tricycles later in this article.
Best Adult Tricycles At A Glance: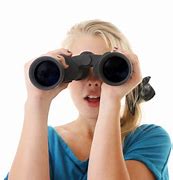 ---
What To Look For When Buying An Adult Tricycle

Quality Frames

Steel frame tricycles are typically heavier, which translates to slower on the road, but can handle a greater load of rider and baggage and tend to be more durable in the event of crashes. Aluminum frames are often lighter for faster rides and still provide excellent durability, but also tend to be more expensive.
Brand Name Reputation

As a senior, it is important to get a bike from a reputable manufacture. For example, Schwinn has been around since 1895 and their reputation is awesome.
Maintenance

Thankfully, maintaining a tricycle doesn't require any special parts. Most tricycles use the same components as bicycles, which means that it's easy to find anything you need at your local bike shop
Gears

Adult tricycles are available in a variety of gearing configurations, with everything from fixed-gear to seven-speed tricycles. ​ Having more speeds is great for workouts and going uphill, but also requires a lot more maintenance compared to a single-speed or fixed-gear bikes. The latter, however, struggle going uphill or downhill.
Wheels

For a given gear set, a smaller wheel will require more turns of the pedals to go the same distance compared to a larger wheel, but the pedals will also require less effort with each revolution. Some wheels come with thick inner walls to cushion your ride from bumps in the road, while others come with thinner wheel walls that tend to ride faster but don't dampen vibration as well. Having more spokes typically indicates that the wheels can handle more weight between the rider and baggage, but the spokes also add more weight capacity to the tricycle overall
Comfort

Comfort is especially important for ​tricycles since these are typically for leisurely rides rather than racing. ​Leisure tricycles typically feature a plush seat and may have the seat set low and far back from the handlebars in a semi-reclined position. In addition, some highly reclined trikes also have a backrest attached to the seat. You can increase your comfort by clicking here for shoes or clicking here for socks.
Accessories

Accessories can be almost as important to a tricycle's usability as the tricycle itself. If you plan to use your tricycle for commuting or for taking on shopping trips around town, look for tricycles that come with a storage basket or baggage rack built-in. Plus, front and rear fenders can save you from getting soaked if you live in an area that sees a lot of rain. On the other hand, if you plan to ride primarily for exercise, these accessories can get in the way more than they help.
---
Top 3 Adult Tricycles
Now that we have covered what to look for when buying your tricycle, I will now review my best rated ones in each category.
#1 Schwinn Meridian Adult Tricycle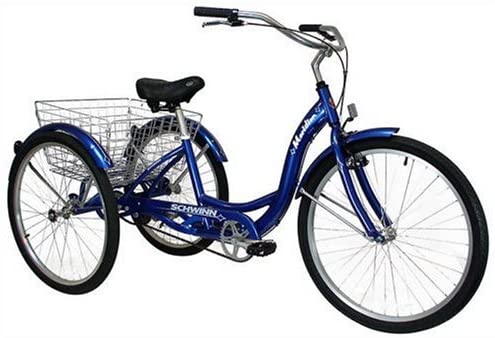 Features
Designed with 26-inch wheels, this bike fits riders 5'4″ to 6'2″ in height
The single-speed drivetrain is easy to use and maintain
Linear-pull brakes deliver smooth and intuitive stopping, and both front and rear fenders help keep clothing clean in damp weather
Wide upright handlebars provide a stable, balanced ride, and the adjustable, padded cruiser saddle absorbs bumps
Super low, stand-over/step-through aluminum frame allows easy step-through access
The Schwinn Meridian adult tricycle is the perfect all-around good-quality tricycle for people that want to get into riding a trike. The trike is a single speed that is perfect for the beginner triker's to hop on and get started without worrying about changing gears. The trike is built from lightweight aluminum keeping the trike at a manageable 70 lbs.
For braking, this trike has a rear brake and also a front brake so you can be sure that you can reliably stop the tricycle. There is a storage compartment in the rear of the trike so you can transport groceries or cargo with ease. Lastly, the trike comes with a very comfortable saddle seat so you can be sure that you'll be riding smoothly!
---
Pros For The Schwinn Meridian Adult Tricycle
The aluminum frame is relatively lightweight and features a low step-through design for easy on and off.
Gets seniors outside to exercise.
​Exercise Without Worrying About Balance Issues.
Sturdy especially for heavy people.
A sheer pleasure to ride.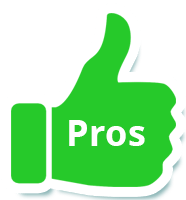 ---
Cons For The Schwinn Meridian Adult Tricycle
Some said it was difficult for some seniors to ride.
Some said they needed the bike shop to install it.
​Some said it had poor quality control.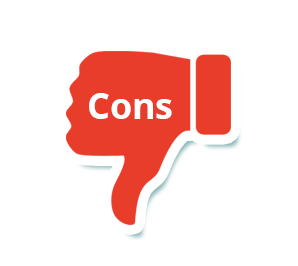 ---
---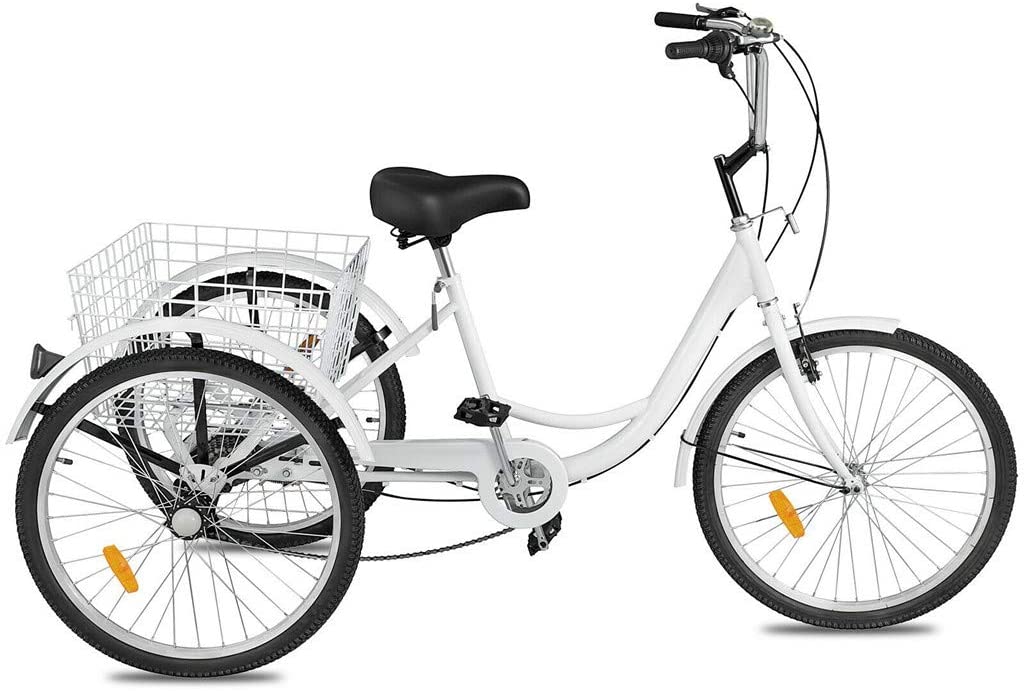 Features
PLEASE MAKE SURE THE SIZE before purchasing: 20″ wheel suitable for rider height: 4'8″ – 5'6″, 24″ wheel suitable for rider height: 4'11" – 5'10", 26″ wheel suitable for rider height: 5'3″ – 6'2″. SLSY Adults Tricycles are equipped with a user manual, assembly tool, and water bottle cage.


STURDY DESIGN & EASY TO INSTALL: Sturdy steel construction supports a capacity up to 350 lbs. 3-wheeler design means you'll always have a consistent ride and a frame that'll stay sturdy and steady.


LARGE CAPACITY BASKET: SLSY tricycle has a large rear basket, load up the convenient basket with groceries, supplies, or whatever suits your daily shopping while staying in shape.


PRACTICAL THREE-WHEEL BICYCLE: Comfortably for you to enjoy riding around town, on the beach, or just on an afternoon cruise. SLSY adult trike bikes are suitable for different kinds of road surfaces and promise a long time of use.


SATISFACTION GUARANTEE: SLSY adult trike also comes with a one-year warranty on all defective or damaged parts. 30-day return & money-back guarantee. We offer premium quality and the best service, no matter what reason causes dissatisfaction, we'll replace it or reimburse you every cent back!
---
Pros For The Slsy Adult Tricycle
Helps With Balance Issues.
Very Sturdy.
Great Customer Service.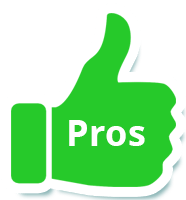 ---
Cons For The Slsy Adult Tricycle
Some Said The Assembly Was Difficult.
Some Said It Is Poor Quality.
Some Said It Is Cheaply Made.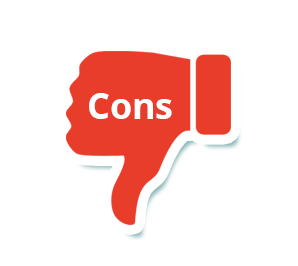 ---
---
#3 Happybuy Adult Tricycle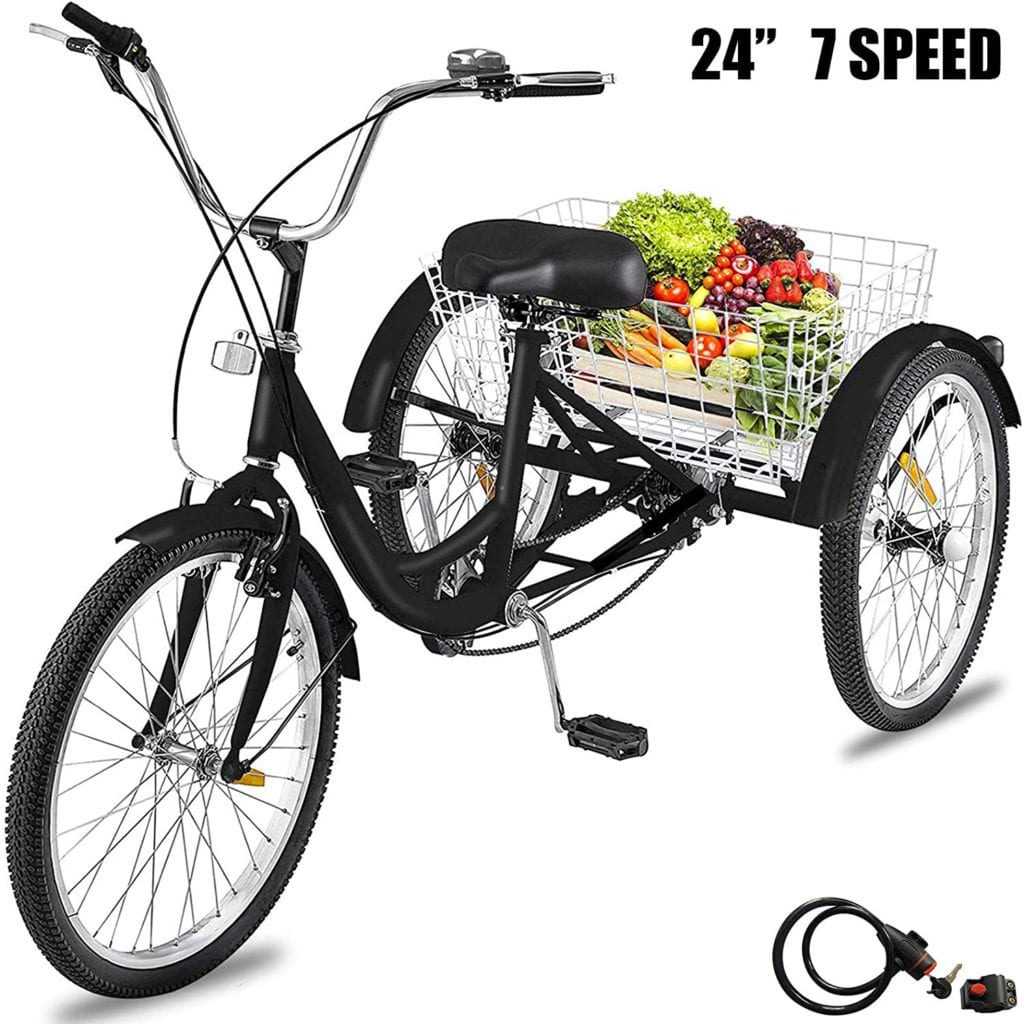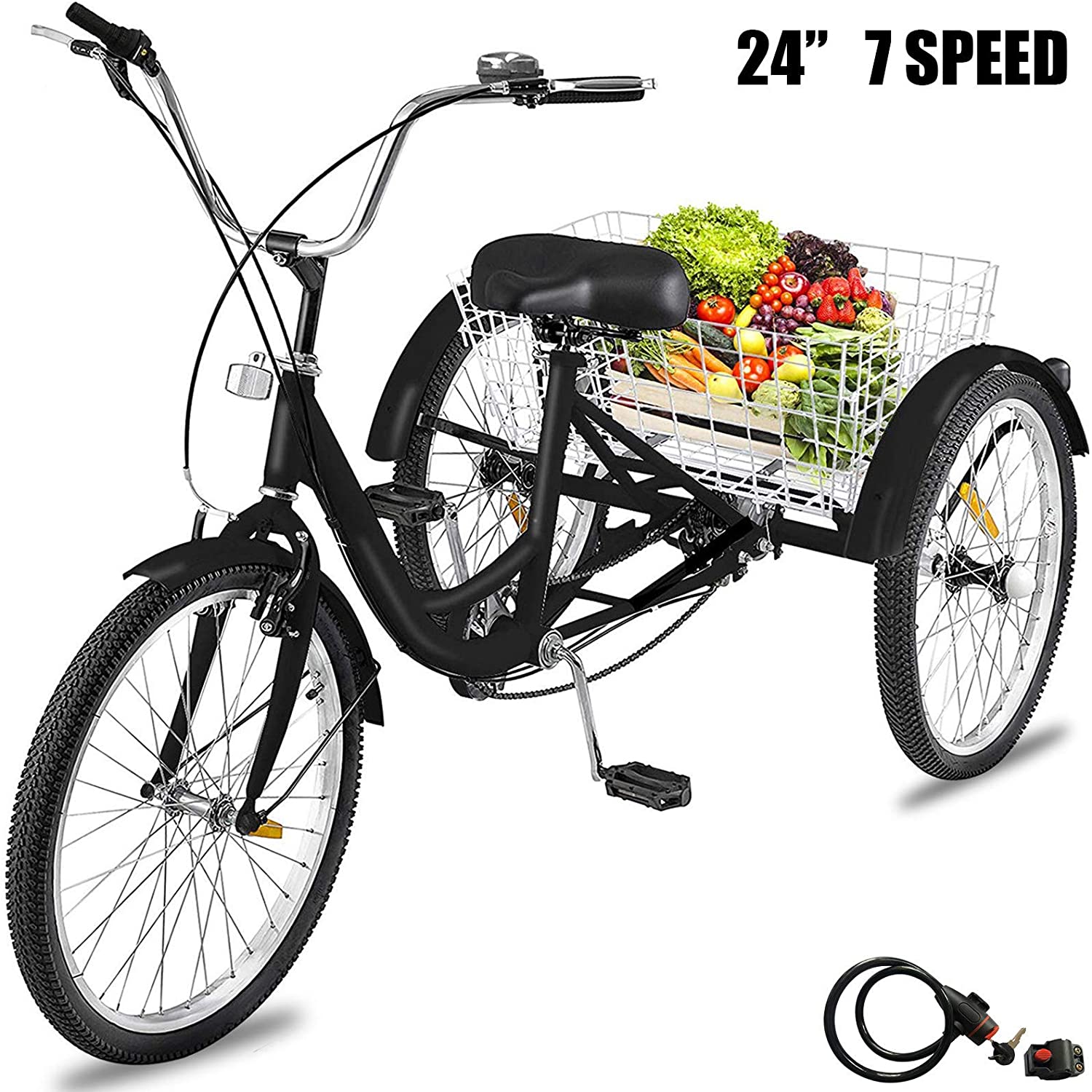 Features
SIZE INFO-–24 inches 3 wheels tricycle black 7 speed, Weight capacity of 300 lbs, rider, and cargo combined. The 3-wheeled bike is made of high-quality iron. Alloy rims with stainless-steel spokes and smooth-riding tires, upright handlebars, and comfortable cruiser saddle.
BIG BASKET—This tricycle with a big basket is sure to meet your need under such circumstances. It is also a great choice for the elders to move around. Our cruiser bike basket has convenience for shopping and carrying enough things. The basket is perfect for picnics or storing groceries.
VARIABLE SPEED–7-speed Shimano derailleur offers more fun in riding, shifters for effortless pedaling and shifting.

STABLE AND SAFE—Tricycles are stable versus a bicycle and ability to move smoothly and safely. Our product has detailed instructions. This bike's classic cruiser styling features full-wrap fenders, a cruiser seats, and swept-back handlebars for comfort.

WIDE USE— This tricycle will be a practical tool in your daily life. Primarily used for recreation, shopping, exercise, or any time/situation you want. For unisex-adult, also very suitable for elders who seek for comfort and easy riding and outdoor activities
This tricycle has a Seven Speed Shimano Drive Train with a flexible rear derailleur that allows you to change speed freely and easily in case of any emergency.
Adjustable Padded Seat: An extra-Large padded seat with springs is designed to cushion your ride, offering you a better riding experience. Easy to adjust its height simply by turning the seat post clamp.
The Front V-brake and rear brake of this tricycle would provide double protection for you. Dual brakes promise the rider a smooth, intuitive stopping, and much safer.
---
Pros For The Happybuy Adult Tricycle
Getting Exercise Outside.
​Great Customer Service.
Good Deal For The Money.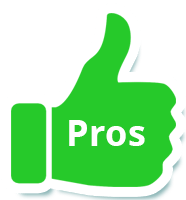 ---
Cons For The Happybuy Adult Tricycle
Some Said It Was Missing Bolts On Delivery.
Some Said It Was Difficult To Assemble.
Some Mentioned The Gears Wouldn't Change.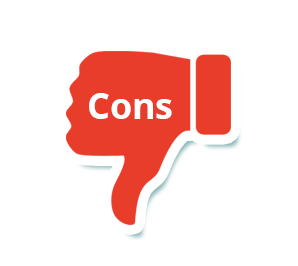 ---
---
Final Thoughts / Conclusion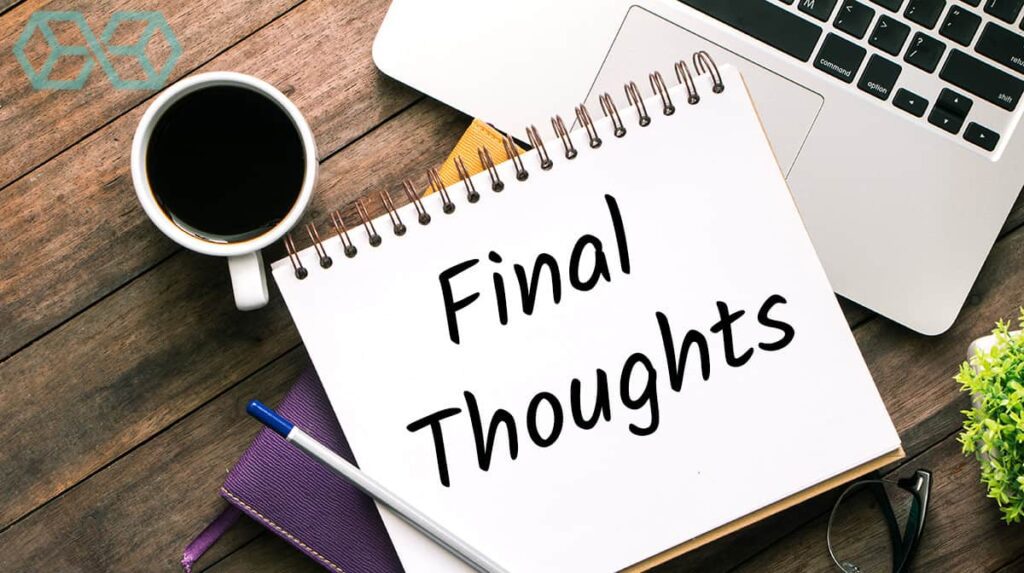 In conclusion, the Schwinn Meridian Adult Tricycle stands out as the top choice for its high performance and excellent durability. However, the Slsy Adult Tricycle and the Happybuy Adult Tricycle also offer great value, each with its unique features.
Choosing the right adult tricycle is a personal decision based on your specific needs, preferences, and budget. But no matter which one you choose, the benefits are clear: improved mobility, increased exercise, and a boost in independence.
Remember, I'm not just a researcher; I'm a senior myself. I understand the challenges we face and the solutions we need. I've used my firsthand experience and extensive research to provide you with this guide, and I hope it helps you find the perfect adult tricycle for your needs.
Stay active, stay independent, and most importantly, enjoy the ride!