Best Pain-Free Shoes Review For Seniors. Looking for Pain-Free Shoes? Here are The 3 Best Pain-Free Shoes for 2020. This Review Reveals the Favorite and Most Economical Pain-Free Shoes.
I remember sitting in my car in front of the supermarket dreading to walk in because of a serious problem of Achilles Tenitisis. The pain was unbearable. The treatment was very long. When I think I could have avoided most of the pain by wearing proper shoes. Well, now I wear the proper pair.
If you have a foot problem now – it is a no brainer, but it is also necessary to prevent future foot problems. These foot problems can get worse over time. Spare yourself the pain. Get the right shoes.
It may also be helpful to look into footwear that provides your feet with extra support to avoid fallen arches and ingrown toenails, as well as to help you keep your balance while going about your daily activities. In more severe cases, depending on the foot condition you're experiencing, some podiatrists may suggest custom orthotics or shoe inserts to help correct the alignment of your feet.
The message is wear shoes that fit properly. It will save you a lot of grief in the future.
If you want to earn more about foot problems, the Orthofeet company has a learning center that has valuable information. Click Here.
---
Best Pain-Free Shoes For Seniors At A Glance
| | | | |
| --- | --- | --- | --- |
| | | | |
| Company | Orthofeet | Gravity Defyer | Orthoshoes |
| Price Range | $124.95 | $155 | $59.90 |
| Protective Interior | Yes | Yes | Yes |
| Orthotic Inner Soles | Yes | Yes | Yes |
| Non-Binding Design | Yes | No | Yes |
| Wide Toe Box | Yes | Yes | No |
| Ergonomic Soles | Yes | No | No |
| Plantar Fasciitis | Yes | Yes | Yes |
| Diabetes | Yes | Yes | Yes |
| Neuropathy | Yes | Yes | No |
| Check Current Price | Current Price | Current Price | Current Price |
---
How Shoes Work to Alleviate Pain
The shoes should have a soft fabric interior, padded with foam to eliminate pressure points and friction against the skin, giving comfort and protection.
The shoes should have Orthotic Insoles with arch support controlling overpronation and reduces pressure on the bottom of the foot.
The shoes should have soft uppers with no overlays across the bunions and toes help eliminate pressure offering a relaxed, comfortable fit.
The shoes should have a wide toe box and extra depth design, which offers a relaxed fit and extra room for bunions and toes.
The shoes should have an ergonomic sole with a mild rocker design and superior cushioning to help propel the foot forward and enhance comfort from heel to toe.
The shoes should have a soft foam-padded interior that has a gentle contact with the foot, eliminating pressure points and enhancing comfort for arthritic feet.
The shoes should have multiple cushioning layers that reduce impacts on the heel, foot, and entire body
---
#1 Orthofeet Proven Plantar Fasciitis and Heel Pain Relief.

(Our Favorite)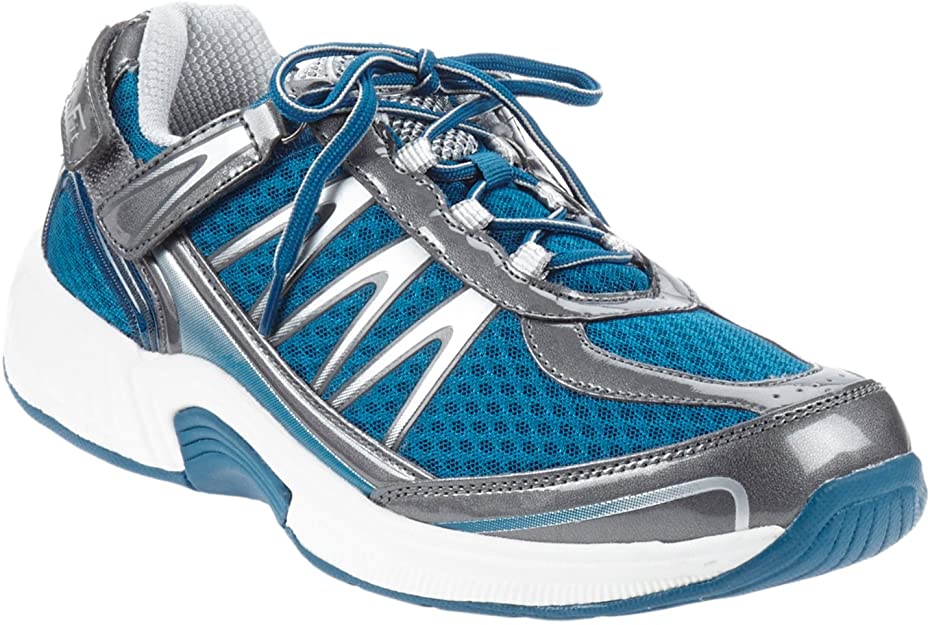 Features
YOU CAN TEST THESE SHOES FOR 60 DAYS! Test these shoes for up to 60 DAYS and see for yourself why Orthofeet is regarded by millions as the WORLD'S MOST COMFORTABLE and stylish orthopedic shoes. Try RISK-FREE: Walk COMFORTABLY and PAIN-FREE or Your MONEY BACK. 60-day wear test. FREE shipping and returns.
IF YOU HAVE PLANTAR FASCIITIS? HEEL PAIN? FOOT PAIN? OR NEUROPATHY Consider Orthofeet orthotic shoes because they have a Lightweight SOLE with ERGONOMIC design and SUPERIOR CUSHIONING along with premium ORTHOTIC INSOLES that feature ANATOMICAL ARCH SUPPORT and multiple CUSHIONING layers provide soft that works to enhance COMFORT and EASE PAIN on the FOOT and HEEL, all the way up to your KNEES, HIPS and LOWER BACK caused by flat feet, overpronation, and arthritis.
EXTENDED WIDTHS – These SUPER COMFORTABLE casual shoes with soft, non-binding uppers are available in Medium, Wide, and Extra Wide widths, offering a PERFECT FIT. The UNIQUE THERAPEUTIC DESIGN helps alleviate stress on the joints, enhances stability, and substantially improves the ease of walking.
SENSITIVE FEET? DIABETES? ARTHRITIS? NEUROPATHY? Soft uppers with smooth interior lining and extra foam padding provide SUPERIOR COMFORT and protection for sensitive feet and an ideal footwear solution as women's diabetic shoes, women's arthritis shoes, and women's shoes for neuropathy.
BUNIONS? HAMMERTOES? A wide & roomy TOE BOX offers a comfortable, non-binding fit for the front part of the foot and toes, and eases pressure on bunions, hammertoes Morton's Neuroma & swollen feet. ORTHOTIC FRIENDLY: Extra-depth design with removable insoles (¼" thick in the forefoot area) provides ample space for custom made orthotics.
---
Pros For Orthofeet Shoes
Eliminates Pain In A Short Time
Comfortable Without Looking Ugly
Strong Support
Diabetic-Friendly
Cons For The Orthfeet Shoes
Some Said It Did Not Last Long
Some Said It Was Hard And Uncomfortable
Some Said They Were Disappointed With The Support
---
---
#2 Gravity Defyer Proven Pain Relief for Heel Pain, Plantar Fasciits

(Our Runner Open)


Features
VersoShock Technology– Patented Spring System Absorbs Shock From the Ground up Converting it into Renewed Positive Energy.
Seamless interior for sensitive feet and diabetic neuropathy to prevent irritation.
Removable insoles to accommodate custom orthotic support.
Front rocker sole with a supported midfoot to prevent and relieve plantar fasciitis.
Extra depth and roomy toe box for bunions, diabetes, or just a little extra wiggle room, accommodates removable insoles.
---
---
Pros For The Gravity Defyer Shoes
Extremely Light.
Lots of Support.
Enhances Posture.
Great Quality.
Good Plantar Fasciitis Solution.
Cons For The Gravity Defyer Shoes
Some Said Bad On Concete Floors.
Some Said They Don't Last Long.
Some Said Too Narrow In The Toe Area.
---
---
---
# 3 Orthoshoes Walking Sneakers

(Economical Choice)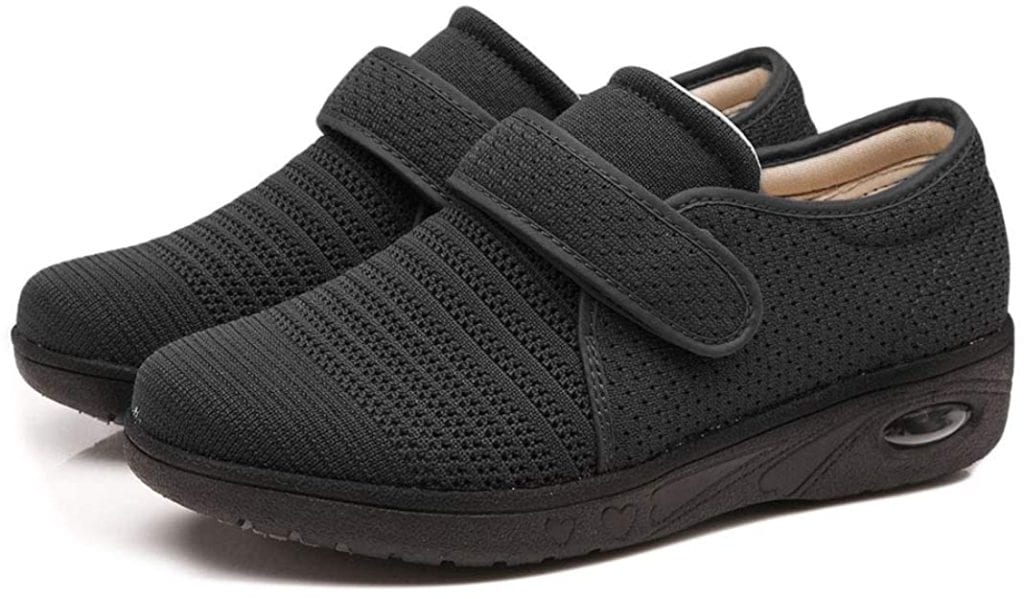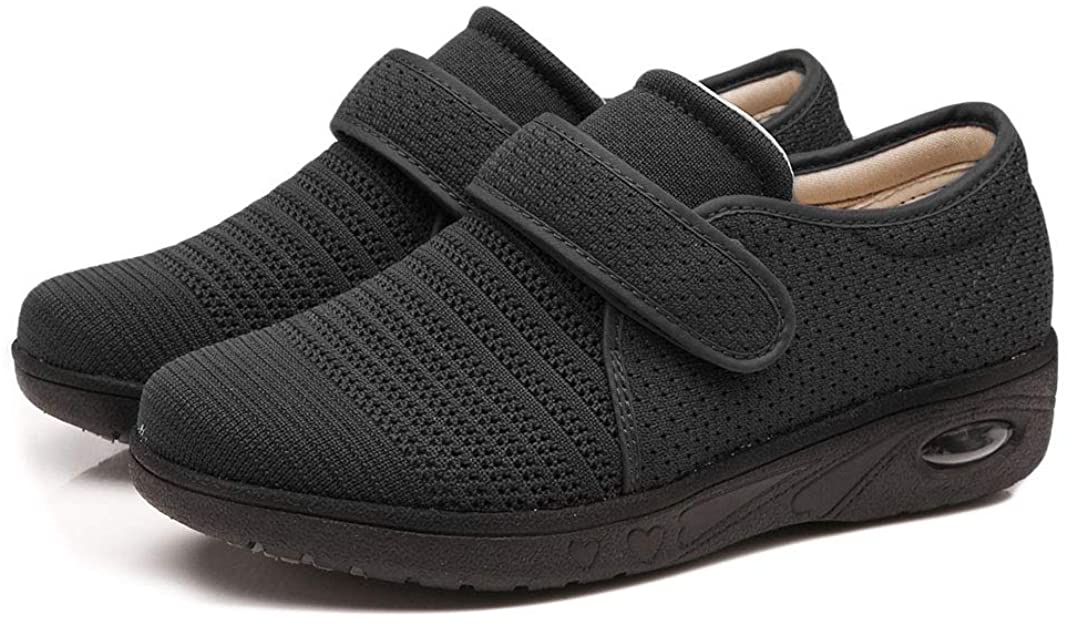 Features
LIGHTWEIGHT & COMFORTABLE – These diabetic velcro shoes are light enough and sturdy enough. The upper parts are made from breathable material, perfect for All Seasons and outdoor activities. Stretch mesh upper expand with your foot when you walk. More comfortable closely fit to help you reduce irritation.
EASY TO PUT ON & OFF – Forefoot straps are highly adjustable thanks to velcro closures, the range of adjustment is ideal for changes in the degree of swelling. Wearing the extra width and depth shoes can help alleviate pressure on swollen feet, bunions, edema, diabetes or hammer toes.
ULTIMATE COMFORT FEELING – A visible air cushion design to absorb shock, to provide a forgiving, easeful feeling in every foot strike. Removable insole is cushioned for extra comfort and can accommodate custom orthotics or diabetic insoles. The lightweight and sturdy sole provides grip for both indoor and outdoor wear.
TARGET USER & OCCASION – Ideal for those who need extra stretch to accommodate Swollen Feet, Hammertoes, Bunions, Plantar Fasciitis, Corns, Calluses, Osteoarthritis, Rheumatoid Arthritis, Hammer Toes, Morton's Neuroma, Oedema, Dementia, Injuries involving tendons, muscles, and bones or need a Post-op shoe.
---
Pros For Orthoshoes Shoes
Very Comfortable.
Fits a EE well.
Practical and Stylish.
Great For Swollen Feet.
Cons For Orthoshoes Shoes
Some Said They Ru too small and Narrow.
Some Said You Can't Return
Some Said You Have To Pay Shipping Cost to China to Return.
---
Here Are Other Reviews That Can Help Keep Seniors Safe: