Can you visualize moving with ease, your body flowing rhythmically, and feeling a sense of balance and tranquility? At Elderly Independence, we're exploring the effectiveness of Tai Chi balancing exehttps://elderlyindependence.com/exercise-resources-for-seniors/rcises for seniors, and the results are promising. Imagine gaining improved stability and a calmer mind, all while engaging in gentle, flowing movements. As an experienced fitness professional specializing in senior wellness, I've seen how Tai Chi can enhance balance and overall health for the elderly. So, if you're a senior seeking to improve your balance, or a caregiver looking to provide a safe, beneficial exercise for a loved one, this is the place for you.
If you need more safety inside or outside, then you know the importance of balance. The most important thing for safety. In my 3 Tai Chi Balancing Exercises For Seniors Review, I explain what these three exercises you can do.

The Key To Not Falling For Seniors Is To Strengthen Their Balance. There Is No Substitute
---
What is Balance?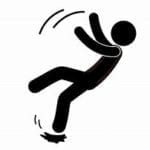 For you to maintain your balance, you should be able to keep your body's weight and center of mass within your base of support. That is true whether your body is moving or stationary. The second (it takes less than a minute) your body weight is displaced outside your base of support, you risk "tipping the scale" and losing your balance. Where your base of support is the area beneath you that includes every point of contact that the person makes with the supporting surface.
Improve your strength, flexibility, posture, multisensory function, coordination, reaction time, and balance strategies. Use these exercises to improve your balance and decrease your risk of falling. Posture can change a person's center of gravity and impact their balance and functional ability. In 1947, the Posture Committee of the American Academy of Orthopedic Surgeons (AAOS) defined poor posture as a faulty relationship of the parts of the body, which produce increased strain on the supporting structures, and in which there is a less efficient balance of the body over its base of support.
---
What is Tai Chi?
Tai chi
is a mind-body practice that involves a series of slow, flowing exercises that combine movement, meditation, and rhythmic breathing. It is a low impact exercise that can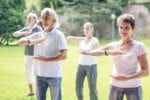 easily be done by seniors. Although it was initially developed as a martial art, it's commonly practiced as a form of "moving meditation.". According to the principles of traditional Chinese, Tai chi is one of the most sophisticated methods of integrated whole-body movement. Tai chi is a workout that can be as strenuous and invigorating as aerobics, even though it can look easy, simple, and relaxed. You will likely use muscles that you didn't know you had.
---
Here Are Three Tai Chi Exercises You Can Do To Strengthen Your Balance:
---
Exercise #1: Tai Chi Standing and Sitting Alignments
Exercise #2: Tai Chi Weight Shifting
Exercise #3 The Tai Chi Walk
Additional Tools For Strength and Balance
These Falling Statistics
Each year, millions of older people—those 65 and older—fall. In fact, more than one out of four older people falls each year, but less than half tell their doctor.
Falling once doubles your chances of falling again.
Falls Are Serious and Costly
One out of five falls causes a serious injury such as broken bones or a head injury,
Each year, 3 million older people are treated in emergency departments for fall injuries.
Over 800,000 patients a year are hospitalized because of a fall injury, most often because of a head injury or hip fracture.
Each year at least 300,000 older people are hospitalized for hip fractures.
More than 95% of hip fractures are caused by falling, usually by falling sideways.
Falls are the most common cause of traumatic brain injuries (TBI).
In 2015, the total medical costs for falls totaled more than $50 billion.
Medicare and Medicaid shouldered 75% of these costs.
Additional Balance Exercises
The videos below are additional exercises you may or may not want to try.
Tai Chi Balance Exercises
Mayo Clinic On Non-Impact Exercises
Tai Chi balancing exercises offer seniors an incredible opportunity to enhance their stability and overall well-being. With years of experience in senior fitness, I have seen the transformative power of Tai Chi for improving balance and promoting tranquility. Rest assured that all the exercises recommended here are grounded in professional expertise, with safety and effectiveness at the forefront. So, step into the world of Tai Chi balancing exercises for seniors, and embark on a journey towards better balance and peace of mind.