Drive Medical Suction Grab Bar. Hello, it's Ed here. As a senior myself and someone who has dedicated his life to helping the elderly, I understand the importance of safety in the home, especially in the bathroom. Today, I'm going to share my insights on a product that could significantly enhance bathroom safety – the Drive Medical Suction 12 Inch Grab Bar. This review will delve into the features, benefits, and drawbacks of this product. But why should you trust my review? Well, I've spent years coaching individuals and businesses to higher levels of development, and now I'm using that knowledge to help seniors avoid falls. So, let's dive in and explore how this grab bar could be the key to safer and more independent living..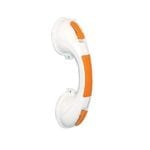 If you need more safety in the shower or bath, then you know the importance of grab bars for safety. In my Drive Medical Suction 12 Inch Grab Bar Review, I go through the pros and cons of this Moen Preened Grab Bar and reveal if it is a sound and safe product.
How To Live Accident-Free In The Bathroom For Less. As a senior bathroom aid product, Drive Medical Suction 12 Inch Grab Bar is a good product for apartment dwellers, travelers, or temporary situations, but there are some cautions you must pay attention to. Learn more In my Drive Medical Suction Grab Bar Review below.
Drive Medical Suction Grab Bar: What Is the Drive Medical Suction 12 Inch Grab Bar?
FEATURES:
Professional Grade: Plastic with rough grip section and a wide handle for better comfort and balance
Quick Assembly: No assembly required.
Robust: Dual locking suction cups with green and red indicators show it is locked.
Strong Material: Made from a strong plastic
Weight 6.4 ounces. Weight Capacity: It can support up to 250 lbs. I recommend not to hang your entire body weight on the bar.
Product dimension:

12″ (L) x 4″(W) x 3.75″(H)

;
Warranty and Return Policy:

Click here for the detail company info and return policies
Installation:
Clean the mounting surface and suction cups with a damp cloth.

Flip levers up.

Press dual suction cups firmly against a smooth, flat, non-porous surface.

Flip levers down on each end of the suction handle.

Check that indicator shows fully green (not red).

Manually test the adhesion to the surface. if loose, reposition and re-attach
Warnings :
Suction cups will still stick to surfaces without locking in place, so always assure that the indicator shows fully green and manually test for adhesion prior to use.
The suction handle is for balance only. Do not place full weight on it or use it to pull yourself up.
To Remove: Flip the levers up. Then lift up using tabs on suction cups to release.
Note:
Place the grab bar on a smooth, non-porous surface.
If placed over cracks or on the grout between tiles, the grab bar will not always be stable, and you may get a false reading on the indicator.
Grab bars are meant for balance assistance only and not to support your entire weight.
The grip can lose strength after time, so you should check them before every use.
Who is the Drive Medical Suction 12 Inch Grab Bar For?
The sweet spot for this grab bar is for travelers and people with short surgical recoveries. This device is also good for apartment dwellers who cannot drill into the bathroom tiles; forbidden by their landlords. If someone is fragile and can get seriously hurt look for a permeant bar anchored into the wall. This does not prohibit longer use, but just be more careful. Also, it fits a short-term solution and for someone who needs a highly reliable and sturdy way to prevent having an accident in the bathroom that could have serious consequences.
My First Impression of What Is the Drive Medical Suction 12 Inch Grab Bar?
What impresses me the most is the flexibility of the product and its stylish look. It is attractive. I see many of the more inexpensive grab bars look cheap. There are reviews that mentioned people having accidents. It will be difficult to get hurt with this product if you pay attention to the warnings above. It will also help raise their dignity and a person using it and give them the opportunity to take a shower by themselves.

FOR DRIVE MEDICAL SUCTION GRAB BAR .
Pros of What Is the Drive Medical Suction 12 Inch Grab Bar?
It is portable
It has indicators to show the suction works.
3.8 out of 5 stars or 96% of 900 customers like it.
Cons of What Is the Drive Medical Suction 12 Inch Grab Bar?
The largest con is that it will, like all suction devices, not stick to all surfaces. The surfaces must be smooth, clean, non-porous, no grout in the middle the suction cups otherwise they will create air pockets. Whatever, similar products you look at there is be a 15-20% of customers that will not get it to work because of the surface of their bathrooms. There are a few who worked harder to try ways to get it to work, but they seem to be the exception.
My Overall Thoughts On What Is the Drive Medical Suction 12 Inch Grab Bar?
After looking at hundreds of reviews and weighing the pros and cons, this is a good economical choice for preventing accidents in the tub/shower. Most of the complaints are of people not checking the subtleties of their environment.
Frequently Asked Questions
How reliable are suction grab bars?
Suction grab bars can provide a temporary solution and are easy to install and remove. However, their reliability can depend on several factors, including the smoothness and cleanliness of the surface they're attached to, and the quality of the suction cups. It's important to regularly check the suction on these types of bars to ensure they are secure.
Are suction bath grab bars safe?
Suction bath grab bars can offer a measure of safety, especially for those needing only light support or balance assistance. However, they may not provide the same level of stability as permanently installed grab bars. For individuals needing substantial support, a fixed grab bar is typically a safer choice.
Does suction grab bars in the shower work?
Suction grab bars can work in the shower, but their effectiveness can depend on the surface they're attached to. They adhere best to smooth, non-porous surfaces that are clean and dry. However, they may not adhere as well to textured or porous surfaces. Regularly check the suction to ensure the bar is secure.
How do you attach a suction grab bar to a shower?
To attach a suction grab bar like the Drive Medical Suction 12 Inch Grab Bar, first clean and dry the surface where you plan to place the bar. Press the suction cups against the surface, then push down or turn the locking mechanism (depending on the model) to secure the bar in place. Always test the bar for security before use.
In Conclusion
In conclusion, the Drive Medical Suction 12 Inch Grab Bar is a product I highly recommend for specific applications. It's not just about the features it offers, but the independence and dignity it can restore in seniors' lives. Remember, our loved ones' safety is paramount, and this bar could be a significant step toward preventing falls in the bathroom. However, always review your decision with your doctor or other health care professional. Their personal knowledge of your unique health situation is valuable. As for me, I'll continue to explore and review products that can make a difference in the lives of seniors. After all, independence is only a grab bar away. So I recommend the Drive Medical Suction 12 Inch Grab Barr to the limited applications mentioned above.
Being installation is a critical part of this product. here is a video you can look at.
My Commitment:
I commit to making this website better and better each day.
I would appreciate your frank comments – either good or bad.
I would like to remind you that I will make a review for a product of your choice.
I would love to hear your comments.
Tell me what's on your mind.
You can also make requests.