Looking for BestRaised Gardens For The Elderly? Here are The 3 Raised Gardens For The Elderly. This Review Reveals the Favorite and The Most Economical.
Build A Garden You Can Be Proud Of
If you are In a wheelchair or have trouble bending over for a longer period of time. . Think of a raised garden. Don't let those limitations block you from creating a garden you can be proud of.
Raised-bed gardening is a form of gardening in which the soil is enclosed in three-to-four-foot-wide (1.0–1.2 m) containment units ("beds"), which are usually made of wood, rock, or concrete and which can be of any length or shape. The soil is raised above the surrounding soil (approximately six inches to waist-high) and may be enriched with compost.
In this article, we're reviewing the best-raised gardens in 2021.
Raised Gardens: Great Access… Safe… Affordable…
The Raised Gardens For The Elderly
If you're in a hurry, here are links to our favorite Raised Gardens For The Elderly. We go into more detail about why we like them later on in this article.
Best Raised Gardens For The Elderly At A Glance
Why You Should Get A Raised Gardens
1. Easy Gardening
A raised bed is really a way of setting up your soil for the easiest possible gardening—the 'no work' kind. Instead of tilling up the soil to adding fertilizer gardeners usually maintain their raised beds by simply adding materials on top.
Compost, mulches, manures, and other soil conditioners can all go directly onto the top few inches of the soil without the need for backbreaking work. And, the soil is capable of doing its own tilling as worms and roots push their way through. W
2. It Is Great For Your Back
It's surprising how much back and knee strain can happen just by weeding a garden, especially a large one, and this can take a serious toll over time. You don't have to worry about that with a raised garden.
3. Raised Beds Look Nicer
This may seem like vanity, but having nicer beds can have a practical purpose. In the city, especially if you are trying to get away with a front yard vegetable garden, a raised bed could be a necessity for keeping neighbors happy. Raised beds also make pathways just a little bit easier to maintain because there's a definitive line between the bed and the path.
4. Raised Beds Help Keep Out Critters
Slugs can climb, but the tall sides of a raised garden box slow them down and provide an opportunity to stop them in their tracks. Many gardeners swear that slugs won't crawl over the copper flashing, which can border your box. You can also install hardware cloth on the bottom of the box to stop crawling critters like groundhogs from stealing root crops. And, because of their height, dogs are less likely to urinate directly on your plants. If deer are a problem, you can add deer fencing directly to your bed, or purchase a box with a built-in deer fence. It's also much easier to add plastic hoops to raised garden beds for bird barriers, cold frames, or row covers.
5. Raising Your Soil Means Better Drainage
In areas prone to flooding, or in marshy yards, a raised garden bed may be the only way to have a full growing season. The most popular depth for a raised bed is 11″, which is one inch below the sides of a 12″ high garden box. For most crops, this is enough drainage and gives plants almost a foot of extra breathing room above wet conditions. Raised beds also tend to drain better in general, even in heavy rains.
6. You Will Have Fewer Weeds To Deal With
Tilling actually creates more weeds by burying weed seeds and giving them the perfect opportunity to propagate. Successfully raised bed growers to swear by covering their beds with mulch, cardboard, or black plastic in the spring to kill all the plants that grew up in the winter. When it's time to start planting again, simply rake off the dead weeds before they have a chance to go to seed. One of the most effective ways to battle crabgrass is with a raised bed. Install a weed barrier on the bottom of beds at least 10″ high to stop the grass from infiltrating.
7. Raised Beds Can Be Temporary
Renters who ache to have a garden should start the discussion with their landlord by showing them a nice photo of a raised bed. A neat, tidy, and properly built garden box can enhance property values and be a feature instead of an eyesore. If the landlord still says no, a temporary garden can be built by using a removable garden box. The box is simply set on the ground, cardboard is placed over the grass inside, and the box is filled with soil. When you move, take the box with you, spread out the soil, and throw down grass seed again.
8. Raised Beds Are Great For Beginners
Raised beds provide an easy way to start gardening by removing many barriers for beginners. They take a little bit more investment upfront, but in many ways guarantee success in the first year. Add a box, some soil, some compost, some seeds, some water, and something will grow.
What To Look For When Buying A Raised Gardens
Look For Drainage Holes.
If the water does not drain away from the planting soil, the plant roots will rot and drown the plants. If you are buying a ready-to-set-up elevated garden bed, make sure it has drainage holes at the bottom of the planter to let the water drain away. If you are building an elevated bed by yourself, don't forget to drill ¼" holes every 9" to 12" intervals in each direction.
Lining The Bottom Is Required.
It is essential to line the bottom of the planting area of an elevated garden bed to prevent the soil from running away through the drainage hole. A liner also separates the growing medium (soil) from coming in direct contact with the planter. This will help prevent harmful contents of the planter material from leaching into the soil, as well as rotting the wood bed.
Stop The Water From Draining The Nutrients Away.
Like other containers, elevated raised garden beds face the same issue of essential nutrients running out of the soil with each watering. To prevent the dirt from becoming less fertile over time, add high-quality granular vegetable fertilizer at a regular interval during the growing season. Make sure to revitalize the soil with fresh compost, earthworm castings, and rock dust at the beginning of each planting season.
Have The Right Place Because They Are Hard To Move After Filled
It is painful to move the elevated garden bed after it is filled with soil and plants unless you opted for an elevated garden with wheels. Make sure to carefully consider all aspects of the planter's placement before filling the planter with dirt
Our Favorite Raised Gardens For Elderly Reviews
#1. Best Choice Products 48x24x30in Raised Garden Bed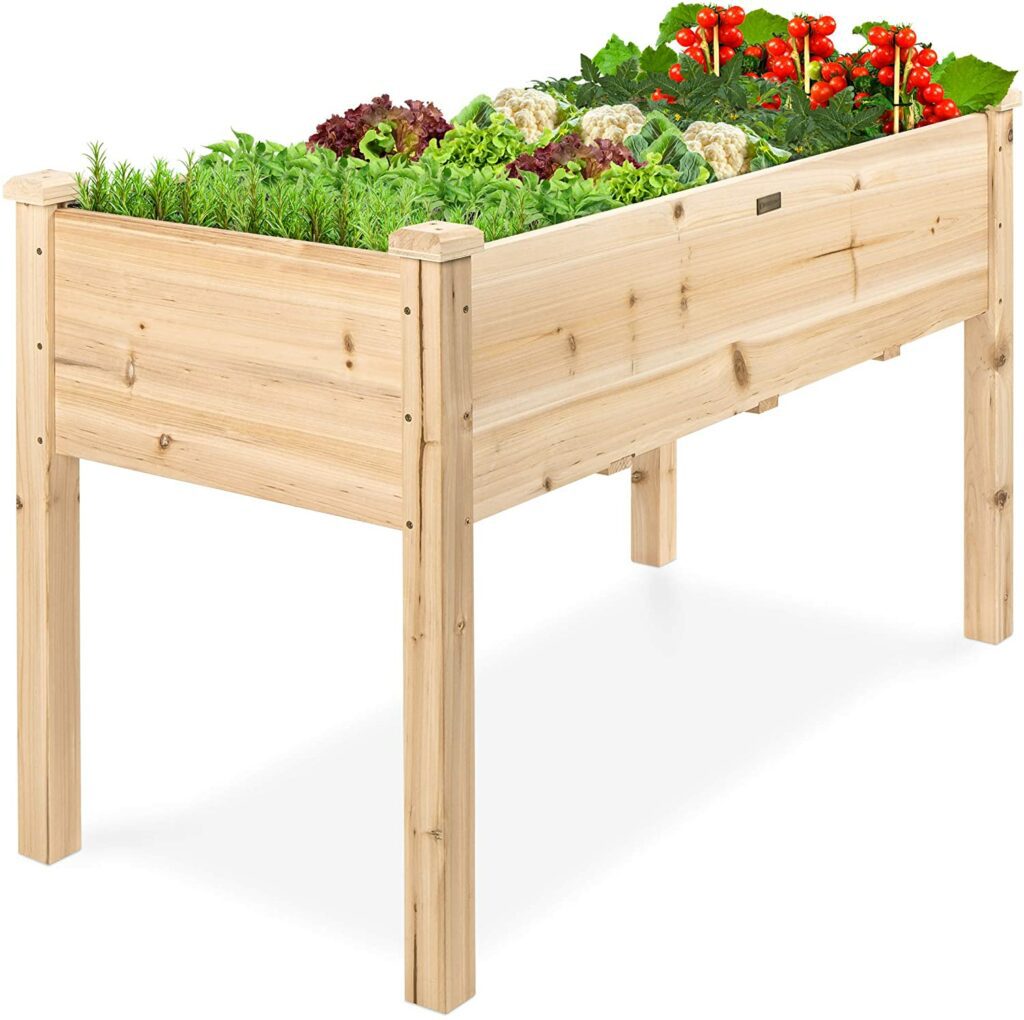 Best Choice Products 48x24x30in Raised Garden Bed Specifications
Company
Best Choice
Raised Garden Bed
Price Range
$91.99
Dimensions
48x24x30in
Weight (lbs,)
200
Material
Wood
Height (Inches)
30
Water Drainage
Hole
Check Current Price
Best Price
Ranking

9.5/10
Best Choice Products 48x24x30in Raised Garden Bed
LARGE PLANTING SPACE: Designed with a long bed space (SKY2383 5 CuFt/ SKY6152 8.4 CuFT) bed deep enough to ensure your plants and vegetables can breathe and grow healthy.


PROPER DRAINAGE: Allows excess water to drain out, keeping soil fresh and protecting plants from waterlogging or mineral buildup.


ALL-WOOD CONSTRUCTION: Naturally durable Chinese fir wood provides a water- and weather-safe structure that will avoid warps and sagging over time.


ERGONOMIC HEIGHT: The 30-inch tall design removes the need for bending or kneeling, preserving your back and knees as you tend to your balcony, deck, or patio garden.


RAISED GARDEN BED LINER: Separates wood from the soil, keeping the wooden garden planter in excellent condition and preventing weeds and pests from interfering with plant growth; (Note: Only available for SKY2383); OVERALL DIMENSIONS: 48.5″(L) x 23″(W) x 30″(H); Weight Capacity: 200 lbs.
Pros For Best Choice Products 48x24x30in Raised Garden Bed
Solidly Designed Raised Garden.
A Great Value For The Price.
It Is A Nice Looking Garden.
Great. No Bending. No Kneeling.
Easy To Put Together.
Cons For Best Choice Products 48x24x30in Raised Garden Bed
Some Said It Was Hard To Assemble.
Some Said It Was Cheaply Made.
Some Said It Did Not Last Very Long.
---
#2. Yaheetech Raised Garden Bed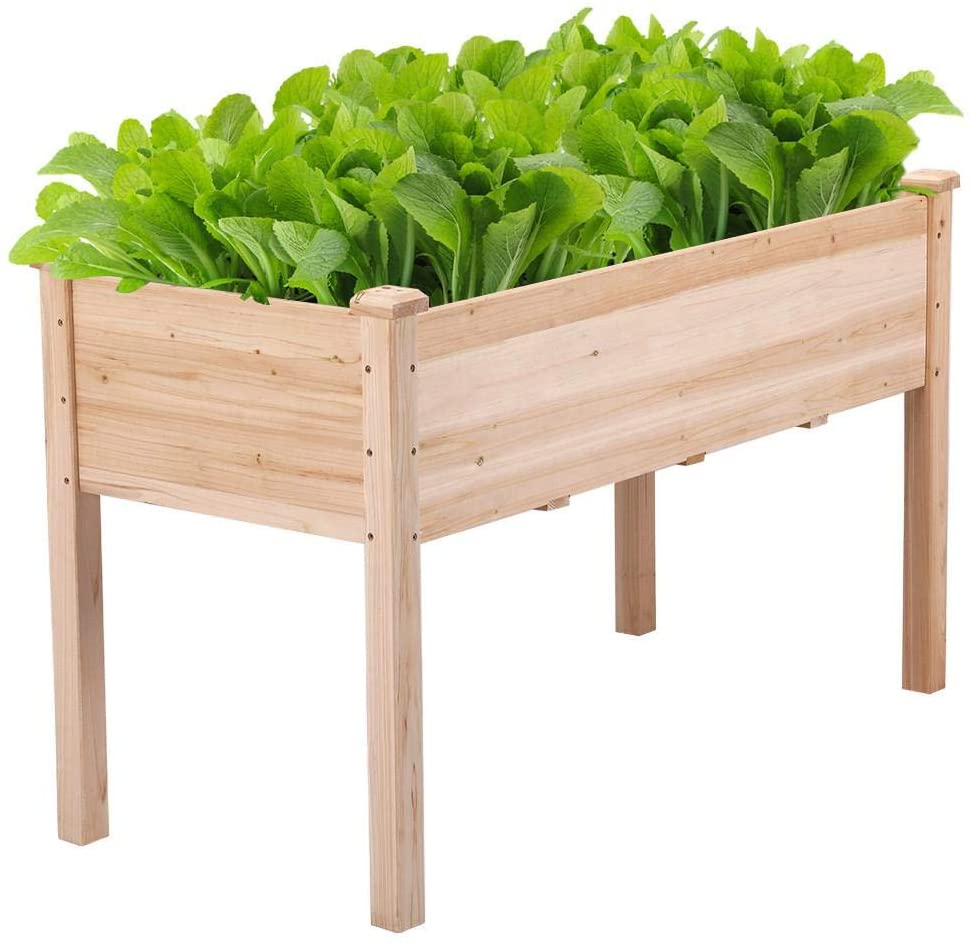 Yaheetech Raised Garden Bed Specifications
Company
Yaheetech
Raised Garden Bed
Price Range
$79.99
Dimensions
47.4 x 23.2 x 30.1
Weight (lbs,)
220
Material
Wood
Height (Inches)
30.1
Water Drainage
Hole
Check Current Price
Best Price
Ranking
8.5/10
Yaheetech Raised Garden Bed
Natural solid wood: This natural raised garden bed is made of non-paint, harmless 100% solid wood, which is known for its strength and dimensional stability with a pleasing wooden smell. It is normal that there are wood knots on the surface. That's a natural phenomenon when the wood is growing.


Backache-friendly design: Given its 76.5cm/30.1'' height, people with backache/knee pain can easily manage the plants without bending down and taking the risk of pain. The thick solid wood boards are sanded well to prevent any undesired injury caused by wood splinters.


Instructions included: This vegetable garden box is built in a simple yet stable structure. It is easy and quick to set up. Necessary hardware and detailed instructions are included. The maximum height of the soil is 15cm/5.9inch. Please do not exceed this limit and avoid overload after watering.


Single piece of side plate: Comparing to other planting beds that have several small pieces of wooden plates at the side, our planting raised bed has a piece of complete side plate at each side of the garden bed. This single-piece design makes the whole structure very stable, and the installation very easy. The side plates are fixed firmly without leakage of soil.


Gardening supplies: With this wooden planter, you can cultivate plants like vegetables, flowers, herbs in your patio, yard, garden, and greenhouse. Plants will be healthy and strong in this natural raised bed, and more convenient to manage. The bottom of the planting bed has a drainage hole that provides oxygen and ventilation for your plants to grow more healthily.
Pros For Yaheetech Raised Garden Bed
Very Easy To Assemble.
It Is Simple To Use.

It Looks Very Good.

It Is High Quality.
Cons For Yaheetech Raised Garden Bed
Some Said It Did Not Last A Long Time.
Some Said It Was Made Of Cheap Material.
Some Said It Was Of A Poor Quality.
---
#3. FOYUEE Raised Planter Box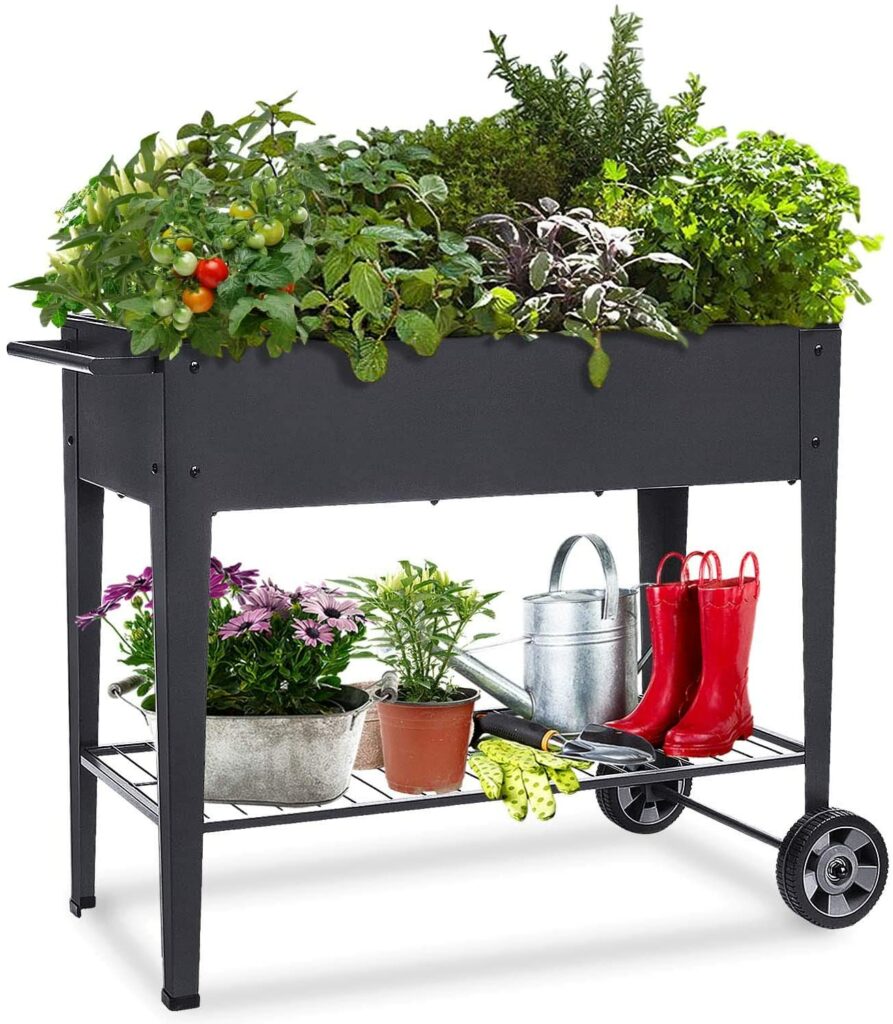 FOYUEE Raised Planter Box Specifications
Company
FOYUEE
Raised Planter Box
Price Range
$79.82
Dimensions
28″W x 33.5″D X 38.1″H
Weight (lbs,)
17.99
Material
Galvanized Steel
Height (Inches)
31.5
Water Drainage
Hole
Check Current Price
Best Price
Ranking

7.5/10
FOYUEE Raised Planter Box

SIZE: 40-1/2″ L x 15-1/2″ W x 31-1/2″ H overall, planting box: 37-1/2″ L x 15-1/2″ W x 8″ deep, holds about 2.5 cubic feet soil, provide ample growing space to raise vegetables, herbs, flowers and plants.


ERGONOMIC: Elevated raised planter box with legs eliminates the need to bend over, making gardening convenient. Raised garden bed on wheels, move to anywhere you want, with handy shelf holds accessories or tools.


METAL: Made of stable galvanized steel raised garden bed with anti-rusty grey coating, not made of wood which may rot. It can place outside or indoors for long time use.


DRAINAGE: In the middle of the cart is a drainage hole and drainage line to prevent waterlogging, planter can planted directly in the bed.


EASY SETUP: Space-saving standing planter only needs about 5min and is easy to put together, go ahead to raise the plants
Pros For FOYUEE Raised Planter Box
It Is Well Worth The Money.

A Solid Design.

perfdect For Wheelchairs.
Cons For FOYUEE Raised Planter Box
Some Said It Did Not Have Directions.
Some Said It Was Of Cheap Thin Metal.
Some Said It Was Flimsy.
---
FAQ's About Raised Gardens

How much soil was needed to fill the planter?
2 bags of miracle grow, just be very careful when you put it in, the bottom frame cracked when I put the potting soil in. I patched it pretty easily enough with another stick I had laying around, but treat this thing as very FRAGILE! You'll have to sprinkle small bits, a little at a time, so it doesn't break.

Is a liner needed or can soil be placed directly?
The soil can be put directly in the box and the liners are not needed.


Half of the reviews say it's cedar, half say pine…which is it?
It's pine – very soft. They sprayed it with a cedar spray – stinks but goes away quickly.


What type of soil is recommended, or a combination?
Depends on what kind of soil to use as that depends on what you plan to do with your raised bed. I used mine for vegetables and bought organic raised bed soil to fill the two that I have.

Conclusion
To conclude, we'd recommend checking out the Choice Products 48x24x30in Raised Garden Bed as we think this has some of the best features compared to the others. It gives the senior the best value. It is a little pricier than some of the others. Choice Products 48x24x30in Raised Garden Bed is generally one of the most reliable raised gardens in terms of quality and durability so we don't think you'll be disappointed.
Yaheetech Raised Garden Bed is a close runner-up.
If you are on a budget we suggest the FOYUEE Raised Planter Box which is the least expensive.
So we hope that helps to narrow down some of the best-raised gardens available. We'll continue to monitor any new units that come out and add to this post if we see any that look promising.
Let us know which one you go for!
Here Are Other Reviews That Can Help Seniors:
[amazon bestseller="raised gardens Accessories"]