Is The Moen Peened Stainless Grab Bar Any Good? In This Moen Peened Stainless Grab Bar Review, I Reveal the Pros and Cons of the product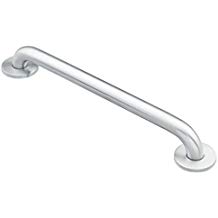 If you need more safety in the shower or bath, then you know the importance of grab bars for safety. In my Moen Preened Grab Bar Review, I go through the pros and cons of this Moen Preened Grab Bar and reveal if it is a sound and safe product.
How To Live Accident-Free In The Bathroom For Less. As a senior bathroom aid product, Moen's Peened Stainless Grab Bar provides a safer bathroom. We cannot predict all situations, so we need a Grab Bar to hold us up in many situations. Grab bars are the seat belts of the bathroom. These grab bars are inexpensive. Beware of installation costs. Learn more below.
What Is, the Moen Peened Stainless Grab Bar?
FEATURES:
Professional Grade: Stainless steel grab bar with a peened finish for non-slipping. Also with a concealed screw cover to make it appear better.
Quick Assembly: It will require a professional to assembly unless you are a family member skilled at this. Call customer service with regards to the installation
Robust: Moen is a company in long-standing and the majority of reviewers see it as sturdy. It complies with the ADA standards for disabled people., Average Customer Amazon Review: 4.8 out of 5 stars Amazon reviews.
Color: Stainless steel with a peened finish for a better non-slip grip. There are other finishes. Read the cons below with some problems with the brass finish.
Strong Material: They are made from 20-gauge stainless steel. And it is corrosion resistant
Weight Capacity: It can support up to 500 lbs. This is also dependent on the quality of the installation. Mounting the into the wall studs being the most secure.
Product dimension: 12, 18, 24, 30, 32 -inch models.
Installation: The installation is more critically important than any other aspect of this product to be safe. You can call customer service and get clear how this has to be done or hire a professional. At the end of this post is an installation video you can get an idea of what they need to do.
Who is, the Moen Peened Stainless Grab Bar, For?
Grab bars are good for everyone in the family but are critically important to us seniors. The damage is much more severe for us. You can use a grab bar vertically in a shower if you are standing up in the shower. They can be horizontal to help you out of a tub. They can be on an angle so they can help other family members as well. You can also use a grab bar near the toilet to help you get up and down.
Also, it fits a long-term solution and for someone who needs a highly reliable and sturdy way to prevent having an accident in the bathroom that could have serious consequences.
My First Impression of What the Moen Peened Stainless Grab Bar?
What impresses me the most is the sturdiness of the product and its stylish look. It is attractive. I see many of the more inexpensive ones in commercial establishments. Some reviews mentioned people having accidents. A closer look shows it was more about the installation than the product. It will be difficult to get hurt by this product if installed correctly. It will also help raise the dignity of a person using it and give them the opportunity to take a shower by themselves.
Pros of What Is, the Moen Peened Stainless Grab Bar?
It is sturdy and safe if installed properly, which meets the most important fact that it helps save people from hurting themselves in the bathroom. Feel secure and steady in the bathroom
It is a high-quality design and looks very stylish.
96% of 527 customers like it.
Cons of What Is, the Moen Peened Stainless Grab Bar?
The largest con was with the finishing on the brass models – not the stainless-steel model. The brass finish would discolor or peel off and some mentioned that it is too slippery as well.
The next one was that the secure mounts were not included in the package even though the installation video on Amazon shows it. Reviewers mentioned that advertising misleads them. The secure mount is an additional cost.
The product is simple. The installation can get tricky and might require a professional or someone skilled at installing items like this.
My Overall Thoughts On the Moen Peened Stainless Grab Bar?
After looking at hundreds of reviews and weighing the pros and cons, this is a good economical choice for preventing accidents in the tub/shower. Most of the complaints to date are people not checking the subtleties of then installation.
In Conclusion
Let's keep our loved ones and those under our care as safe as possible from falling without paying the highest price. I highly recommend the Moen Peened Stainless Grab Bar
Being the installation is the most critical part of this product, here is a video you can look at.
My Commitment:
I commit to making this website better and better each day.
I would appreciate your frank comments – either good or bad.
I would like to remind you that I will make a review for a product of your choice.
I would love to hear your comments. Tell me what's on your mind. You can also make requests.