Irene House 9188 Lay Flat Sleeping Lift Chair Recliners For The Elderly Review. Is The Irene House 9188 Lay Flat Sleeping Lift Chair Recliners for the Elderly Any Good? In This Review, I Reveal the Pros and Cons of this Power Lift Recliner.
If you have been shopping around for a power lift recliner, then you know the wide array of products that are available on the market. In my Irene House 9188 Lay Flat Sleeping Lift Chair Recliners for Elderly Review, I have a look at all the features of this powerful recliner and determine if it is any good and a reliable product for living a happy senior life.
Muscle ache, knee or back pain, and arthritis get more severe with age. Seniors are more prone to aching knees and back, which makes it harder for them to get up from their seats. The elderly are at risk if they do not have support when getting up from their chairs. This is why some of the best lift chairs for the elderly can be useful for seniors. Lift chairs can reduce wear and tear on joints and muscles. And let's not forget the amazing comfort a high-quality lift chair can give. Lift chairs will not only provide comfortable seating and standing for seniors but also ensure their safety, so you do not have to worry about their well-being.
What is an Irene House 9188 Lay Flat Sleeping Lift Chair Recliners for Elderly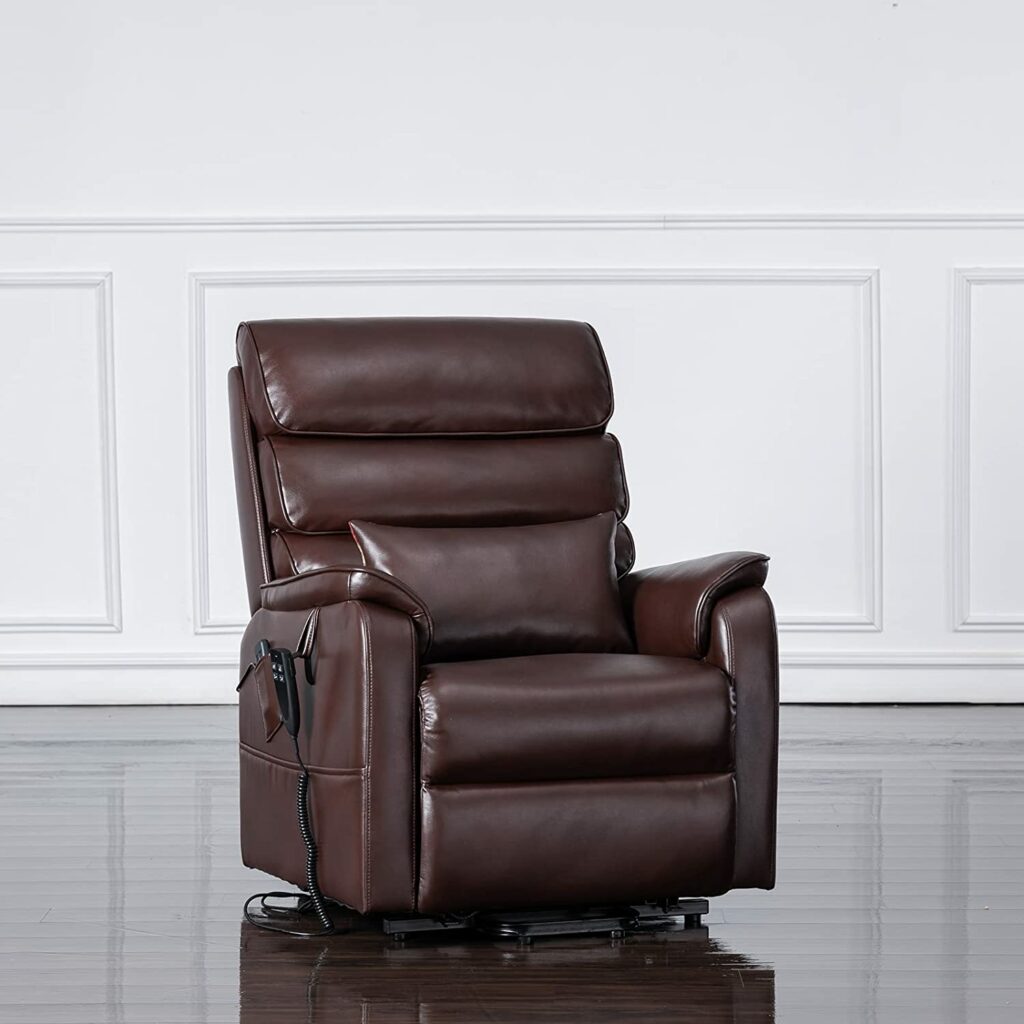 A reclining chair has a  power lift with a small motor in it that pushes the chair up from its base to assist the sitting person in standing. Each chair comes with remote control, and a simple push of the button will cause the chair to lift to a slight incline that helps to push the person into a standing position so they can get vertical with ease. You can lower it; a person can get into the chair while standing, and then slowly lower it until they're sitting.
Features
DUAL OKIN MOTOR
Different from the traditional ones, the Irene House lift chair is powered by an electric and dual motor, each motor is extremely quite, smoothly, and independently. The backrest and footrest can be adjustable individually. You can get any position you want easily, lifting this recliner by the 4 buttons hand controller. Push the entire chair up to help seniors to stand up easily, it's ideal for people who have leg/back problems or people who after surgery.


INFINITE POSITION
The backrest can be operated from 105°to 180°, and the footrest can be operated from 90° to 180°. The position lock of the lift chair is infinite. You can recline to almost level or any degree above that (with or without raising the footrest), and the seat lift―which can be raised and lowered to any desired degree―is an outstanding feature. Extending the footrest and reclining feature allows you to fully stretch and relax, like reading, sleeping, watching TV, and so on.
HUMANISTIC DESIGN WITH HEAT & MASSAGE
Comes with a lumbar pillow, which can support the waist, and widened backrest provide extra support for the body, more comfortable. Side pocket design creates a very convenient place for you to put remotes and other small belongings. Massage and Heated Lift Recliner: The stand-up recliner chair is designed with 4 vibrating massage nodes for the back, lumbar, and one heating system for the lumbar. All the features can be controlled by the remote controller.


COMFORTABLE UPHOLSTERY &STURDY CONSTRUCTION
All wood boards used in our products are formaldehyde-free, conform to the P2 Requirement of the California Air Resources Board(CARB). A high-quality metal frame and padded high-density sponge ensure long-term service so that the lift chair is strong enough to withstand the weight of 300 lbs. Smooth and comfy leather cover will give you a comfortable touching experience provided with great support. Breathable faux leather is waterproof and easy to clean.


CUSTOMER SERVICE
Warranty: Electronic components(motor/transformer/hand controller):1 year./ Cover (fabric, PU/PVC, combined fabric, leather, etc):2 years/ Reclining mechanism:3 years/Solid wood frame:3 years. More than a lift chair recliner, our complimentary Customer Support provides you with comprehensive system solutions. Simply contact us via Email for any concerns during product installation and use. We are quite sure that you will be super-impressed with the HIGH QUALITY of our power lift chair.


Notice
The backup battery function is not included. The item comes in two boxes and may not arrive at the same time. The assembly service is NOT provided, if you purchase this service, please contact the service provider.
STEPS FOR SUCCESSFUL FURNITURE DELIVERY
Measure your space and mark out the dimensions on the floor.
Confirm all dimensions of the product, including diagonal depth.
Measure the interior space of doorways, passages, and stairwells to make sure the furniture will get through.
Measure carefully as you are responsible for items that do not fit in your home.
Who is The Irene House 9188 Lay Flat Sleeping Lift Chair Recliners for Elderly Is For?
It is essential for people with more limited, decreased, or painful mobility challenges.  If you need help getting in and off a chair, then this product is for you. It can be age-related, surgery, or a disability. If you spend a large portion of your day in a chair, then this product is one to consider.  They're great when recovering from surgery as a challenge to get up out of a chair when you're recovering. Also perfect for the elderly as it takes the strain off of the joints when they're getting up or sitting down. You don't need to be elderly or disabled to enjoy this chair.
My First Impression of The Irene House 9188 Lay Flat Sleeping Lift Chair Recliners for Elderly
I see this as a classically designed piece of furniture. Overstuffed pillows. Very comfortable, Compact size to fit any area. I would feel proud to show my family and friends. It looks very inviting and comfortable. I can see someone falling asleep during a nap. I could see them adjusting the position to watching television or reading a book, It eliminates a serious problem for seniors the ability to get in and out of a chair, which can be a big problem if they spend lots of time in the chair.  It is a recliner and a lift chair. You have one-touch control which makes everything simpler.
Pros of The Irene House 9188 Lay Flat Sleeping Lift Chair Recliners for Elderly
It is the best chair for people with bad joints.
It protects seniors from hurting themselves. There is no strain in getting out of the chair.
It's comfortable to use with one-touch control.  One-touch control with the remote controller is all that is needed.
It is easy to install.
Cons of The Irene House 9188 Lay Flat Sleeping Lift Chair Recliners for Elderly
A small percentage of customers had trouble with the chair. All were within the warranty period. Verify the chair as soon  as you get it,
It doesn't fit all sizes. This chair tends towards smaller people.  Be careful with checking your dimensions. Look above at the detailed dimensions and make sure it fits your room. Then double-check before you purchase. You can also call their customer service.
An even smaller percentage received the damaged chair. Double-check as soon as you get the chair.
This chair is NOT covered in LEATHER. IT IS VINYL
Reviews from Amazon
At the time of this posting, there are well over 200 reviews on Amazon from verified buyers. The following screenshots below are some of those reviews. You can click on the images to see more reviews on Amazon.

BEST RECLINER FOR BAD JOINTS
Reviewed in the United States on March 25, 2021
Verified Purchase
 This chair is so comfortable, I take afternoon naps in it! I LOVE IT!
What a fantastic chair!! I have Arthrofibrosis and ruined my leather chair getting in and out of it. This chair lifts me out with ease! The dual motors are important for me, as it is very important to have a full range of motion with the footrest and headrest operating separately. I was surprised to find it has massage and heat, the style and reputable motors sold this to me.
Easy to put together, extremely comfortable, and looks great!! I did a lot of research on this product and was willing to spend anything for comfort. This chair checked all the boxes!!.92 people found this helpful

Reviewed in the United States on May 20, 2021
Verified Purchase
This is for the Dual Motor Lift Chair. It's a great chair. We got it for my 80 yo, 6 foot, 220-pound dad for Christmas 2020. I'm writing this in May 2021. He has sat in it every day, for most of the day for 5 months & it looks the same as the day we got it. I put it together by myself & that was not a problem. In fact, we bought a 2nd chair for my mom recently because she loves how it goes flat.
We needed to contact the company back when I had ordered the wrong chair (read carefully – the cloth chairs have a different motor system)… they emailed me back quickly & fixed my goof up.
I highly recommend this chair & the company it's from!!!
62 people found this helpful
My Overall Thoughts On The Irene House 9188 Lay Flat Sleeping Lift Chair Recliners for Elderly
After looking at this and weighing the pros and cons, this is a wonderful piece of furniture and can save a senior from hurting themselves and making their life easier and more enjoyable. It will allow you to rise out of your seat with ease while providing padding in all the right places for ultimate comfort. The infinite position recliner transitions between reclining, sitting, and lifting and can stop at any position in-between with the easy-to-use w remote. This power lift chair can be extremely helpful for seniors or people with mobility challenges. The heating and massage are a wonderful addition.
FAQ's About Irene House 9188 Lay Flat Sleeping Lift Chair Recliners For The Elderly



I am having knee surgery and suspect this will be my bed for a while. While reclined all the way back, do your feet hang in a downward position?
I think it could be a good choice primarily in that it raises the foot support and separately reclines the head. As such, you could sit with legs raised yet still watch tv or read a book in an upright condition.
Is this a good chair after hip replacement surgery?
I purchased this chair for my elderly father after his hip surgery. He loves it! The massage and heat help relax and provide comfort. The lift feature helps when we need to help him access his walker. I personally would buy this chair again!


Is the lumbar support firm enough?
Lumbar support is not adjustable. "Firm enough" is different for everyone. It is not soft. My mother has back problems and she used a pillow in her old chair and still uses the pillow in this chair despite the lumbar being firmer than her old chair. It is a good chair.

I am elderly and have leg problems. I live in an apartment on the 2nd floor. Will they deliver the chair up to my apartment?
I was lucky and got a really nice FedEx delivery man who carried the boxes up onto my porch by my front door. I think a lot has to do with how you approach the delivery person. They do have hand trucks available, so it is possible. It's all up to them.
.
In Conclusion  
The outcome is simple. This chair will give you lots of pleasure, comfort, and freedom from pain. Considering this high quality, it will last a long time paying for itself over and over again. If you make the proper measurements and we recommend that you do there is very little risk of being dissatisfied. Let's keep our loved ones and those under our care as safe as possible from hurting themselves I recommend the Irene House Power Lift Recliner.
Sale
Bestseller No. 1
Bestseller No. 2
Universal Lift Chair or Power Recliner AC/DC Switching Power Supply Transformer Compatible with All Recliners 29V 2A Adapter for Lift Chair or Power Recliner(US Plug & Motor Cable Included)
【Specifications】: Input: AC 100-240V, 1.5-2.0A 50/60Hz. Output :DC 29V/24V 2.0A. Volt and current adjust auto, If the plug of transformer could fit with your recliner socket so it can work.
【Wide Compatible with Recliner Brand】: Recliner power adapter fully Compatible with OKIN, Limoss, Lazboy, Pride, Catnapper, ashley and Tranquil Ease Lift Chair,Cheers electric sofa. DeltaDrive and BetaDrive Motors. It almost compatible with all recliner and sofa in the market.
【Wide Compatible with Recliner Model】: If the connection(flat & round) is same with your recliner so it can work. Power recliner transformer compatible with Part Numbers(include but are not limited): ZBHWX-A290020A,W52RA73-290018, HXY-270V2220A, KDDY001B, KDDY008, ZB A290020-B etc.
【Feature】: The lift chair transformer adater with update magnet ring, no radiation and longer life time(US PLUG Power cord and extention cable are included ).
【100% MONEY BACK GUARANTEE】: We offer 24/7 service and no reason return and refund, if you have any question about our product, please feel free to contact.
Sale
Bestseller No. 3
Vicluke Oversized Power Lift Recliner Chair with Massage and Heat for Elderly, PU Leather Electric Recliner Lift Chair with 2 Side Pockets, Cup Holders and USB Port for Living Room (Brown)
Power Lift Function: You can press the side button to control the lift or recline of the chair, which means you can get any position you want, whether it's reclining between 110-150 degrees or lifting. The power lift chair is powered by electric motor mechanism to push the entire chair up, working smoothly and silently to help the elderly stand up easily. It's also ideal for people who have balance problems with legs or back, or who after surgery.
Thick Padded and Durable Materials: The high-density padding of the headrest, backrest and armrests are designed to be thickened. Overstuffed cushions wrap your body comfortably while also providing more secure support. Formaldehyde-free wood boards to absolutely protect the health of users. High-quality PU leather is breathable, durable and easy to clean. The sturdy metal frame gives this electric lift chair stability and strength to hold a maximum of 350 lbs.
Massage and Heating: This electric recline chair has 4 vibrating massage parts(8 points) with 5 control modes and 2 intensity options for better relaxation to taking away the stress and tiredness. You can also use the lumbar heating function in the enjoyment of massage, which helps to further promote blood circulation in the waist.
Humanistic Designs: This lift chair for elderly has a USB port for charging of electronic devices, 2 cup holders to meet your daily needs and 2 side pockets to keep small items within reach. We are committed to integrating multiple humanized designs to create more convenience for your life.
Easy Assembly & Service: Super easy to assemble, only take several steps to assemble this massage recliner chair, all accessories and instructions are included. We offer a guaranteed 1-year warranty, you can feel free to contact us at any time, we will provide professional customer service within 24 hour.
Last update on 2022-02-27 / Affiliate links / Images from Amazon Product Advertising API