DuroMed Lightweight Walker. Is The DuroMed Aluminum Folding Walker Any Good? In This DuroMed Aluminum Folding Walker Review, I Reveal the Pros and Cons of this product.
If you need more mobility, then you know the importance of walkers for getting around. In my DuroMed Lightweight Aluminum Folding Walker Review, I go through the pros and cons of this DuroMed Lightweight Aluminum Folding Walker and reveal if it is a sound and safe product.
With The DuroMed Lightweight Aluminum Folding Walker, You Can Prevent Falling While Moving
What is the DuroMed Lightweight Aluminum Folding Walker
The walker, is when the person walks with the frame surrounding their front and sides and their hands provide additional support by holding on to the top of the sides of the frame. Traditionally, a walker is picked up and placed a short distance ahead of the user. The user then walks to it and repeats the process. With the use of wheels and glides, the user may push the walker ahead as opposed to picking it up. This makes for easier use of the walker, as it does not require the user to use their arms to lift the walker. This is beneficial for those with little arm strength.
Features:
BEAUTIFUL METALLIC COLORS. This eye-catching walker will not only support you and help you keep your balance, but it looks nice, too!
ADJUSTABLE HEIGHT. The walker is adjustable from 32 to 38 inches in one-inch increments, meaning you can set it at the height most comfortable for you.
COMPACT AND EASY TO OPEN AND CLOSE. Folds down to only a 4-inch width for storage. Just press down on two buttons to release it.
STRONG SUPPORT YET LIGHTWEIGHT. Each attractive walker is crafted from anodized aluminum which makes it strong enough to support 250 pounds, but also lightweight and easy to carry. It only weighs 5 ½ pounds!
5-inch front wheels glide across the floor. Slip-resistant rubber tips in vibrant colors give you a firmer grip on the floor or pavement; it contains latex.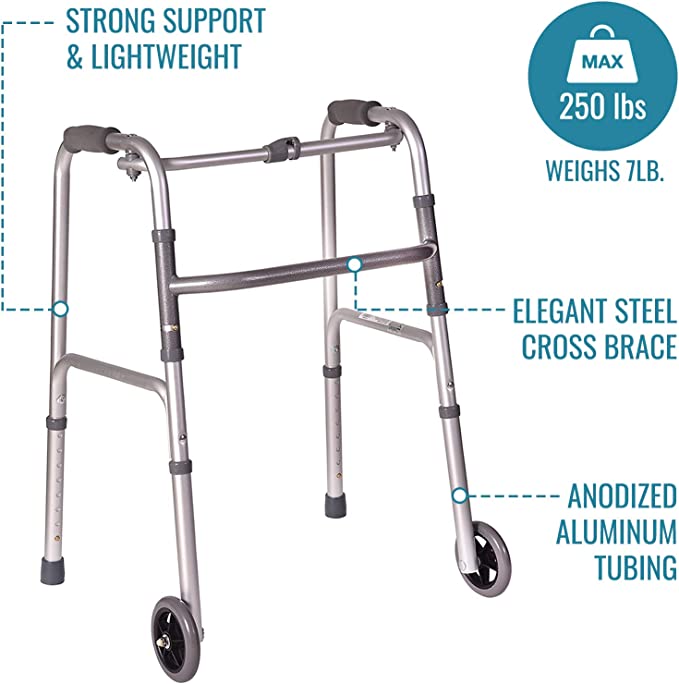 Who The DuroMed Lightweight Aluminum Folding Walker Is For?
A walker is a tool for disabled people, who need additional support to maintain balance or stability while walking, most commonly due to age-related physical restrictions. This walker is also for people who want extra stability when moving.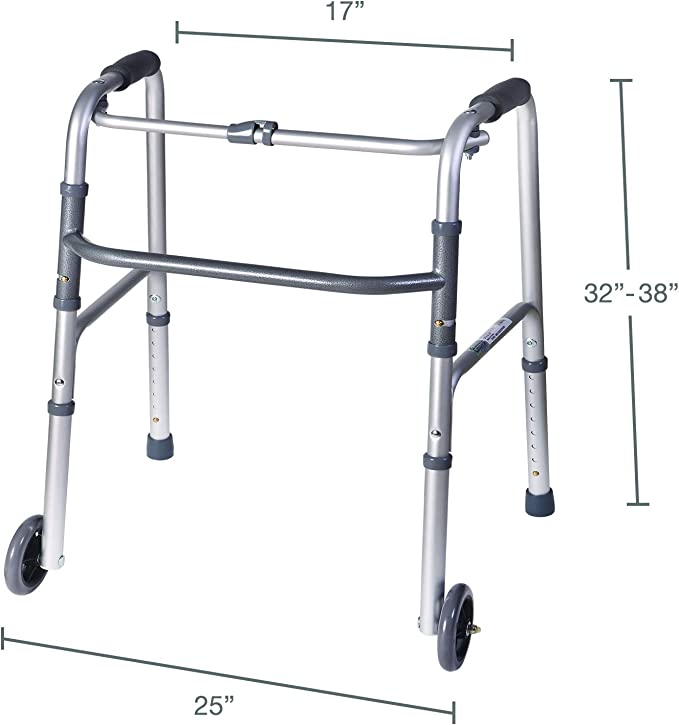 My First Impression of DuroMed Lightweight Aluminum Folding Walker
My first impression was for a simple device it is strong, and lightweight making it easy to fold and store into a trunk. It is also an inexpensive way of maintaining balance and giving seniors a level of independence. It is also easy to use.
Pros of The DuroMed Lightweight Aluminum Folding Walker
A good walker at a great price
A Sturdy walker
Lightweight
Cons of The DuroMed Lightweight Aluminum Folding Walker
1) Some customers mentioned broken parts
2) A Small Percentage customers mentioned of Defective Parts — Double-Check as soon as you get your package.
3) Some customers mentioned that it doesn't last very long;
My Overall Thoughts On DuroMed Lightweight Aluminum Folding Walker
After looking at this and weighing the pros and cons, this is a reliable product for maintaining balance for seniors. It has worked for thousands of people. Your senior deserves it.
In Conclusion
Let's keep our loved ones and those under our care as safe and informed as possible from falling, so I recommend the DuroMed Lightweight Aluminum Folding Walker to prevent falling and add peace of mind.
Check Out This Video
Here Are Other Reviews That Can Help Keep Seniors Safe:
My Commitment:
I commit to making this website better and better each day.
I would appreciate your frank comments – either good or bad.
I want to remind you that I will do a review for a product of your choice.
I would love to hear your comments.
Tell me what's on your mind.
You can also make requests.