When it comes to ensuring a good night's sleep and optimal comfort, adjustable beds have become a popular choice, especially for seniors. These beds offer customizable positions that can alleviate various sleep-related issues and provide targeted support. In this guide, we will explore the benefits of adjustable beds for seniors and present our top picks, along with a helpful buying guide to assist you in making an informed decision. Let's jump into the best adjustable beds for seniors!
Understanding Adjustable Beds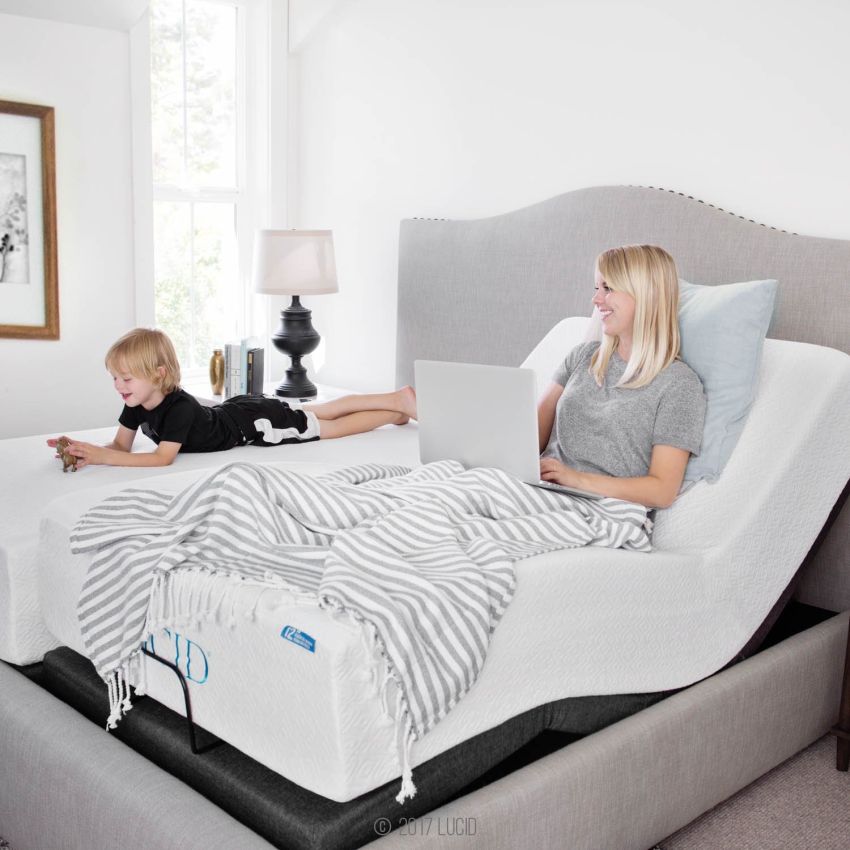 Adjustable beds, also known as reclining or electric beds, are designed with a multi-hinged surface that allows users to adjust the head, foot, or overall height of the bed according to their preferences. These beds are equipped with a motorized mechanism that enables easy adjustment with the use of remote control. The flexibility of adjustable beds makes them ideal for seniors who seek personalized comfort and support.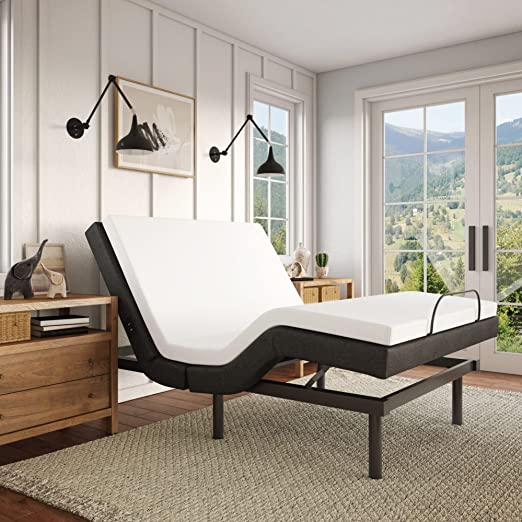 Benefits of Adjustable Beds for Seniors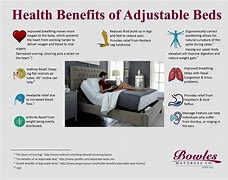 Enhanced Comfort and Support:
One of the primary advantages of adjustable beds is the ability to customize sleeping positions. Seniors can elevate the head and foot of the bed, providing relief to those suffering from conditions like acid reflux, snoring, or sleep apnea. By adjusting the bed to a more ergonomic position, seniors can minimize pressure points and ensure proper spinal alignment, leading to improved comfort and reduced body strain.
Improved Circulation and Pain Relief:
For seniors experiencing poor circulation or chronic pain conditions, adjustable beds can be a game-changer. Elevating the legs above the heart level helps reduce swelling and enhance blood circulation. This feature can provide relief for individuals with conditions such as arthritis, varicose veins, or edema. Additionally, the ability to adjust the bed's position can help alleviate back and joint pain, allowing seniors to find the optimal sleeping position that suits their needs.
Independence and Accessibility:
Getting in and out of bed can be challenging for some seniors, particularly those with limited mobility. Adjustable beds offer a practical solution by allowing the bed's height to be adjusted. Seniors can lower the bed closer to the ground for easier access or raise it to a comfortable sitting position. With the convenience of a remote control or smartphone app, seniors can effortlessly adjust their beds, promoting independence and reducing the risk of accidents.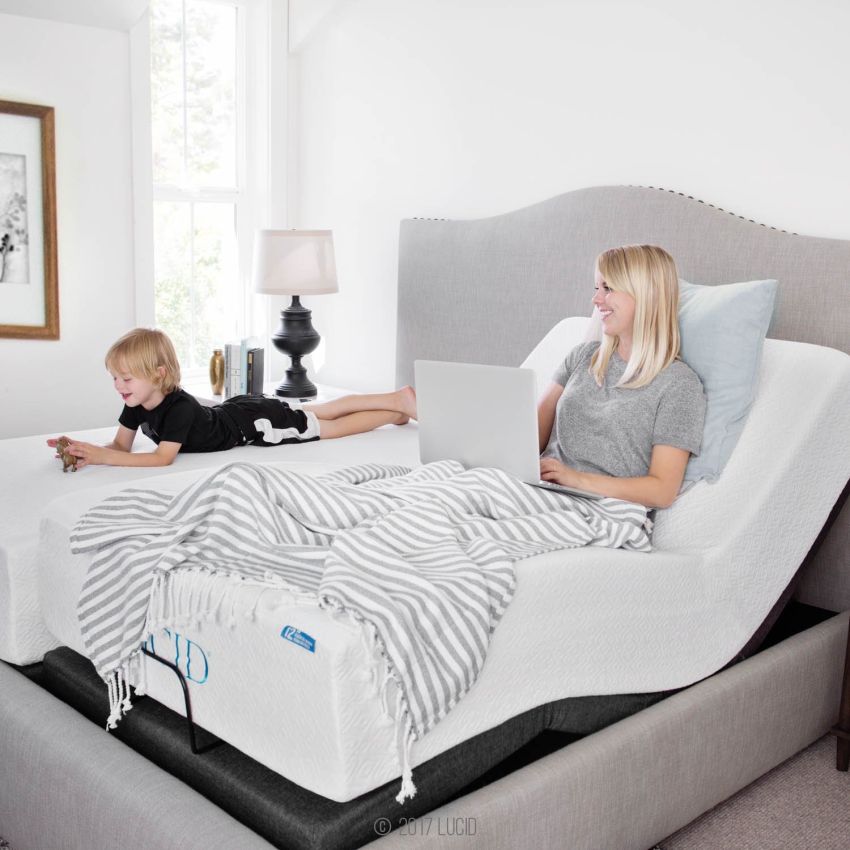 Top Picks: The Best Adjustable Beds for Seniors
Top Pick 1: LINENSPA Adjustable Bed Base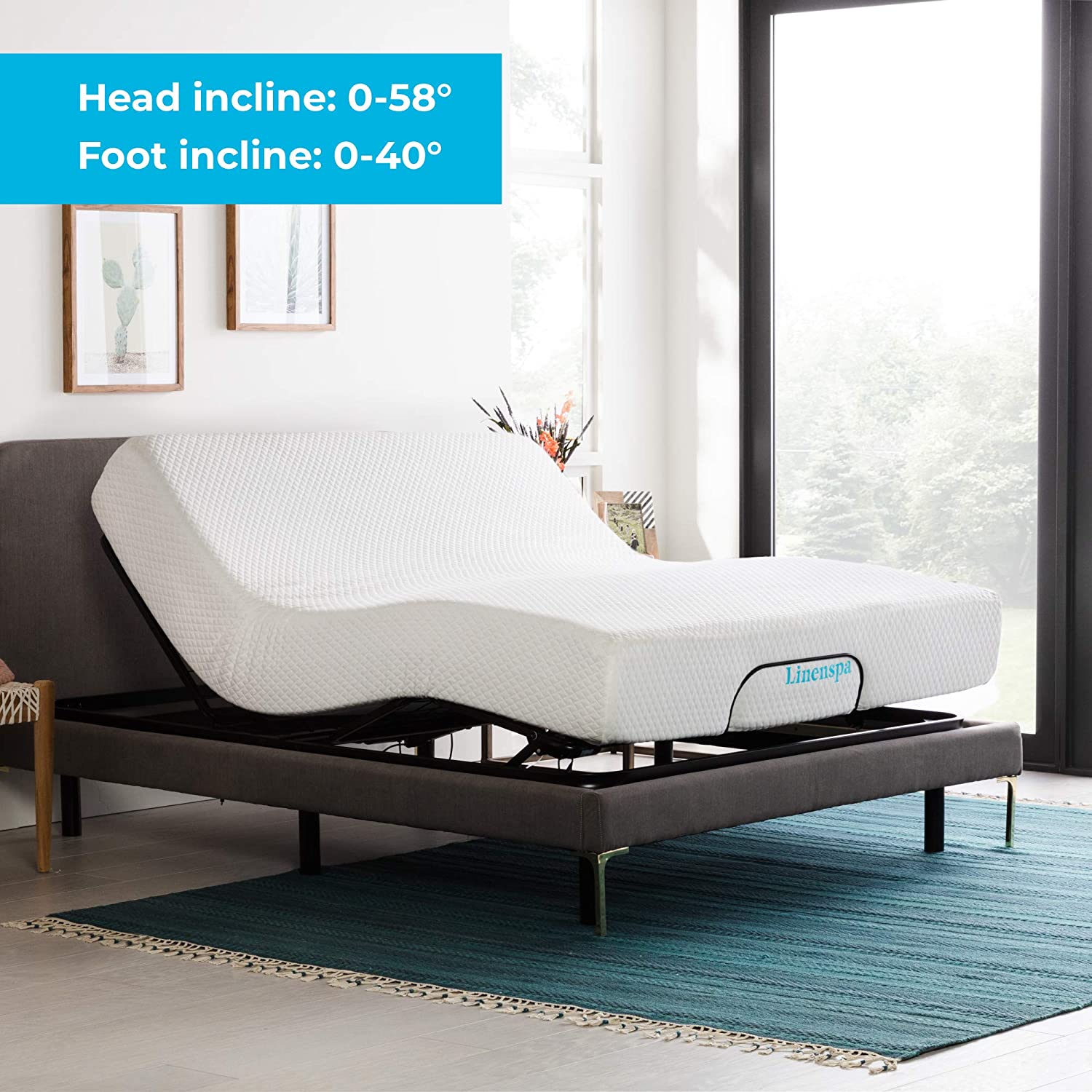 Metal
Heavy Duty Steel slats. Does not require a box spring.Item Dimensions : 75″L x 54″W x 14″H.Maximum weight recommendation:850 pounds
EASY ASSEMBLY: Upon delivery, simply unfold the adjustable bed base, attach legs, plug in, and enjoy reading, working, watching TV, and sleeping from the comfort of your bed
ENHANCED COMFORT: Wired remote, ultra-quiet motor, and durable construction allow for quick and easy adjustments to enhance your comfort
A PERFECT FIT: Adjustable bed base fits conveniently inside most standard-size bed frames so you can easily maintain the style you love; two Twin XL bases create a King size bed; 5-year limited warranty1. Multiple Uses (use icons)
Runner Up: Lucid L150 Adjustable Base –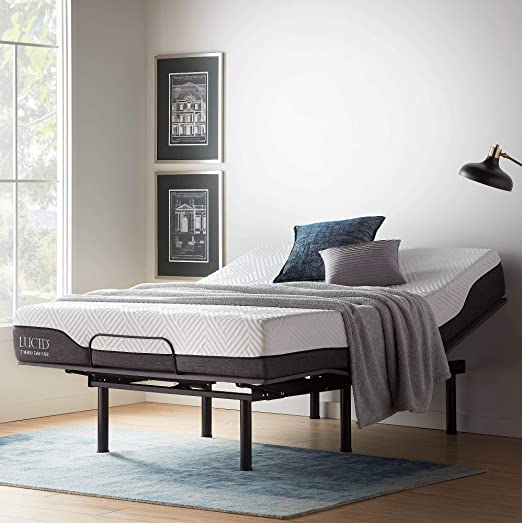 TIMELESS ELEGANCE – Give an instant pick-me-up to your bedroom with this cozy, button-tufted masterpiece, available in multiple shades so matching your existing decor is a piece of cake.Item Dimensions : 75.5″L x 52.5″W x 14″H.Maximum weight recommendation:600 pounds
WIRELESS REMOTE – Bed Frame includes a wireless remote for easy control access with user-friendly head and foot incline
COMPATIBLE WITH MOST MATTRESSES – The bedframe is compatible with any Lucid mattress, most mattresses under 14 inches
MADE TO LAST – Bed durability features a sturdy steel frame with an equally strong set of 12-inch legs and a weight capacity of 750-pounds
EASY ASSEMBLY – Assembly takes less than five minutes. Two Twin XLs equal one King bed frame, working independently with two separate mattresses, or synced together for one whole King size mattress.
Alternative: Classic Brands Adjustable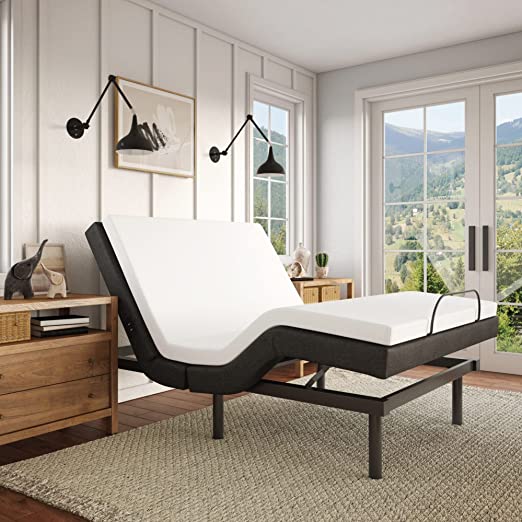 ---
A MATTRESS GAME-CHANGER – Any decent mattress needs a good foundation behind it, and this box spring is one of our best; built with all of the trusted support we put into our ever-so-popular platform beds, this game-changing box spring has the total package – an unwavering steel structure, reliable, closely spaced wood slats, and a compact, cleverly developed, well, package. Item Dimensions: 41″L x 41″W x 9″H.Maximum weight recommendation:660 pounds
Enjoy lifestyle and health benefits with the Adjustable Comfort Adjustable Bed/Ergonomic Bed with programmable elevation positions, head and foot massage, USB ports, and wireless remote
Whisper quiet adjustable bed base with separate ergonomic head and foot elevations; programmable settings for lounge, TV/PC, and zero-gravity positions
3-speed separate dual head and foot massage so you can unwind, relax and soothe your body
Easy to use wireless remote with preset and programmable settings and for additional convenience two 1.5A USB ports are built into the base to charge your electronic devices
Adjustable legs for three different height options- 5″, 6.5″, or combined for 11.5″; includes mattress retention rail to keep your mattress in place
Adjustable mattress friendly– ideal for use with memory foam, latex, and air mattresses and is easy to assemble and ships directly to your door
Buying Guide for Adjustable Beds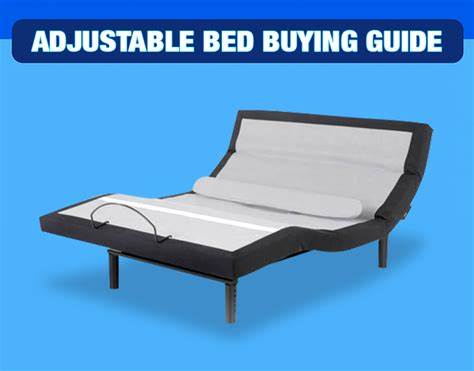 Considerations Before Purchasing: Before making a purchase, there are several factors to consider. Start by determining the bed size that suits your needs and available space. Additionally, ensure that the adjustable bed is compatible with your existing mattress or consider purchasing a new mattress if needed. It's crucial to check the weight capacity of the bed to ensure it can support your weight comfortably. Lastly, review the warranty offered by the manufacturer to protect your investment.
Budget-Friendly Options: If you're on a budget, there are affordable options available that still provide quality and comfort. Keep an eye out for sales, discounts, or promotions offered by reputable brands. You may also consider refurbished models, which can offer significant savings without compromising on functionality or durability.
Additional Features and Accessories: When choosing an adjustable bed, consider the additional features and accessories that can enhance your experience.
Integrated nightlights can provide convenience during nighttime movements, while USB charging ports near the bed allow for easy device charging.
Accessories like mattress toppers designed specifically for adjustable beds or adjustable bed-friendly sheets can further optimize your comfort and sleep quality.
Frequently Asked Questions
---
1. Will Medicare pay for an adjustable bed for a senior?
Medicare coverage for adjustable beds is limited. In most cases, Medicare will not cover the cost of an adjustable bed solely for convenience or comfort purposes. However, if a senior has a medical condition that requires an adjustable bed, such as severe arthritis or a respiratory condition, Medicare may provide coverage. The coverage will depend on the medical necessity and the specific requirements set by Medicare.
2. What type of mattress is best for an adjustable base?
When choosing a mattress for an adjustable base, it's important to consider flexibility and durability. Memory foam mattresses and latex mattresses tend to work well with adjustable bases because they can flex and contour to different positions without losing their shape. These types of mattresses provide good support and comfort for adjustable bed users. However, individual preferences can vary, so it's advisable to try out different mattresses and consult with mattress experts to find the best fit for your needs.
3. What is the life expectancy of an adjustable bed?
The life expectancy of an adjustable bed can vary depending on factors such as quality, usage, and maintenance. On average, a well-built adjustable bed can last anywhere from 8 to 15 years. However, some higher-end models may have longer lifespans. It's important to check the manufacturer's warranty and maintenance guidelines to ensure you are taking proper care of the bed and to understand any coverage or limitations provided.
4. Is an adjustable bed good for seniors?
Adjustable beds can provide various benefits for seniors. They offer customized positioning options, allowing seniors to elevate their head or feet, which can help alleviate issues like acid reflux, snoring, or circulation problems. Adjustable beds can also make it easier for seniors to get in and out of bed, reducing strain on their joints and muscles. Additionally, the ability to adjust the bed's position can provide more comfort for activities like reading, watching TV, or using electronic devices. However, individual needs and preferences can vary, so it's important to consider factors such as overall health, mobility, and personal comfort when deciding if an adjustable bed is suitable for a senior.
Other Places For You To Explore
---
Investing in the best adjustable bed for seniors can significantly improve comfort, promote better sleep, and enhance overall well-being. The ability to customize positions, alleviate pain, and ensure accessibility makes adjustable beds an ideal choice for older adults. Consider the top picks mentioned in this guide, and don't forget to review the buying considerations to make an informed decision. Remember, quality sleep is crucial for maintaining a healthy and active lifestyle in your golden years. Sleep well and wake up refreshed with the perfect adjustable bed tailored to your needs.