Is The Moen Non-Slip Transfer Bench Review Any Good? In This Moen Non-Slip Transfer Bench Review Review, I Reveal the Pros and Cons of the product.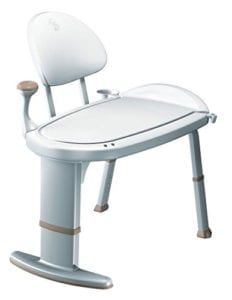 If you have trouble getting in and out of the shower or bath, then you know the importance of a transfer bench for safety. In my Moen Non-Slip Transfer Bench Review, I go through the pros and cons of this Moen Non-SlipTransfer Bench and reveal if it is a sound and safe product
You Don't Have To Be Rich To Protect Yourself In The Bathroom. As a senior bathroom aid product, Moen Non-Slip Adjustable Transfer Bench is an economical product to provide transfers in and out of the bathtub. Independence is only a bench away. Learn more below.
What Is the Moen Non-Slip Adjustable Transfer Bench, Glacier White?
FEATURES:
Professional Grade: A manual sliding transfer bench, bath and shower chair. non-slip transfers.
Seat Belt: There is no seat belt.
Safety Locking Mechanism Eliminates falls: There is no locking mechanism.
Swivel-Seat Space Saving: There is no swivel seat.
Padded Seat, Back, and Armrests The seat is not padded.
Easy Cleaning: It is easy to clean and disinfect.
Quick Assembly: It has a SIMPLE assembly in less than 20 minutes.

DON'T EVER FORGET THIS:

WARNING

: please follow these assembly instructions carefully. Assembler assumes responsibility for proper assembly. Failure to follow correct assembly procedures can result in serious injury.
Robust: Moen is a company in long-standing and the major of reviewers see it as sturdy. Average Customer Amazon Review: 4.8 out of 5 stars Amazon reviews.
Independence: There will be a need for some supervision
Arm Rests. There is an armrest to help you in and out of the chair, but only on one side. You can change which side.
White Color: The chair is a nice-looking Glacier white color
Strong Material: Bench and Seat Back are High-Density Polyethylene (HDPE). Legs are 6063 Aluminum. Arms are Glass-filled Polypropylene. Feet are Thermoplastic Rubber (TPR). Front Foot is Polypropylene.
It is Reversible: This product is fully reversible, it can be set up to work from the left side or the right side of the tub/shower
Weight: 15.8 pounds. Weight Capacity: It can hold up to 400 lbs.
Return and Warranties:

Test the product dry to avoid difficulties returning the product

.
Product dimension: 34.5 x 6.5 x 18.8 inches Click for their technical specifications. Click here for the installation manual.
Who Is the Moen Non-Slip Adjustable Transfer Bench, Glacier White For?
Its sweet spot is with people with some strength recovering for surgery. Not people with more severe physical limitations that need to be held in with a seat belt. Yes, others can use it with more serious limitations, but with some warnings.
Also, it fits a short-term solution and for someone who needs a highly reliable and sturdy chair to prevent them from having an accident in the bathroom that could have serious consequences.
My First Impression of What Is the Moen Non-Slip Adjustable Transfer Bench, Glacier White?
What impresses me the most is the sturdiness of the product and its sleek look. I see many of the more inexpensive seats cheap. Those reviews also mentioned people having accidents. It will be difficult to get hurt by this product. It will also help raise their dignity and a person using it and give them the opportunity to take a shower by themselves.
Pros of the Moen Non-Slip Adjustable Transfer Bench, Glacier White?
A good price for a transfer bench about half the price out the most expensive product.
It can be a sturdy product
Cons of the Moen Non-Slip Adjustable Transfer Bench, Glacier White?
It has had some stability and safety problems with the back legs collapsing, but not on all.
Over 50% of negative reviews are because the bench does not fit in their tub. It might be too big for your bathroom or some other problem. The best way to handle this is to call the customer service number. Chick to get customer service and other company information and discuss the dimensions you need before you purchase. Click here to look at the dimensions. Some people have mentioned that there is a charge for returning the bench. Don't fall into that trap. The dimension of the bench is available.
Some people have had problems with water spilling over onto the bathroom floor making it slippery and of concern.
My Overall Thoughts On the Moen Non-Slip Adjustable Transfer Bench, Glacier White?
After looking at hundreds of reviews and weighing the pros and cons, this is a good economical choice for stronger people recovery from surgery and most of the complaints have been of people not checking their dimension before purchasing or they do not understand how the product works.
In Conclusion
Let's keep our loved ones and those under our care as safe as possible from falling without paying the highest price, so I highly recommend the Moen Non-Slip Adjustable Transfer Bench, Glacier White.
My Commitment:
I commit to making this website better and better each day.
I would appreciate your frank comments – either good or bad.
I would like to remind you that I will make a review for a product of your choice.
I would love to hear your comments.
Tell me what's on your mind.
You can also make requests.